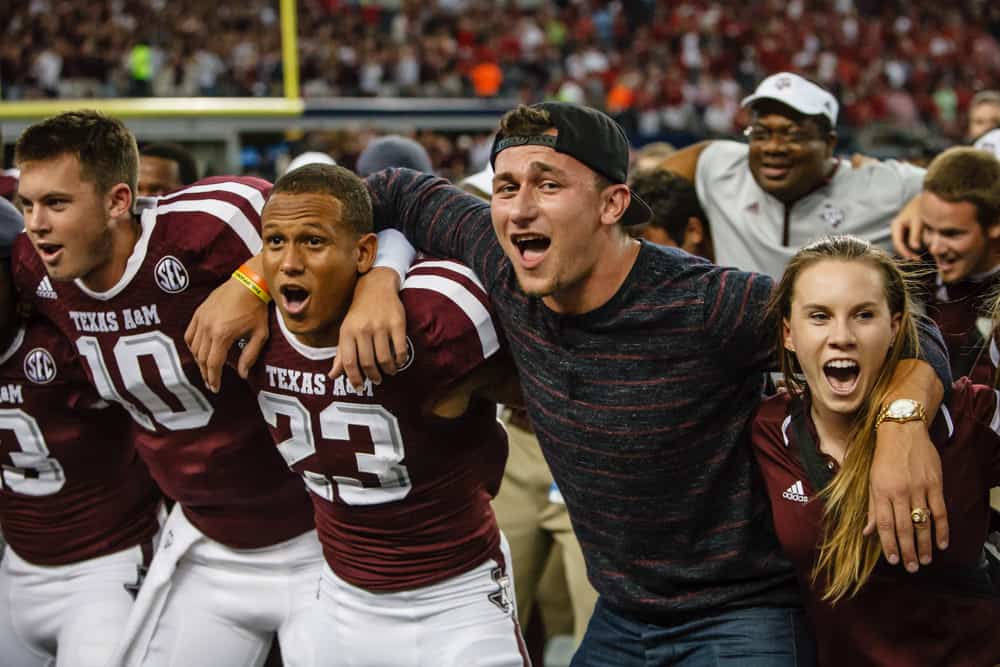 These days, it seems you can find ex-Browns quarterback Johnny Manziel enjoying his time with friends and family.
With his professional NFL career behind him, this hasn't stopped him from being in good spirits and poking fun at himself.
Manziel posted a video of himself slipping and falling off a cliff into Lake Pleasant while attempting to do a backflip into the water.
Manziel was not injured, but the situation could have been a lot worse if he wasn't able to get a slight push off with his left foot.
.@JManziel2's "backflip" was … 😅 pic.twitter.com/pq6ek76FkU

— NFL on ESPN (@ESPNNFL) May 12, 2020
Manziel roasted himself by responding to ESPN's posted video in which they posted Manziel's interesting variation of a backflip.
"Went about as well as my time in the league." Manziel said.
Went about as well as my time in the league 🤦🏻‍♂️ https://t.co/e9PfTrD9a6

— Johnny Manziel (@JManziel2) May 12, 2020

Manziel has recently said that he has no plans to play football again.
He became the first Texas A&M quarterback to win the Heisman Trophy and just the second Aggie all-time; the other was running back John David Crow in 1957.
Manziel had a tremendous number of accolades during his 2012 Player of the Year season.
College Johnny, also legendary forever. pic.twitter.com/XjntLzIgyK

— ryan (@StillRyanFive) May 13, 2020
He was responsible for the most touchdowns in the NCAA in 2012.
In 2012 and 2013, Manziel led the SEC in completions, completion percentage, and total yards.
The 2013 season included another First-Team All-SEC selection, and he was a Heisman Trophy finalist that year.
Manziel's "Backflip" of a NFL Career
Mike Pettine's two years in Cleveland were coincidentally Manziel's only two seasons with the Browns.
Kyle Shanahan was Manziel's offensive coordinator in 2014.
Brian Hoyer, who has since played with five different franchises, posted a 7-6 record in his 13 games started in 2014.
The 7-9 Browns were led by their strong passing defense.
Manziel was the center of attention though, as he started both Weeks 15 and 16 before injuring his hamstring midway through the Week 16 loss to the Carolina Panthers.
Manziel, who scored a rushing touchdown in Week 13, failed to throw a touchdown pass that season, as he attempted 35 passes.
A separate right elbow injury forced Manziel to miss part of the 2015 preseason.
The Texas native played in a game in Week 1 of the season, but he did not start.
Josh McCown, who had played with the Tampa Bay Buccaneers in 2014, started Week 1, but Manziel entered in relief.
Manziel threw his first career NFL touchdown, but completed just 13 of his 24 pass attempts and had three turnovers in the 31-10 loss to the New York Jets.
Manziel proceeded to start Week 2 and threw two touchdowns in the 28-14 win against the Tennessee Titans.
Unfortunately, the Browns had a 2-4 record in his starts and a 2-8 record in the games he played in that season.
Cleveland finished 2015 at 3-13 and won the franchise's fewest games since 2000.
Manziel's Post-NFL Life
The Browns released Manziel in March 2016, and he played in the Canadian Football League and the Alliance of American Football.
Manziel was last seen "stirring up controversy" as he told the XFL he wanted to play before saying the following:
Love trollin 💛💜

— Johnny Manziel (@JManziel2) February 23, 2020
Manziel's post-career life appears to be him having fun on social media, as he hopes to keep his life on track.