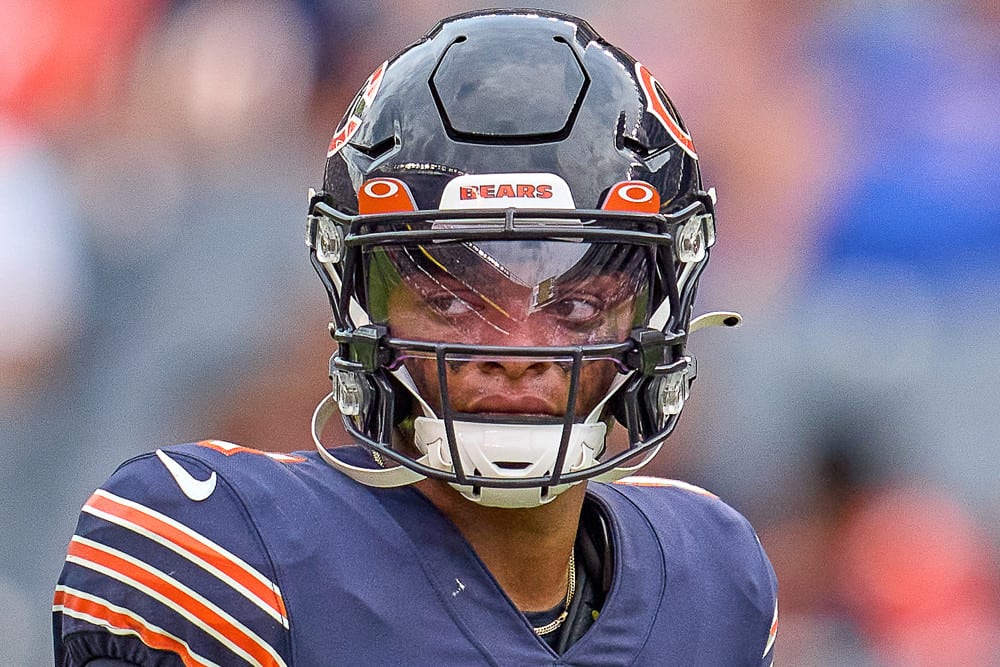 Cleveland Browns fans at FirstEnergy Stadium on Sunday, September 26 may have mixed feelings about the quarterback matchup.
The Chicago Bears will be coming to town to take on the Browns.
#Bears coach Matt Nagy announces the inevitable: Justin Fields will start Sunday, with Andy Dalton battling his bone bruise in his knee.

— Ian Rapoport (@RapSheet) September 22, 2021
Because starting quarterback Andy Dalton has a knee injury, Ohio State standout quarterback Justin Fields will get his first NFL start.
Ohio State legend Justin Fields making his first #NFL start against the Cleveland #Browns should be fun 🙌

— Billy Heyen (@BillyHeyen) September 22, 2021
Fields' Reaction
Justin Fields is ready for his debut.
Bears fans have been ready for it since his name was called by the team in the 2021 NFL Draft.
When asked to describe how he feels about getting his first NFL start, Fields said:
"I'm trying to keep all the outside distractions out of the way and focus on Sunday and prepare the best I can. I think I'm ready. I've been preparing for this moment for a long time. My mindset doesn't change, I'm still going to have to play my football and just prepare the best I can. Like I said before, get a lot of practice reps and study, study, study, and get more comfortable and confident with the plays and stuff like that."
Bears rookie QB Justin Fields: "I think I'm ready. I've been preparing for this moment for a long time."

— Jeff Dickerson (@DickersonESPN) September 22, 2021
He plans to use past first starts to combat the inevitable nerves that could creep in for this game.
"I definitely learned from past experiences, past first starts. I still remember my first start in high school, I was nervous as can be. I think being more this way just being stoic and being even-keeled, I think that just keeps my mind calm and allows me to think more."
How Will The Browns Handle Fields?
Fields is a mobile quarterback, and the Browns have struggled on defense this year against previous opponents, Patrick Mahomes and Tyrod Taylor.
The Browns (hopefully) plan to blitz more than they did with Mahomes or Taylor so that Fields gets the ball out quicker and perhaps makes rookie mistakes while doing so.
The pressure will be on Fields, not just from the Browns' defense.
Andy Dalton is not going on IR.
Bears Coach Matt Nagy continues to insist Dalton is the starting quarterback as soon as he is healthy.
Justin Fields finally starting is the best thing to happen for #Bears fans, but the worst thing to happen to Matt Nagy…

— Emmanuel Acho (@EmmanuelAcho) September 22, 2021
Fields is auditioning for the starting job beginning on Sunday against the Browns.
It will be interesting to see how he fares.