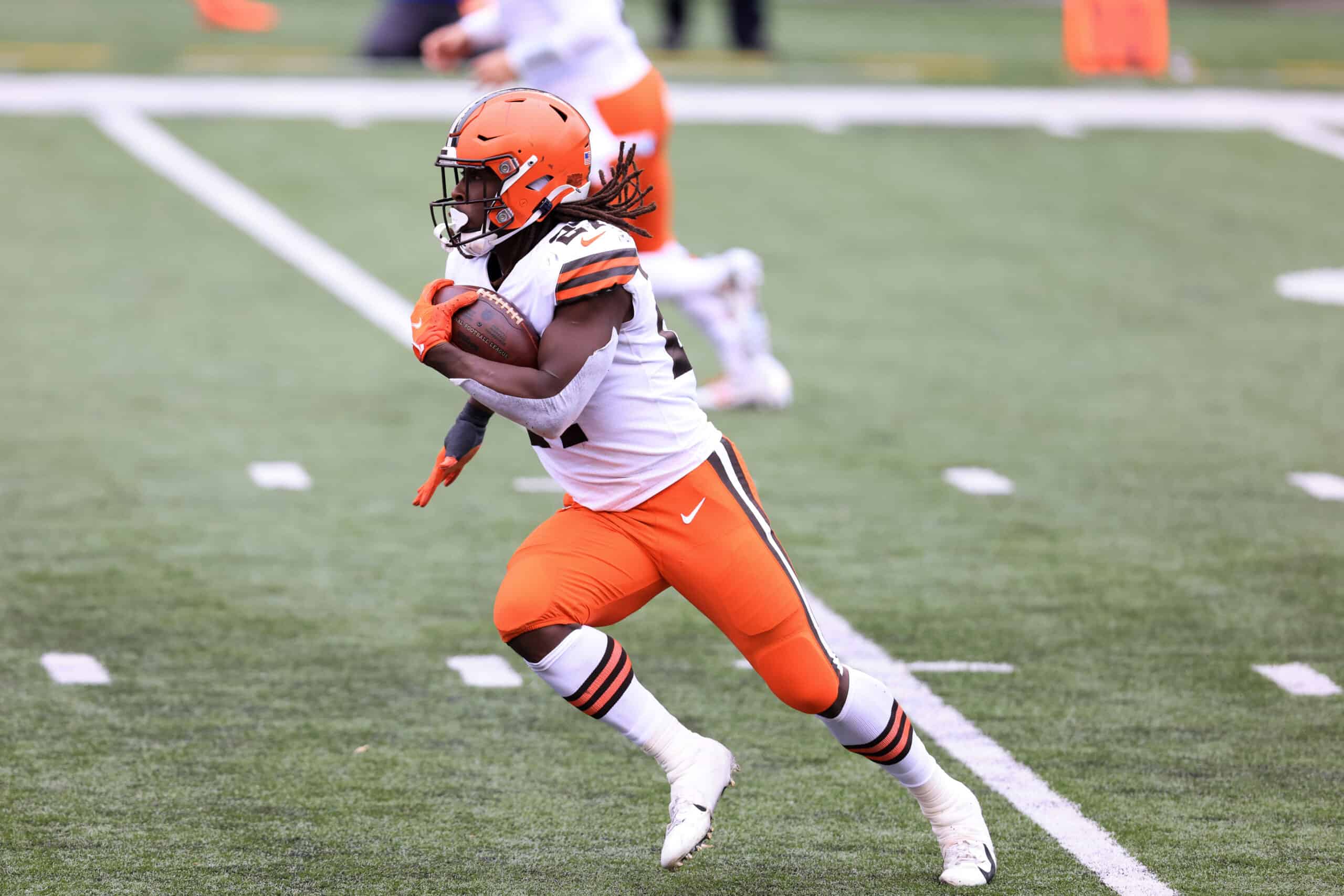 Cleveland Browns running back Kareem Hunt has Baker Mayfield's back (and shoulder).
Hunt let Mayfield know this after the quarterback went down with a left shoulder injury while tackling a Houston Texan defender who intercepted Mayfield's pass during Sunday's game.
Of course, everything turned out okay.
Mayfield was only in the locker room a few minutes on Sunday, and his MRI on Monday showed no structural damage.
He did not miss a Browns possession, and if possible, he returned to the game better than ever.
However, Hunt does not want a next time.
Hunt was nervous when he saw Mayfield go down.
He told Mayfield to let him do the tackling.
#Browns Kareem Hunt on Baker Mayfield's left shoulder injury: I was nervous. I told him let me tackle him next time.

— Scott Petrak ct (@ScottPetrak) September 20, 2021
Let Hunt Do The Tackling
Fans shared Hunt's fear and do not want Mayfield tackling anymore either.
hopefully.. baker mayfield's career as a defensive back is officially over…

— BrownsFreak51 (@BrownsFreak51) September 19, 2021
Mayfield is never shy about getting into the action of the game.
Here is another play where he was a blocker.
Baker, bad shoulder and all, was still out here throwing a block (and putting the defender on the ground) on the reverse to Anthony Schwartz pic.twitter.com/ZukS1CF9aw

— Jordan Zirm (@JordanZirm) September 20, 2021
Mayfield Is The Leader
Many argue whether Mayfield is an elite franchise quarterback.
No matter what your position is, it is true that the Browns are only getting as far as Mayfield takes them.
That is no knock on Case Keenum; he is a good backup quarterback, maybe one of the best around.
However, the season is a long one, and the Browns need their starter running this offense.
Plenty of teams had injured quarterbacks on Sunday including the Browns opponents, the Texans who lost Tyrod Taylor to a hamstring injury.
Let the outstanding offensive line protect Mayfield, and if necessary, Kareem Hunt can throw his body into the action.
Mayfield's Status
Though his MRI was negative, it is not yet known if Mayfield will be limited in practice.
He did indicate he was in pain for the rest of the game.
If there is any silver lining in this injury, it is that it happened on his left non-throwing shoulder.
#Browns Baker Mayfield on his shoulder injury: "It's my left. God gave me two."

— Camryn Justice (@camijustice) September 19, 2021
Speaking Of Hunt
Hunt is off to a good start in 2021, but we look forward to seeing more of him.
He caught every pass targeted to him, 3 out of 3 for 30 yards.
Hunt also has rushed 19 times for 84 yards and 1 touchdown which he scored against the Chiefs.