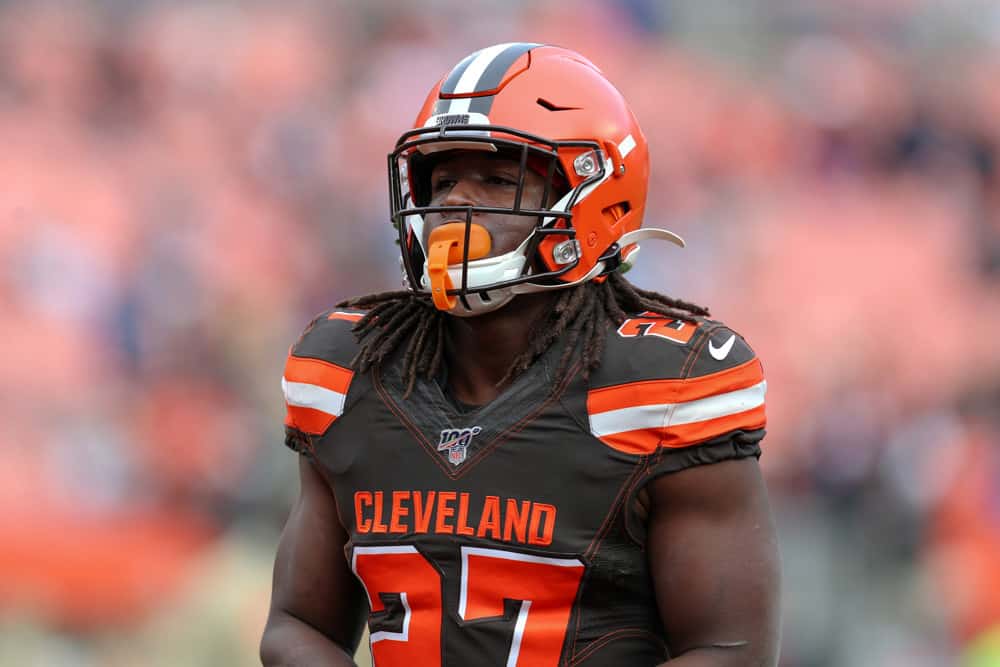 Kareem Hunt knows sometimes you do not get second chances.
The Cleveland Browns gave him another chance in the NFL and he is making the most of it.
Hunt is showing the Browns he not only an elite contributor on the field, but off the field as well.
He has quietly visited high schools and talked with students on how to make better life choices.
He also talks to them about the choices he made that resulted in his 8 game suspension and getting released from the Kansas City Chiefs.
On the field, Hunt's impact has been glaringly obvious.
The Browns are now 3-0 with Hunt in the lineup.
On Sunday, Hunt scored his first career touchdown as a member of the Browns in their 41-24 victory over the Miami Dolphins.
.@Kareemhunt7's first touchdown as a Cleveland Brown! 🐶#MIAvsCLE pic.twitter.com/0cNrEgM74W

— Cleveland Browns (@Browns) November 24, 2019
On the season, he has 79 yards on 18 carries for a 4.4 per carry average.  He also has 15 catches for 99 yards.
He has 178 all-purpose yards in only 3 games.
Hunt mentioned how comfortable he feels in the offense:
"Very comfortable," Hunt said. "It's really starting to click. I'm fitting in really. I enjoy running the ball and fitting with this offense."
Center JC Tretter spoke about Hunt's impact on offense:
"He is a huge weapon to have," center JC Tretter said. "He is just another weapon that, similar to Nick [Chubb], we know if we get something blocked up for him, he can take it to the house. He has been a great addition. He has done everything we have asked him. He has been willing the first week back to be a blocker and do all those things just to help the team. That has been a great asset for us."
Nick Chubb has also spoken on the impact that Kareem Hunt has had:
"We are just getting started. … The sky is the limit with what we can do with us in the backfield and us on the field at the same time," Chubb said. "I just look forward to each week going out there and playing with another great player."
Head Coach Freddie Kitchens also talked about Hunt embracing his second chance:
"There is no doubt," he said. " I do not want to go too deep with you, but sometimes when a person is down and feels like people have given up on him, sometimes that is when you see the best in people. I think Kareem is certainly that. He has a big supporter within myself, this organization, John Dorsey and his teammates, more importantly.