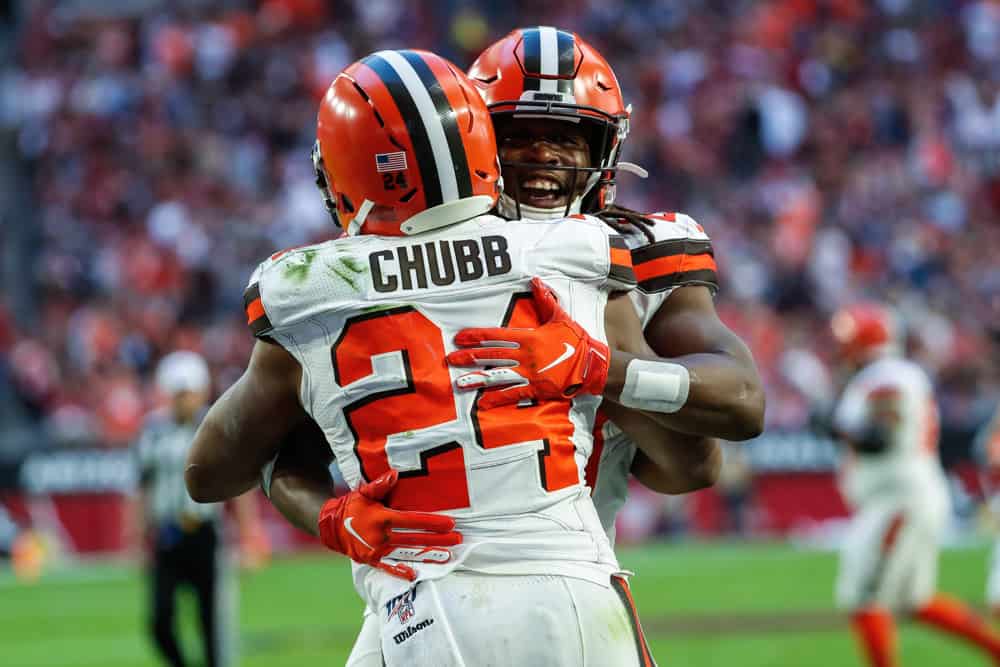 There is mutual and genuine admiration between Cleveland Browns running backs Kareem Hunt and Nick Chubb.
In a sport where egos and statistics rule, this is refreshing.
Hunt recently talked about Chubb at his youth football camp.
"Pay that man. He's a freak of nature. He's like a brother to me … hope we can play together for a long time."
Hunt And Chubb
Both could be RB1 on any NFL team yet they enjoy working together.
Hunt is happy to be back home in Cleveland, and Chubb is just a great player and person.
Any team would want Chubb on its roster which is unsettling for Browns fans because his rookie contract expires at the end of the 2021 season.
"I think Nick Chubb is the best running back in the NFL and I don't care who knows it!"

— @minakimes pic.twitter.com/7yrlcRZjVd

— NFL on ESPN (@ESPNNFL) June 22, 2021
Chubb's Contract
Ironically, Kareem Hunt has said more about Chubb's contract extension than Chubb has.
Those who know Chubb well know that he is all about football and believes the rest will take care of itself.
He did recently say that he wants to stay in Cleveland.
Nick Chubb doesn't plan on leaving 😤 pic.twitter.com/Klnik6KyfD

— PFF Fantasy Football (@PFF_Fantasy) June 17, 2021
GM Andrew Berry must be prioritizing Chubb and guard Wyatt Teller's expiring contracts ahead of Baker Mayfield and Denzel Ward's who have the cushion of a fifth year option keeping them with the team until the end of the 2022 season.
A Young Team
Having a young roster like the Browns do is a double-edged sword especially in this salary cap crunched climate.
Young players are the most affordable while they are under their rookie contracts.
Then, it is time for extensions, and market value continues to climb especially at key offensive positions like running back.
Chubb is likely looking at Derrick Henry type money, but where does that leave Hunt whose contract also expires at the end of the 2022 season?
Titans and RB Derrick Henry is signing a four-year, $50 million contract that includes $25.5 million guaranteed, source tells ESPN.

In one off-season, the Titans keep both Henry and Ryan Tannehill on long-term deals.

— Adam Schefter (@AdamSchefter) July 15, 2020
What this means is that the time to win is now.
This really is the Browns' golden opportunity while all of the key components are still with the team.