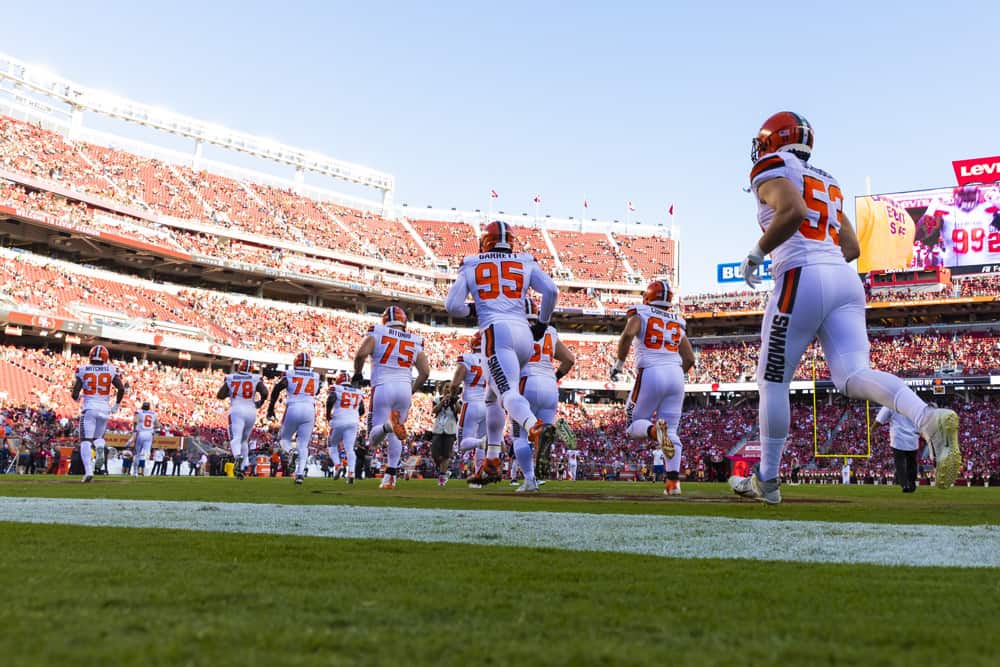 What a great time to be a Cleveland Browns fan!
Everybody is talking so highly of our favorite team, with some even predicting a Super Bowl appearance.
Andrew Berry is the best GM; Kevin Stefanski is the best head coach; Baker Mayfield is… pretty good.
Standing by my Cleveland Browns Super Bowl LVI pick.

You got this, Baker.

— Mike Clay (@MikeClayNFL) April 14, 2021
It would probably take some kind of devastating injury or a series of events to change the popular narrative.
But what if the wheels fall off early and the 2021 Browns struggle to stay in contention?
Maybe it is a subconscious flaw in my makeup that keeps nagging at me.
"Super Bowl contender Cleveland #Browns."

What's your reaction to that statement?

— MoreForYouCleveland (@MoreForYou_CLE) April 14, 2021
But I'm probably not the only Browns fan who needs more extended success to wash away 1-31.
Or for that matter, 6-10.
But what if the coaching ghosts of Freddie Kitchens and Hue Jackson possess Stefanski this year?
Here are 3 unexpected changes the Browns could make if they start slow in 2021.
1. Browns Go Young At Wide Receiver 
Andrew Berry is as adept as anyone at working the salary cap for any player he wants.
But this move will still elicit speculation about Odell Beckham Jr and Jarvis Landry.
The reasoning behind it goes beyond the money slated for the wide receiver position.
This is more of a "Let's see what we've got" decision to put the backups in bigger roles.
Can Donovan Peoples-Jones, Gregory Schwartz, and Khadarel Hodge carry the load in a pinch?
Touchdown 5️⃣ today… 🔥

The GAME WINNER! 🙌

BAKER TO DONOVAN PEOPLES-JONES! 👊#CLEvsCIN x #Browns pic.twitter.com/LTBMwNZ5cn

— BROWNS OR DIE 💀 (@BrownsorDie) October 25, 2020
And how does it affect Baker Mayfield's performance?
Stefanski could edge toward a bigger passing game since his rushers have little to prove.
He is not about to make Beckham and Landry inactive, so increasing opportunities makes sense.
Shifting his offensive focus could even provide a spark for an underperforming unit.
And Stefanski could end up justifying Baker Mayfield's contract extension in the process.
2. Mack Wilson's Salvation 
Anthony Walker was signed to take BJ Goodson's leadership role in the linebacker room.
Berry told reporters he was impressed with Walker's ability to cover running backs sneaking out for a pass.
And Walker has always been a force against the run.
But Berry only signed the former Colt for one season, leaving the role up for grabs in 2022.
Enter Mack Wilson, the only middle linebacker on the roster slated to return next year.
🚨 Pick six alert!

Mack Wilson takes it all the way back for the TD.#WASvsCLE

— PFF (@PFF) August 9, 2019
Wilson had a forgettable performance in his second season with Cleveland.
But his rookie effort (and his strong offseason regimen) could earn Wilson another shot at sticking around.
And unexpected early-season results might prompt Woods to try Wilson in the starting role.
Opportunity is exactly what Wilson needs to show Woods and Stefanski what he can contribute.
And the coaches are as interested as anyone to see what that is.
3. Forbes, Hance, Dunn In At Right Guard 
There are a couple of big "ifs" for this prediction to pan out.
First of all, Wyatt Teller has to remain unsigned for 2022.
Second, Andrew Berry has to suspect Cleveland can be outbid for Teller in free agency.
To be clear, Stefanski won't do anything to risk more hits on Baker Mayfield.
But Drew Forbes was expected to contend for the starting role before opting out of 2020.
You cannot stop Blake Hance. You can only hope to contain him #Browns

— Jake Trotter (@Jake_Trotter) January 17, 2021
And Blake Hance and Michael Dunn filled in admirably at the more difficult tackle positions when needed.
Such a move will trigger trade speculation regarding Teller.
But a seamless transition could also make teams think twice about Teller's value in free agency.
Is Teller's late emergence indicative of pure talent or does Callahan's system deserve some credit?
And could that notion make it easier for Berry to bring Teller back in 2022?