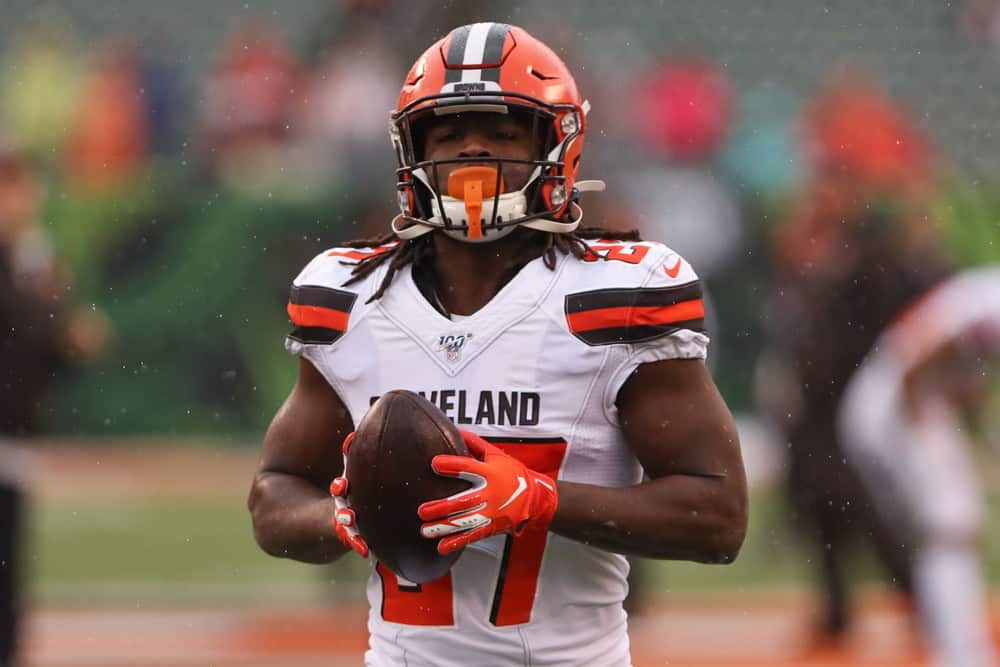 The Cleveland Browns travel to Kansas City to play the Chiefs at Arrowhead Stadium on Sunday, January 17, 2021 at 3:05 pm EST.
One Brown in particular is very familiar with Arrowhead and is eager to get back there and play his former teammates.
That of course, is running back Kareem Hunt.
Kareem Hunt views his trip back to Arrowhead as "personal".
Kareem Hunt on Instagram live "next week personal… next week personal" 👀👀👀 pic.twitter.com/2neMo0Xo5K

— CLE SPORTS WORLD (@Browniestalk) January 11, 2021
After the Browns win in Pittsburgh, Baker Mayfield was asked about Hunt's physical touchdown run against the Steelers.
He said"
"Kareem ran pissed off, he ran like he wanted to get to Kansas City."
Hunt As A Chief
Kareem Hunt is an Ohio native, but he was drafted by the Chiefs in the 3rd round of the 2017 NFL Draft.
His rookie season was extraordinary.
He won the rushing title, was named Rookie of the Year, and was selected for the Pro Bowl.
In 2018, he was off and running on a similar path when the Chiefs cut him with 1/3 of the season left.
We won't relitigate the facts of the video footage and altercation with Hunt and a woman in a hotel hallway, but suffice it to say the Chiefs were not happy with Hunt's behavior or honesty with them so they cut him.
Kareem Hunt landed in a good position with the Browns in 2019, but of course he wondered what could have been as he watched the Chiefs win last year's Super Bowl.
Mahomes On Hunt
Chiefs QB Patrick Mahomes was drafted the same year as Hunt so they came into the league together.
Yesterday, Mahomes praised his former teammate.
"That's my dude, man.  I came in with Kareem, and obviously we're not together anymore, but I still stay in touch. He's a heck of a football player, and someone who was one of my best friends when we first got on the team together…He has a lot of success on that field every opportunity he gets and he's a great football player and someone that I know will keep getting better and better as his career goes on. He's a special football player. He finishes every single play, he catches and runs, he can do it all. I'm happy for him that he's back home in Cleveland and he's able to play really good football.''
Mahomes, the consummate professional and person, texted Hunt a congratulations message after the Browns win over the Steelers.
Hunt In Cleveland
There is no way that the Browns would be where they are if Kareem Hunt wasn't on the team.
His tandem relationship with Nick Chubb keeps opposing defenses on their toes.
He also ran through injuries this season, on his way to 841 rushing yards and 6 touchdowns.
Hunt possesses phenomenal strength to drag tacklers with him as evidenced by his rushing TD in Pittsburgh on Sunday.
Kareem Hunt DRAGGING kids into the end zonepic.twitter.com/A05MpiHckN

— PFF (@PFF) January 11, 2021
His receiving skills are top notch also.
He has 304 yards and 5 receiving touchdowns in 2020 also.
Kareem Hunt and Nick Chubb will need to be running on all cylinders for the Browns to contend.
Hopefully, Hunt finds success, redemption, and a little bit of peace in his return trip to Arrowhead.
Watch the Browns take on the Chiefs on CBS on Sunday afternoon; the defending Super Bowl Champions are 10 point favorites in the game.