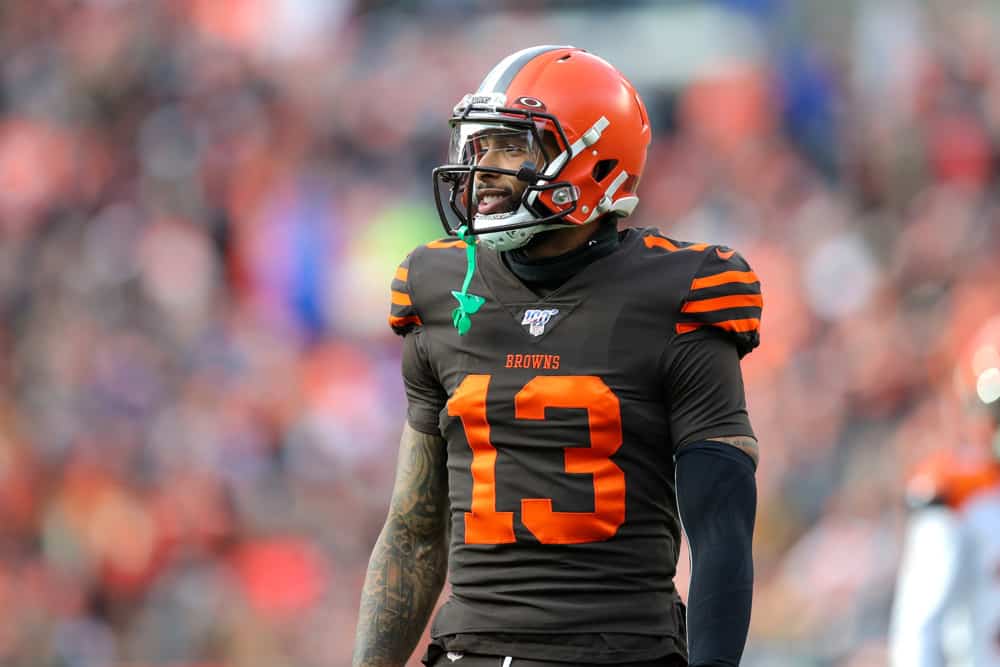 With the Cleveland Browns' season officially over, fans have lots of questions about their plans for 2021.
Head coach Kevin Stefanski addressed one of the biggest in his season-ending press conference.
What will the Browns do with Odell Beckham Jr?
Cleveland's Head Coach of the Year candidate didn't touch on any Beckham plan.
But he did add that he communicated with his injured wideout.
"I texted with him this morning. I know he's working really hard to get better in his rehab." Stefanski said. "I know it was not easy for him being away from his teammates, especially as these games got bigger and into the playoffs. I know he definitely wanted to be a part of it."
#Browns Kevin Stefanski said he texted Odell Beckham Jr. this morning and is excited to get him back.

— Camryn Justice (@camijustice) January 18, 2021
Stefanski might want to deflate the long-running conversation about whether Beckham fits in the Browns' scheme.
But this being Cleveland and the Browns… he shouldn't count on it.
Did Stefanski Make an Analytically Safe Statement? 
Odell Beckham Jr's return to the Browns is not completely up to Stefanski.
GM Andrew Berry and others among the Browns brain trust will review the pros and cons soon enough.
But the matter has certainly come up before now.
And if it did, the management geniuses undoubtedly realize some bitter truths.
#Browns need a few pieces on defense, must decide on Odell Beckham's future and will have to spend plenty to keep the core together…but they aren't going anywhere.

— Jeremy Fowler (@JFowlerESPN) January 17, 2021
For one, the 2021 free-agent wide receiver class is loaded with star power.
Teams willing to pay Odell Beckham contract wages have other (uninjured) options.
Kenny Golladay, Chris Godwin, JuJu Smith-Schuster, and Allen Robinson top the list.
And Will Fuller, AJ Green, Dede Westbrook, and more are also available for no compensation.
On top of that, another banner group of wide receivers is entering the league through the draft.
After the impact rookie receivers had in 2020, teams might prefer to gamble on younger and cheaper stars.
Stefanski's professed excitement about Beckham might just indicate his belief that OBJ is untradeable.
Why Would Stefanski Want Beckham Back In The Mix? 
Cleveland Browns fans have lots of opinions about Beckham's impact on Baker Mayfield and the offense.
Most of them are less-than-complimentary.
Beckham barely caught half of the passes thrown his way from Mayfield, many of which were uncatchable.
His most explosive play this season was a 50-yard run.
Who else went crazy on this play?

I went from, "OH NO, WHAT ARE YOU DOING!" to "YES, GO GO GO GO GO … TOUCHDOWN ODELL BECKHAM JR.!!!! #Browns pic.twitter.com/piW8XZxWUM

— Steven R. Walker (@Steve_R_Walker) October 5, 2020
But Beckham brings more than his catch radius and athleticism to a team.
When his season ended after Week 7, teammates spoke about Beckham's leadership and encouragement.
To a man, players and coaches laud Beckham's practice and rehab efforts.
The same was heard from New York Giants players when Beckham was traded to Cleveland.
Jarvis Landry was here first, but his good friend Odell partners with him as locker room leaders.
Is that enough to overlook Beckham's off-field and sideline antics?
For the players, yes it is.
What If Things Don't Look Better In 2021? 
League officials already canceled the 2021 NFL Combine, and the Cleveland-hosted draft is at risk.
But they will do everything they can to preserve some traditional preseason practice and games.
Even though stars coming off injury usually see minimal action, Beckham and Mayfield have to get some reps.
Baker Mayfield was the No. 1 pick in the 2018 NFL Draft, but he couldn't rise up and beat Chad Henne down the stretch of a playoff game. 70 passing yards in the 2nd half. Maybe Baker needed a star like Odell Beckham Jr. to help 🤷🏻‍♂️. Henne had Tyreek Hill. https://t.co/RfHHx9yfML

— Pat Leonard (@PLeonardNYDN) January 18, 2021
With so many wide receiver free agents, they can probably replace Beckham if the connection doesn't look better.
Trading Beckham in the preseason saves $16 million in cap space making any desperation trade worth it.
Cutting Beckham after June 1 saves only $3 million in 2021, but carries no additional dead cap concerns into 2022.
Stefanski and Beckham already know the Browns can run a potent offense without OBJ on the field.
And Beckham is arguably at a point in his career where Super Bowl aspirations trump a desire to be the star.
All things considered, it is worth exploring a role for Beckham that Mayfield can take advantage of.
And a healthy Beckham should excite Kevin Stefanski.