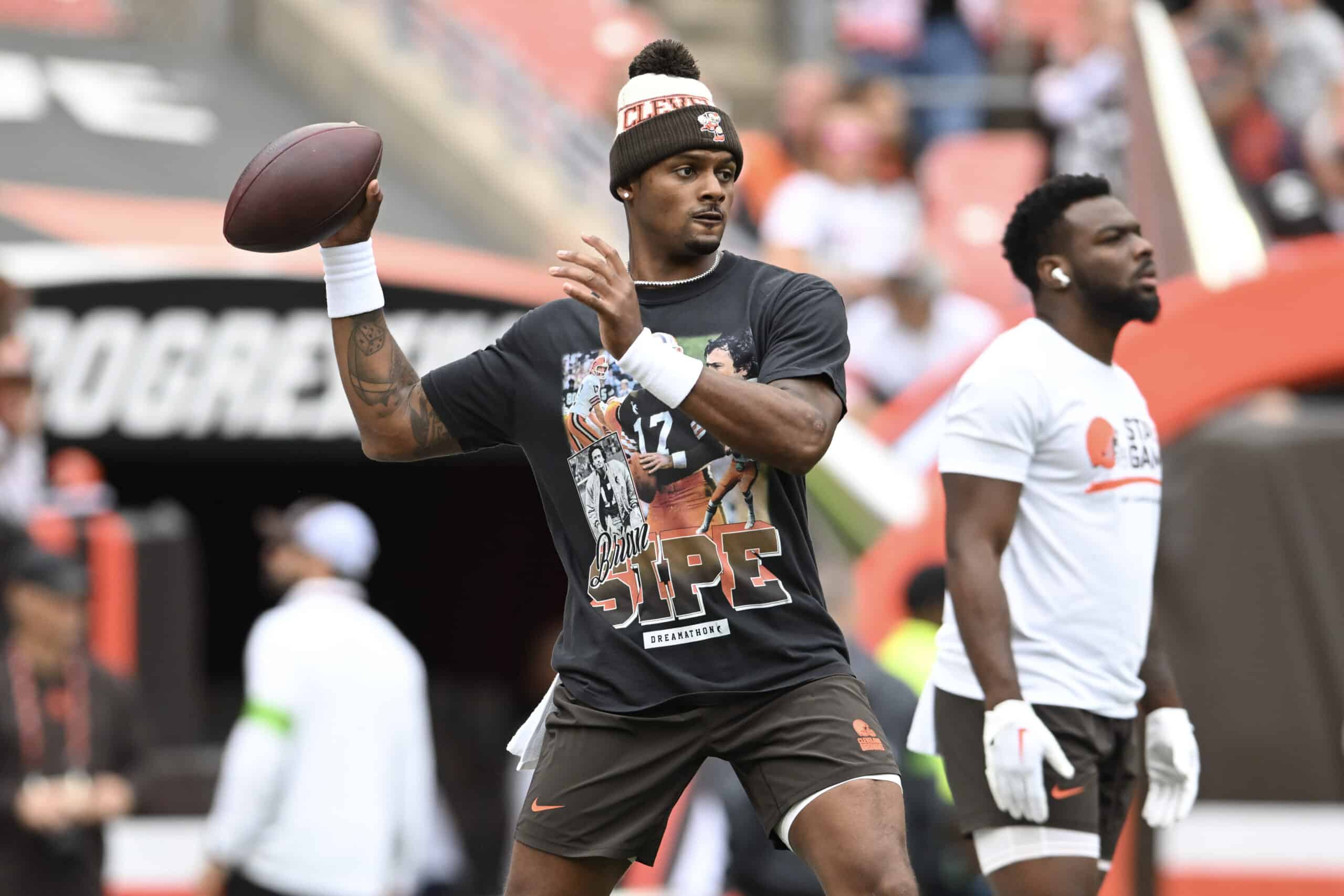 Deshaun Watson threw all the passes in the open session of today's practice.
It was the second consecutive day the Cleveland Browns quarterback threw the ball.
Everybody wants to know if that means Watson will start against the Indianapolis Colts on Sunday.
But as Mary Kay Cabot of Cleveland.com shared, Kevin Stefanski isn't ready to offer a clear answer.
#Browns Kevin Stefanski said of Deshaun Watson (questionable): "I want to see how it respond over the next 48 hours…but he looked good today"

— Mary Kay Cabot (@MaryKayCabot) October 20, 2023
Several observers, including Cabot, reported that Watson put more zip on the ball today.
Watson eased some concerns yesterday by throwing the ball downfield but with a softer delivery than usual.
Now that he has thrown the ball harder, Stefanski wants to see how Watson's wounded shoulder responds.
While admitting his QB "looked good," the head coach won't assume anything after his Week 4 surprise.
Guarding Against Surprises
Prior to the Ravens game, Stefanski thought Watson would play right up until Sunday morning.
And rookie Dorian Thompson Robinson's post-game comments sounded like he wasn't prepared to start
Reporters did not see P.J. Walker take any first-team snaps, but we can assume the backup is ready this time.
Walker shrugged off a couple of bad mistakes to lead Cleveland to a pair of late field goals last week.
#Browns QB Deshaun Watson took all the first reps in the open part of practice Friday and had good zip on the ball. Some clips to come. Eyeball test: looks like a go for the #Colts game

— Mary Kay Cabot (@MaryKayCabot) October 20, 2023
His unlikely victory over the 49ers earned him the nod over DTR if Watson can't go this weekend.
Just as interesting is whether Walker gets called up from the practice squad if Watson starts.
That would be 3 call-ups, with a fourth mandating a waiver exposure or a spot on the 53-man roster for Walker.
If he is not on the regular roster Sunday, Cleveland can not take advantage of the emergency quarterback rule.