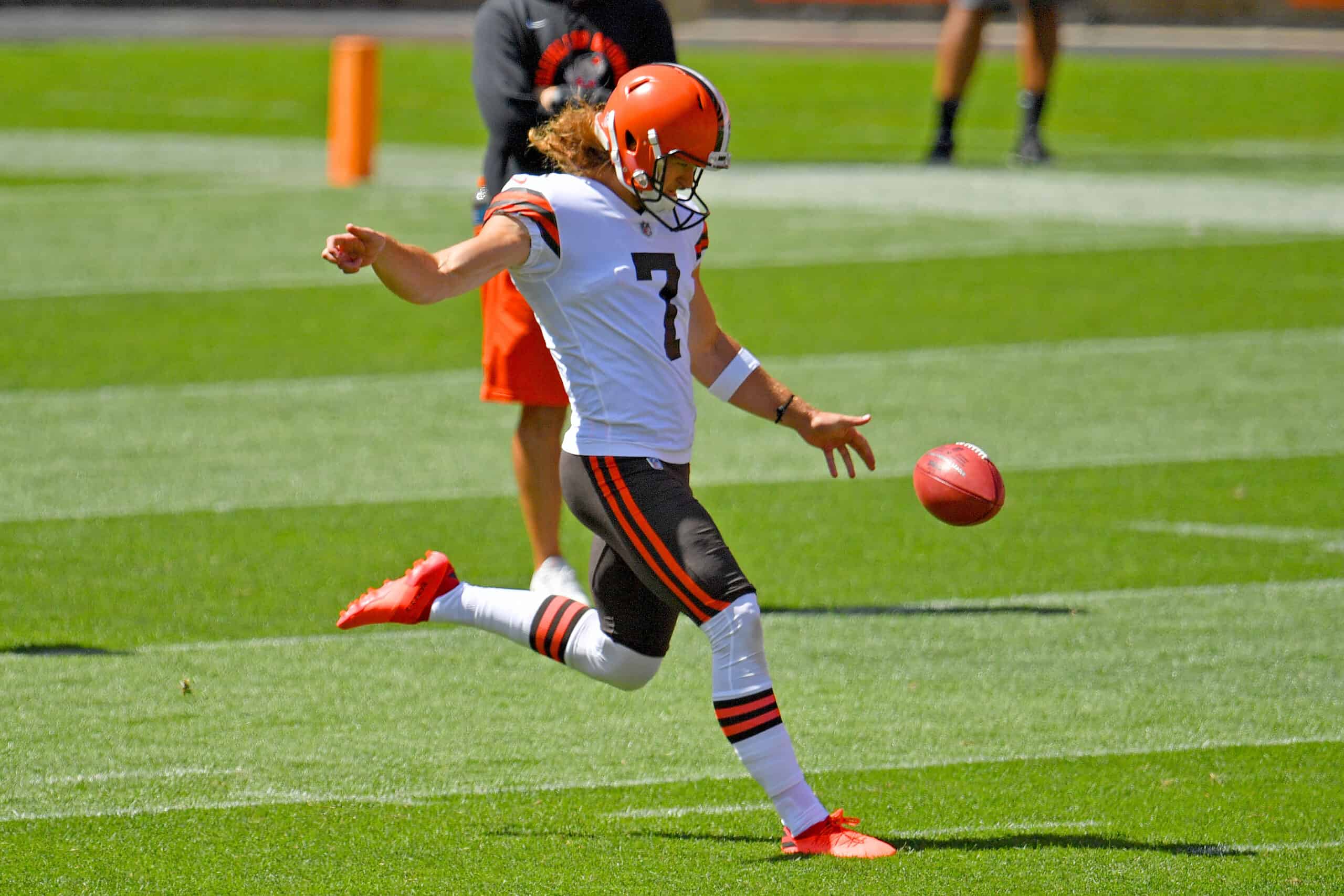 Cleveland Browns punter Jamie Gillan started the season off in a very shaky manner with this play against the Kansas City Chiefs.
Though he has not botched any other punts this season, Gillan is not exactly adding anything special to the Browns special teams effort in 2021.
Browns punt blocking on this play was excellent. He could have got that punt off still. Jamie Gillan just panicked.pic.twitter.com/G87L5cUdjZ

— Tim x opTIMus 🎮 (@timschuerger) September 12, 2021
So it really should not come as a surprise that when asked about his punter on Monday, Coach Stefanski said this:
"Obviously, we want to punt better – that is no surprise. He needs to be better, and he knows that."
Stefanski is right, and here is why.
How Gillan Is Doing
He is at the bottom of the heap according to Puntalyics.
there's a new #1 in town 👀🦵 for the first time in his career (I think) #RaiderNation 's own AJ Cole III takes the top spot in punter EPA pic.twitter.com/FyZ62ueYHv

— Puntalytics (@ThePuntRunts) October 12, 2021
Pro Football Focus ranks Gillan 30th in gross average of his punts at 41.8 yards.
That is all bad news for Gillan who is in the final year of his contract and likely headed to free agency at the end of the 2021 season.
Browns fans have not gotten over the Week 1 debacle.
Gillan had no choice but to take the blame for it.
"I just dropped it. A massive mistake. I cost that game. The whole point of our position is to be a weapon and to help out the team, and obviously, there I did not. Things happen, right? That has not changed my outlook in practice, my personality or anything. I am still this happy go lucky, likes a plant or two person. Just had a fun week, and to be honest with you, I am really happy this happened Week 1 – trying to find the silver lining in every cloud. It made it kind of like a reset button. I can't punt the ball without catching it so I better catch it next time."
There is plenty of football yet to be played.
As long as the Browns do not try out any punters in the near future, Gillan has an opportunity to redeem himself and turn around his season.