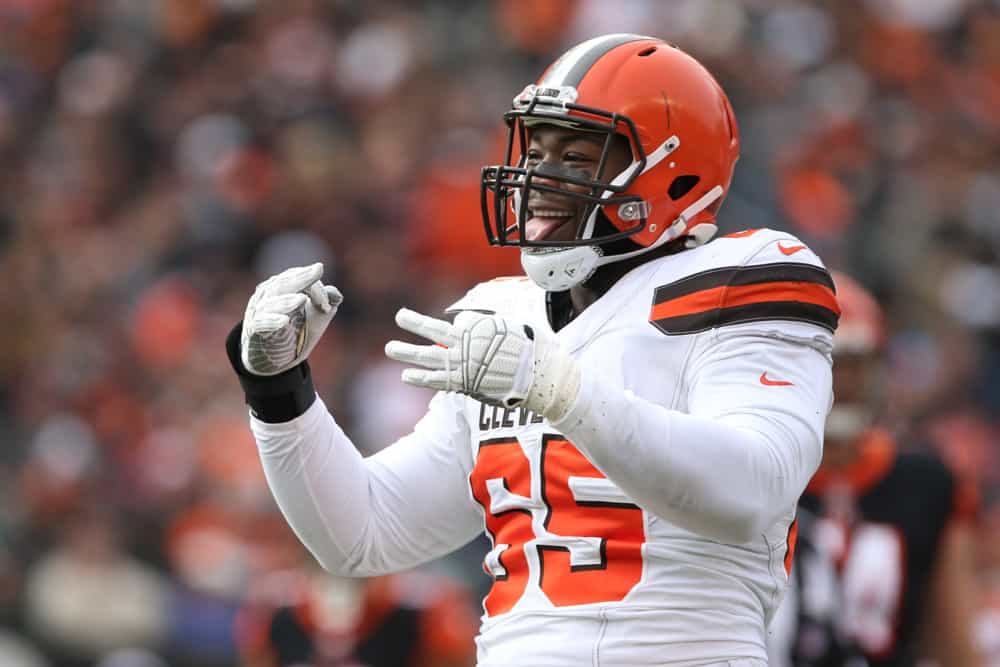 Larry Ogunjobi keeps things pretty lowkey off the field.
On the field, however, he's loud.
Not with trash talk or anything like that, but just with his play and effort.
While it's easy to focus on the talent that is Myles Garrett, don't forget about Ogunjobi.
He may very well be the glue that holds the Cleveland Browns defensive line together this season.
Playing a Bigger Role
Naturally, when Andrew Berry went out and acquired Andrew Billings this offseason, the roles of both Ogunjobi and Sheldon Richardson diminished just a bit.
Now that Billings has decided to opt-out of this season, those two will have more prominent roles.
He's only 26, but Ogunjobi has been one of the more reliable and mature guys in the locker room since joining the club in 2017.
He's played at least 14 games in each of his 3 seasons, recording 5.5 sacks and 50 or more tackles in the last 2 years.
While Garrett is still the star of that front four, the Browns will rely heavily on that same level of production out of Ogunjobi.
There have been games where Larry goes "missing" and is not very disruptive.
However, when he's at his best, he can wreak havoc in opposing backfields.
An exhibition on how to "get off the football" by Larry Ogunjobi. WOW

He doesn't make the play here but disrupts all timing. pic.twitter.com/Tj2bOWxpuC

— Jake Burns (@jake_burns18) September 18, 2017
Leadership
With a fairly inexperienced defense behind him, Ogunjobi will help anchor the unit that will carry the Browns defense to whatever kind of success they sustain.
The linebacker group is expected to struggle the most this season, so whatever the front four can do to alleviate some of their responsibility will help.
With that being said, Ogunjobi also has an opportunity to really emerge as a leader of the defense this season.
With rookie Jordan Elliot as the primary backup to him and Richardson, Ogunjobi will surpass 70% of the defensive snaps as he has the previous two seasons.
I wouldn't be shocked to see that number climb over 80% by the time the season is over.
He seems ready for that workload though, as a recent photo displays a lean and mean Larry Ogunjobi.
DT Larry Ogunjobi is one of many #Browns players that came back leaner and meaner this summer. Photo courtesy of the Cleveland Browns pic.twitter.com/q3NJrwPVeL

— Mary Kay Cabot (@MaryKayCabot) August 7, 2020
Speaking of Elliott, this year could be a great one for him to take some pointers from Ogunjobi.
This season is a contract year for Larry.
With so many of the other top names around the roster needing to be paid in the coming years, it's far from a guarantee that Berry brings him back after 2020-21.
We've seen guys really turn a corner during their contract year, just see last season for Bud Dupree of the Steelers.
Anticipate Ogunjobi being at the top of his game, and if Elliot's smart, he'll do what's needed to learn from Larry.
Jordan could very well put himself in a spot to become Ogunjobi's successor if the Browns don't offer him another contract.
For now though, the responsibility is on Ogunjobi to help carry that Browns defensive line.
Browns fans, like Ogunjobi, are excited to see it happen this season.
Different animal, Same beast.. Year 4️⃣ pic.twitter.com/ePMDICRkzb

— Larry Ogunjobi (@Mr_Ogunjobi) August 7, 2020