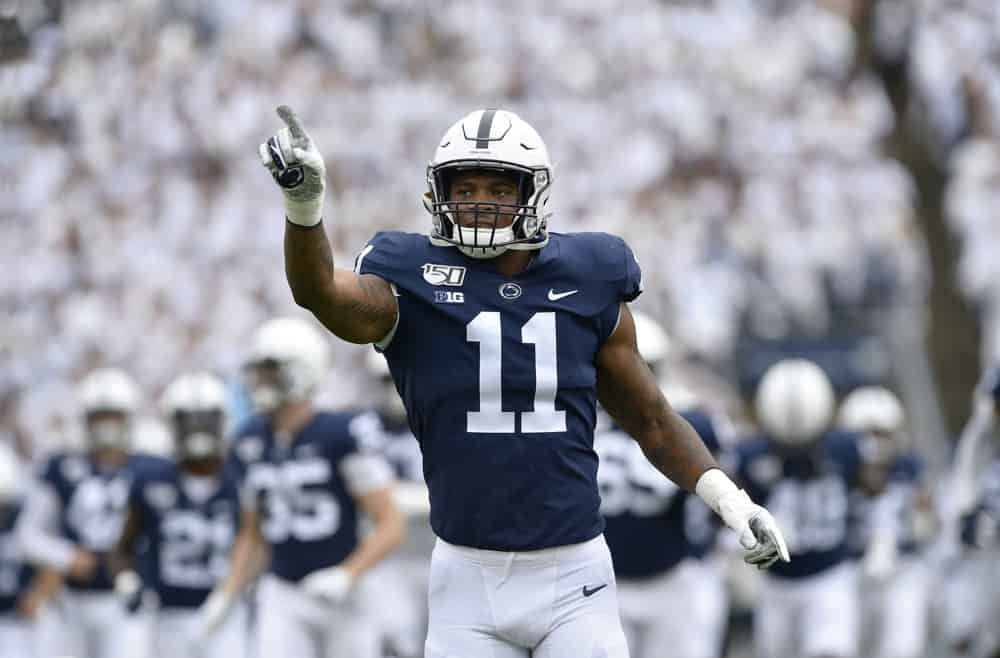 Before the 2020 NFL season began, the Browns lost linebackers Joe Schobert and Christian Kirksey from the middle of their defense.
The team then chose to rely on Mack Wilson, Sione Takitaki, Jacob Phillips, B.J. Goodson, and even Malcolm Smith to step up in 2020.
Before the '20 season began, Pro Football Focus was not too kind to this group, giving them an overall ranking of 31 out of 32 teams.
Despite some solid play in 2020, this group nearly lived up to PFF's billing.
The defensive unit as a whole was 21st in the NFL with 419 points scored against it (26.2 points average per game).
Individually, the unit has some positives: Takitaki looked good against the run; when he was healthy, Phillips displayed a good game at times; Goodson is a solid contributor.
As of now, it is up-in-the-air whether Goodson and/or Smith will return.
The weakness of the unit is their ability to play sideline-to-sideline.
PFF graded Takitaki's coverage ability at 44.4.
They also gave Wilson an overall grade of 41.9.
The lack of a consistent pass rush from the Browns defensive line exposed this deficiency last season.
Defensive coordinator Joe Woods said before the 2020 season that he would eventually like to transition the Browns to a dime defense.
In the dime, teams will usually trot out two linebackers.
If Woods makes good on his promise, can Takitaki and Wilson, or Phillips and Goodson play well against the run and the pass?
Though most draft experts believe the Browns need an EDGE rusher first and foremost, linebacker is also a position of great importance for 2021.
Without further ado, here are five linebackers (plus a bonus) the team should consider selecting in the 2021 NFL Draft.
Please note that this list is not meant as a ranking system, just a list of players to consider.

Zaven Collins, junior, Tulsa
It doesn't take a lot of film on Collins to see why he was the 2020 Bronko Nagurski Trophy award winner.
During Tulsa games, broadcasters frequently used "everywhere" to describe Collins' impact on the field.
That word is apt as Collins showed the world this past fall that he is ready for the NFL.
He was absolutely everywhere in games.
One play, he would be in the backfield making a tackle for a loss.
The next play, he was tackling a receiver in the open field.
Then, Collins could be seen breaking up a pass in the flat.
Collins arrived at Tulsa as a three-star recruit from Hominy, Oklahoma, having been a four year starter as a quarterback, linebacker, and safety in high school.
Despite his stellar play on the field, Tulsa was the only FBS program to offer him a scholarship.
Collins accepted the offer and never looked back.
After redshirting in 2017, he became a starter in 2018 and made 85 total tackles, 1.5 sacks, one forced fumble, one interception, and three passes defended.
In 2019, Collins put opponents on notice with 97 total tackles, two sacks, one fumble recovery, and three passes defended.
Last season, Collins was all over the field, making 54 total tackles, four sacks, two forced fumbles, one fumble recovery, four interceptions (two of which he returned for touchdowns), and two other passes defended.
He helped Tulsa to their first winning season in four years with a 6-3 overall record.
Collins was then awarded the Nagurski Trophy for the best defender in the nation as well as First-team All-American honors.
At 6'4", 260 pounds, Collins has the size and strength to outmuscle blockers, blow up running backs, and speed to hang with tight ends.
Watching him on film, his football instincts are uncanny.
Collins will quickly diagnose a play and snuff it out.
He has the patience to disguise his assignment for a beat and then surprise a quarterback or running back at the last second.
Collins is quick to close ground.
For example, during a play against University of Central Florida last season, the Knights were backed up on their own five yard line.
Collins was standing near the nine yard line, pre-snap.
After the play began, Collins flew through the center/guard gap in a flash and tackled the running back for a safety.
As the saying goes, "speed kills."
Zaven Collins made impact plays like this every week. Good mental processing and downhill burst. He consistently beats offensive linemen to their landmarks with his speed. pic.twitter.com/qTo8CmFs71

— Brandon Carwile (@PackerScribe) February 23, 2021
That brings me to another Collins staple, his tackling ability.
He has the fluidity to angle around blockers and maintain his speed while doing it.
Because of his length and strength, he does not miss tackles often.
Collins stays low, wraps up, and brings the ball carrier down.
In pass defense, Collins can backpedal quickly and get into passing lanes swiftly to disrupt the quarterback's timing.
His hips allow him to change direction on the fly and switch from run to pass protection.
Even with all his accolades and skills, pro scouts note a few flaws in Collins' game.
For starters, he is not always consistent in choosing his gaps during plays.
A wrong diagnosis will allow a play to get away from him and create a mismatch for the offense.
Also, though he is quick, scouts note his top end speed isn't the best.
Collins works better in short range, which translates to a player that can't always go from sideline-to-sideline.
Despite these small details, Collins will be one of the first linebackers off the board in the first round.
A number of prognosticators have him being selected by the Browns with their 26th pick.

Micah Parsons, junior, Penn State
Despite opting out of the 2020 college season, Parsons projects to be the second (perhaps even the first) linebacker off the board in the draft.
His athleticism is unreal and his football instincts are near perfect.
As a junior and senior at Harrisburg High School, Parsons played defensive end and running back.
By the time he was a senior, Parsons was already a highly regarded prep athlete.
During his senior year, he rushed for 1,239 yards and 27 touchdowns.
Parsons added 9.5 sacks and a pick on the defensive side of the ball.
He was considered a five-star recruit and was ranked in the top ten nationally as a recruit.
Hailing from Harrisburg, Pennsylvania, Parsons chose Penn State.
When he arrived, Nittany Lions head coach James Franklin switched Parsons to linebacker.
The switch would prove beneficial for both Parsons and Penn State.
In 2018, Parsons played right away and tallied 82 total tackles, 1.5 sacks, and two forced fumbles.
2019 would prove to be one of the most dominant performances by a college linebacker in recent memory.
That season, Parsons had 109 total tackles, five sacks, four forced fumbles, one fumble recovery, and five passes defended.
After the season, he was named a consensus All-American, First-team All-Big Ten, and Butkus-Fitzgerald Linebacker of the Year.
During what would be his final college football game, Parsons was named the Defensive MVP of the Cotton Bowl when he accumulated 14 tackles, two sacks, and two forced fumbles in the 53-39 victory over The University of Memphis.
All jokes aside. Micah Parsons is worth the first overall pick pic.twitter.com/NcR9ONdM20

— NFL Network 4thdown (@4thdown_Network) February 4, 2020
It would be easy to knock Parsons for having only two years of college football experience.
However, most scouts and NFL talent evaluators believe that Parsons is already elite and will only get better.
Watching him on film, the 6'3", 245 pound Parsons has a non-stop motor and a relentless pursuit of the football.
His smooth hips, fast twitch response to the direction of the ball is eye-popping.
He possesses the ability to change direction in mid-stride and not get sidetracked by blockers.
Several clips show opponents trying to impede his path only for Parsons to sidestep or leap over the obstacle.
While doing so, he maintains his speed and keeps his eye on the prize.
Parsons' speed is otherworldly.
Countless times on film he could be seen starting the play 7-8 yards deep, then exploding at the snap and making a tackle for loss in the backfield.
I lost count the number of times Parsons stripped the ball while simultaneously making a tackle.
Parsons also has strong hands.
He can fight off blocks effectively and also grab and collect ball carriers for tackles.
Basically, if Parsons has a hand on you, you're most likely going down.
Another plus for Parsons, his ability to play sideline-to sideline, even from the Mike position, will garner him a ton of interest.
He is quick enough to pick up zone coverage and he will hang with tight ends, running backs, and some receivers.
There are only a few negatives concerning Parsons.
Obviously, he sat out 2020 and could have used another season to hone his game.
Watching his game film, I noticed several high tackles on opponents.
Sure, he still made a number of these tackles, but NFL runners will be able to slip through him if he continues to wrap up around the shoulder pads.
Parsons had an off-field incident that concerns some teams.
In March of 2018, Parsons and a fellow Nittany Lion teammate were involved in a serious altercation in the academic center of the team's practice facility.
The fight escalated to the point where Parsons was choking his teammate.
The teammate then pulled out a pocket knife and threatened Parsons with it.
The teammate, who has since left the program, alleges that Franklin asked him not to tell the police that Parsons was involved because Franklin did not want Parsons to face discipline.
Even with this blemish on his record, Parsons is still a first day prospect.
Unless the Browns trade up, Parsons is most likely gone by the 26th pick.

Nick Bolton, junior, Missouri
Bolton projects as another first round selection.
He was a three-star athlete in high school and won back-to-back district MVP honors along the way.
Bolton received offers from Utah, Washington, and Missouri and chose Missouri.
After arriving in Columbia, Bolton wasted no time getting on the field.
As a freshman in 2018, he made 22 total tackles and one sack.
In 2019, Bolton became one of the best linebackers in the SEC, let alone the country.
That season, he racked up 100 total tackles, one sack, two picks (one of which he returned for a touchdown), and eight passes defended.
This past season, Bolton continued to shine, posting 95 total tackles, two sacks, one fumble recovery, and five passes defended.
During his three year college career, Bolton has put up some gaudy numbers during games.
There were the 14 tackles he made against South Carolina, 11 tackles against LSU, and 17 total tackles against the Tennessee Volunteers.
At 6'0", 232 pounds, Bolton is a mighty spark plug.
His short, compact size allows him to sneak through the detritus of the interior line, find the ball carrier, and explode into an earth shaking tackle.
Bolton has a low center of gravity which helps him stay below the pad level of opponents and drive through blocks.
Nick Bolton.

The best defensive player in college football. pic.twitter.com/PKvWcbFKIL

— Kris (@mizkris18) October 11, 2020
Bolton is quick and has the burst to avoid blockers as well as the ability to maintain his angles toward the ball.
He uses his hands well to keep blockers off and away from him and does a good job tracking the ball throughout plays.
Bolton showed patience this year in diagnosing plays and not being overly aggressive.
In past years, this over aggression has cost him tackles.
Against the pass, Bolton can stay with receivers in zone coverage.
He has good flexibility which allows him to move laterally and change directions on a dime.
On film, Bolton can be seen stopping quickly during a pass rush to drop back into coverage.
He is good at clogging up passing lanes and making life difficult for quarterbacks and receivers.
Bolton's flaws are few and some cannot be corrected due to his size.
Scouts note his inability to stack and shed some offensive linemen, which will be a problem in the pros.
Bolton also needs work on taking better angles during passing plays.
Despite his constant motor, Bolton loses speed outside of his zone, which means he might not be the best prospect going sideline-to-sideline.
Overall, Bolton is projected as a Mike (middle) linebacker in the NFL.
He has been projected in many mock drafts to be selected by the Steelers at 24 as well as the Browns at 26.

Jeremiah Owusu-Koramoah, senior, Notre Dame
I spent a fair amount of time viewing the highlights of Owusu-Koramoah.
He is interesting to watch because he plays all over the field.
At various times, Owusu-Koramoah can be found at the outside 'backer spot, safety, and corner.
He was most popularly labeled a "rover" by announcers as well as Fighting Irish coaches.
Owusu-Koramoah's versatility is nothing new.
He was a multi-sport athlete in school, playing both football and basketball.
On the gridiron, he played running back, receiver, safety, and linebacker.
Owusu-Koramoah is not particularly tall (listed at 6'1", 215 pounds), but he plays like someone much larger.
His explosiveness is stunning and he surprised many opponents with his speed.
After a stellar high school playing career, Owusu-Koramoah was considered a three-star recruit.
He had interest from University of Virginia, Michigan State, and Notre Dame.
Hailing from Hampton, Virginia, Owusu-Koramoah originally committed to Virginia.
However, when more offers from the likes of MSU and the Irish poured in, he de-committed and brought his talents to South Bend.
In 2017, Owusu-Koramoah redshirted and saw some playing time in 2018 before a broken ankle ended his season.
When he healed from the injury, Owusu-Koramoah made the most of his playing time in 2019.
As a safety and linebacker, he had 79 total tackles, 8.5 sacks, two forced fumbles, two fumble recoveries, and four passes defended that year.
This past season, Owusu-Koramoah posted 55 total tackles, 1.5 sacks, three forced fumbles, two fumble recoveries, one interception, three passes defended, and a touchdown.
After the season, he was named the ACC Defensive Player of the Year and a member of the AP All-ACC First-team.
Owusu-Koramoah was then tabbed as the winner of the Dick Butkus Award for the top linebacker in college football.
Owusu-Koramoah's bona fides are more than justified.
As a player, he brought his 'A' game every day.
Since he does not carry a lot of weight, Owusu-Koramoah can bend and twist to get around opponents and find the ball.
There are no shortage of highlights that show his booming hits and great range.
In particular, there were a couple hits in the game against Florida State this past season where Owusu-Koramoah absolutely crushed the ball carrier.
That type of violence will translate well in the NFL.
Not only does Owusu-Koramoah attack well, he can cover receivers coming from the back field, the slot, and even (occasionally) near the perimeter.
He has quick hands that will detach receiver from football and push aside any opponent.
Notre Dame's first game against Clemson this past season was a Owusu-Koramoah highlight reel.
His ability to change directions quickly resulted in numerous big plays, passes broken up, and even a score on a forced turnover.
There are some NFL scouts that believe Owusu-Koramoah is the best coverage linebacker in the draft.
Going to be watching Jeremiah Owusu-Koramoah very closely today
pic.twitter.com/VyBdTfy9gB

— Chris Mallee (@mallee_chris_24) January 1, 2021
With only two years of college football experience, Owusu-Koramoah does have a couple things to work on in the pros.
First, he is a tad light for a linebacker in the NFL.
He will need to not only gain weight, but make sure that weight doesn't hinder his game.
Unless his new team decides they want Owusu-Koramoah to play in the secondary, he will have to bulk up to withstand the punishment of bigger NFL players.
Second, while watching him covering receivers in college, I saw a tendency with Owusu-Koramoah to wrap an arm around the receiver while attempting to break up passes.
He might get away with that in college, but the pro game is a little different in its handling of defensive pass interference.
Last, there are concerns voiced by NFL talent evaluators in how Owusu-Koramoah will be used in the pros.
Will he be strictly a linebacker, a safety, or a hybrid?
Also, will he be overused because of his ability to play multiple positions?
These questions will be answered soon enough.
Owusu-Koramoah is projected as a second day player, but there are a few talking heads that have him as a surprise first rounder.

Dylan Moses, senior, Alabama
Moses has an interesting back story.
His talent was so obvious that, by the time he was in eighth grade, he already received scholarship offers from LSU and Alabama.
Moses' training regimen while still in high school is legendary.
He was pushed by his father to succeed, but Moses appeared to thrive on that pressure.
By the time he graduated high school, Moses was considered one of the top prospects in the nation.
Moses received playing time right away as a freshman in 2017.
That year, he was responsible for 30 total tackles, 1.5 sacks, and one interception.
Moses' season ended when he broke his foot and required surgery.
In 2018, Moses had 86 total tackles, 3.5 sacks, one forced fumble, and one pass broken up.
2019 was going to be a coronation for Moses' talent, but an ACL injury in preseason practice ended his season before it began.
Coming back from such a devastating injury can be difficult for most athletes.
However, Moses still put together a solid season in 2020, posting 68 total tackles, 1.5 sacks, one forced fumble, one pick, and three passes broken up.
Watching him on film, one can see Moses' talent.
He is fast and has good range.
Moses' size, 6'3", 240 pounds, is perfect for someone of his ability.
He can handle blockers well and use his speed to get to the edges quickly.
When Moses makes contact for a tackle, he rarely misses.
He does well squaring, wrapping up, and driving through the tackle to bring the ball carrier down.
Reminder: Dylan Moses is back 😈

(Via @JBP_Official) pic.twitter.com/UeBts0EnmL

— Alabama Diehards (@AlabamaDieHards) May 16, 2020
Despite his injuries, Moses can still move pretty well laterally and does not seem to have trouble changing directions quickly.
He uses his hands to blow through opponents on his way to the ball and keeps his eyes on the backfield.
Moses can track backs who break into pass routes as well as tight ends.
The negatives with Moses are his injury history and the translation of his ability in the pros.
There is nothing Moses can do about his foot and ACL injuries other than hope that they will not recur in the NFL.
Some scouts note that Moses was not quite the athlete he was in 2020 compared to 2018 because of his ACL.
However, they also note that he was coming around by the end of last season.
There are times on tape where Moses' processing speed appears to lag.
He can get lost at times which will not help in the pros.
Moses most likely will not get called on to cover man-to man in the NFL.
He does better in zone coverage schemes where he is responsible for watching and reacting to a specific area.
Despite his injury history, Moses has the work ethic and motor to be a solid pro.
He most likely will come off the board sometime during Day 2 of the draft.

He's a local, let's grab him!  Baron Browning, senior, OSU
This was a tough decision.  I vacillated between adding Browning or fellow OSU linebacker Pete Werner to my list.
However, after watching a ton of highlights of each (and reading the reports of numerous scouts and talent evaluators) I give a very slight edge in NFL potential to Browning.
Browning was a five-star recruit as one of the best linebackers in the nation coming out of high school.
He was also ranked as the one of the top 12 athletes in the country for the 2017 class.
After weeding through offers from dozens of schools, Browning chose Ohio State.
Browning arrived at OSU with a ton of potential and he did not disappoint.
Each of his four seasons in Columbus showed improvement and he will be a solid pick for any NFL team.
As a true freshman in 2017, Browning played in five games and made 14 total tackles.
In 2018, he started three games and played in nine on his way to 23 total tackles and one sack.
2019 was a big jump in performance as he made 43 total tackles, five sacks, and one pass break up.
This past season, the Buckeyes only played seven games due to the pandemic.
However, Browning (who began the season on the Butkus Award watch list) still played well.
In 2020, he accumulated 22 total tackles, one forced fumble, two fumble recoveries, and two passes defended.
During the 2021 National Championship game against Alabama, OSU as a whole did not play well.
However, Browning did stand out, especially with a strip sack of Tide quarterback Mac Jones in the first half.
He finished the game with four total tackles and one sack.
Browning is a very solid 6'3", 240 pounds.
He has decent range and good overall athletic ability.
During his four years in Columbus, Browning played both the Will and Sam linebacker positions.
From both spots, he contributed well despite a crowded linebacker unit.
Against the run, Browning can pack a punch.
He is explosive and, when he times his gap penetration correctly, the ball carrier goes down hard.
Browning has good lateral quickness which serves his position well.
If the play goes away from him, Browning has the speed to stay with the flow and make a play near the perimeter.
His energy is contagious and his teammates feed off his momentum-changing hits.
Ohio State LB Baron Browning pic.twitter.com/iyOxLrM61R

— League Ready (@League_Ready100) May 21, 2020
Against the pass, Browning does well when he is responsible for protecting a specific area.
In zone coverage, he keeps his feet light and active.
Browning did a good job watching the quarterback's eyes and anticipating when to challenge the ball on throws.
He can keep up with most tight ends and running backs releasing on passes in the flat.
NFL scouts have some concerns about Browning.
For starters, they worry that he did not start more games for the Buckeyes during his four-year career.
At various times, he split snaps with Justin Hilliard and Tuf Borland.
Scouts also believe he lacks some consistency.
He has a tendency to over-commit in some situations and not make correct reads during plays.
Additionally, pro personnel feel that Browning does not have the same pass coverage ability as Werner.
However, that is something that can be addressed at the next level.
He is projected as a Will linebacker in a 4-3 scheme or an inside linebacker in a 3-4.
Look for him to come off the draft board sometime in Rounds 3 or 4.