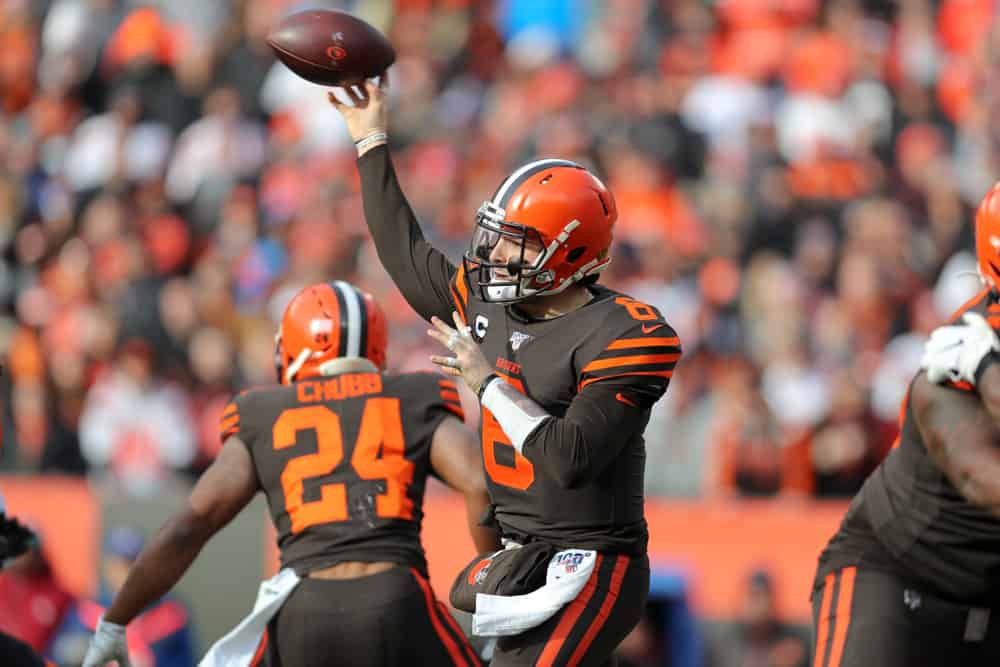 The Cleveland Browns saw tremendous results from Baker Mayfield during the 2020 campaign.
First-year head coach Kevin Stefanski was able to get the most out of Mayfield last season.
Mayfield looked incredible in Stefanski's system and he believes the fourth-year quarterback is only going to get better.
He spoke about Mayfield on Tuesday:
"I wouldn't put any parameters on any of our guys when it comes to their trajectory. I would just tell you, I know he can continue to get better," Stefanski said in his press conference. "He's another person who is eager to get better. He's champing at the bit. And when he walks in this building, or we virtually see him next, we'll make sure that we outline some things that he can improve upon. But I think you all know this about Baker — he works really, really, really hard at his craft. And I think that's something, when you do that, you've got a chance."
Stefanski very well might be right as Mayfield looked comfortable in this offensive scheme.
Mayfield's Turn Around
There were plenty of questions as to whether or not Mayfield would be the future going into the 2020 season.
He quickly silenced the critics with his outstanding bounce back campaign.
Mayfield threw for 3,563 yards with 26 touchdowns and eight interceptions through 16 games.
Those eight picks were a career-low as Mayfield looked like an absolute stud during the second half of the season.
He looked much more comfortable in the pocket and was making excellent decisions with the ball.
Baker the touchdown maker 😏@bakermayfield pic.twitter.com/oCDqgL0I5b

— Cleveland Browns (@Browns) February 24, 2021
Browns fans should certainly be excited about the future with Mayfield under center.
He helped lead the Browns to an 11-5 season and their first postseason appearance since 2002.
The Browns were underdogs heading into their first round matchup versus the Pittsburgh Steelers.
However, Mayfield was able to lead the Browns to their first playoff victory since the 1994 season.
There is tremendous upside with Mayfield and it sounds like the coaching staff is fully behind him.
Stefanski and Mayfield
Often times, it takes time for a new coach and a quarterback to get familiar with each other.
Although, it didn't seem to take too long for Mayfield and Stefanski to find a connection.
Stefanski also noted that after getting to know Mayfield better it became easier to scheme the offense to his strengths.
It certainly seemed to work during the 2020 season and the hope is that Mayfield continues to get better.
The former No. 1 pick has always had the potential to be a star at the professional level.
However, he did not have an easy first couple of seasons in the league.
Multiple coaching changes always makes it difficult for a quarterback to get comfortable in a scheme.
The combination of Mayfield and Stefanski appears to be perfect for this Browns roster.
Stefanski might be right that Mayfield is only going to get better and the 2020 season was just the beginning.
This Browns team could be a legitimate Super Bowl threat, assuming Mayfield improves next season.