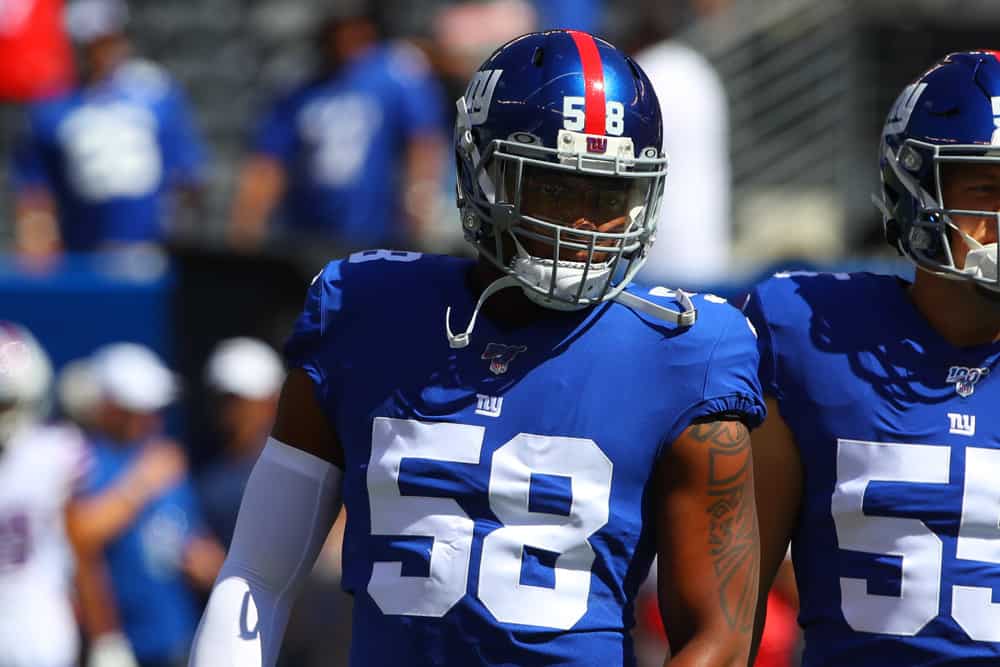 After trading edge rusher Genard Avery to the Philadelphia Eagles for a fourth round draft pick in 2021, analysts expected the Cleveland Browns to fill their empty roster spot with an offensive lineman. However, the Washington Redskins refused to send Trent Williams to Cleveland without Denzel Ward involved in the trade.
The trade deadline came and past, and John Dorsey decided to move forward without adding help at LT.
Tae Davis, a speedy outside linebacker, filled the empty spot on Cleveland's roster. He signed with the New York Giants as an undrafted free agent in 2018.
Davis reportedly made progress in 2018, and he felt much "more comfortable" in 2019.
#Giants HC Pat Shurmur speaking on the progress of former @GoMocsFB LB Tae Davis in Year 2 pic.twitter.com/sWR3UpTcGY

— Emory Hunt (@FBallGameplan) July 30, 2019
After starting the first game of the season for the Giants, Davis unfortunately injured his head. His concussion cost him two games and his starting role on the Giants' defense.
During his time at the University of Tennessee at Chattanogga, Davis played safety for three seasons. His senior year, he switched to outside linebacker.
Genard Avery possesses both speed and power, while Davis relies much more exclusively on his speed and agility.
That's what I like to see out of my guy Tae Davis! Nice speed rush into the ribs! pic.twitter.com/5Dj0blyqOq

— Bobby Skinner (@BobbySkinner_) August 22, 2019
His style of play is reminiscent of former Washington Redskins free safety/linebacker Su'a Cravens. As running backs continue to excel in the passing attack, faster linebackers will become more popular.
It is unlikely that Davis finds himself on the field in 2019, but his versatility and athleticism allow him to play the role of backup to multiple positions.
If the Browns allow him to develop properly, Davis could flourish into a viable starting outside linebacker. He is young, fast, and, most importantly, teachable.
Browns' fans might forget about this signing tomorrow, but Cleveland could've done much worse.