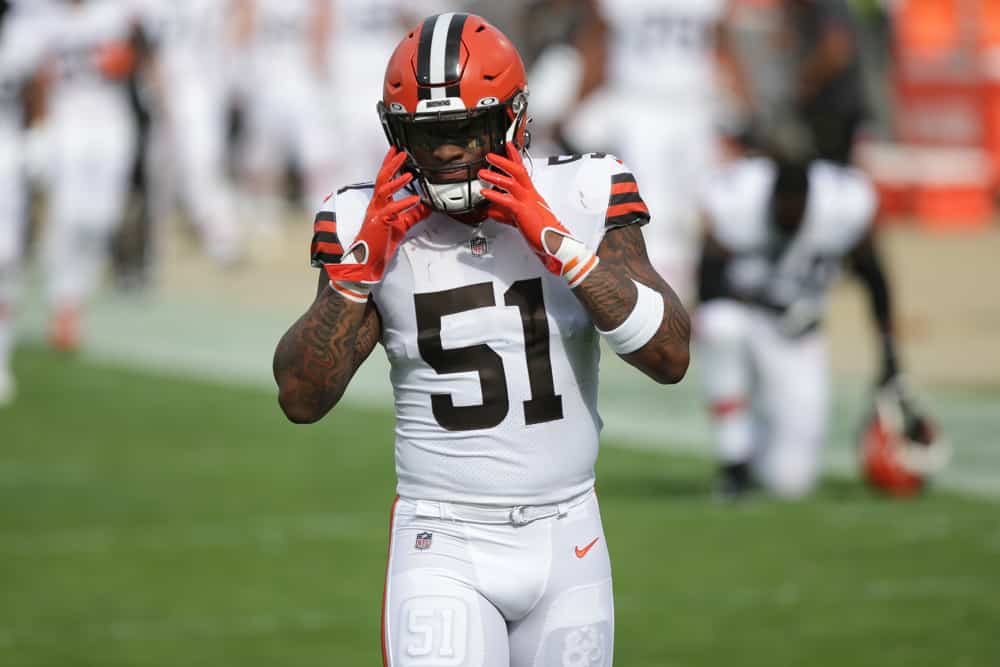 It's time to start giving the Cleveland Browns front office credit for the incredible job they've done.
They continue to add big name talent to the roster, but have found a handful of hidden gems along the way.
In 2019, Cleveland selected Alabama linebacker Mack Wilson in the fifth round.
At the time, he was viewed as mainly linebacker depth, but quickly impressed the team.
However, after a disappointing 2020 campaign, Wilson needs to once again prove himself on the field.
What Happened To Wilson?
The Browns were pleasantly surprised when Wilson broke out during his rookie season.
Through 16 games, he recorded 82 tackles, one sack, and one fumbled forced.
He quickly became a full-time starter in Cleveland, but injuries held him back in 2020.
Wilson wasn't able to get on the field right away due to injury and never fully seemed to recover.
At #Browns camp, LB Mack Wilson was carted off with an apparent left leg injury.

— NFL Update (@MySportsUpdate) August 18, 2020
He finished the 2020 season with 39 tackles and two passes defended in 13 games.
The injuries were a huge setback for Wilson and other players capitalized in his absence.
Once he returned, Wilson didn't look the same and fell into a rotational type of role with Cleveland.
Wilson did start eight games with the Browns last season, but that number is likely to decrease next season.
Cleveland added a handful of depth at the linebacker spot, so Wilson is likely going to have to fight for playing time on this defense.
Can Wilson Rebound?
He showed promising signs of development during his rookie campaign.
Sadly, most of his progression was held on hold last year due to injuries.
Hopefully, the 23-year-old can continue improving his game because he didn't grade too well in coverage.
In fact, Wilson continues to grade very poorly, but there's always time to improve and grow.
He'll likely need to show improvement quickly with the Browns adding a ton of depth this offseason.
They signed former Indianapolis Colts linebacker Anthony Walker to a one-year deal.
He has put together a few successful seasons in Indy and should be a full-time starter in 2021.
They also added Notre Dame linebacker Jeremiah Owusu-Koramoah in the second round of the draft.
Welcome to Cleveland, Jeremiah Owusu-Koramoah!#BrownsDraft | #NFLDraft pic.twitter.com/NOMeUyAWmh

— Cleveland Browns (@Browns) May 1, 2021
Both players should see a significant amount of snaps right away in Cleveland.
It's also worth noting Cleveland re-signed veteran linebacker Malcolm Smith to a one-year deal.
The Browns have Jacob Phillips and Sione Takitaki who will be fighting for playing time as well.
Wilson is going to have a tough time carving out a role with all of these linebackers on the roster.
Another slow start by Wilson would likely be devastating to his career in Cleveland.
The Browns aren't going to sit through the growing pains when they have this much talent.
Wilson has shown he can be a useful option on defense, but the Browns are going to make him earn his role.
He could quickly get lost in the shuffle and become a rotational player or depth.
That means, Wilson could become trade bait or be stuck as a depth player if he doesn't prove himself in 2021.