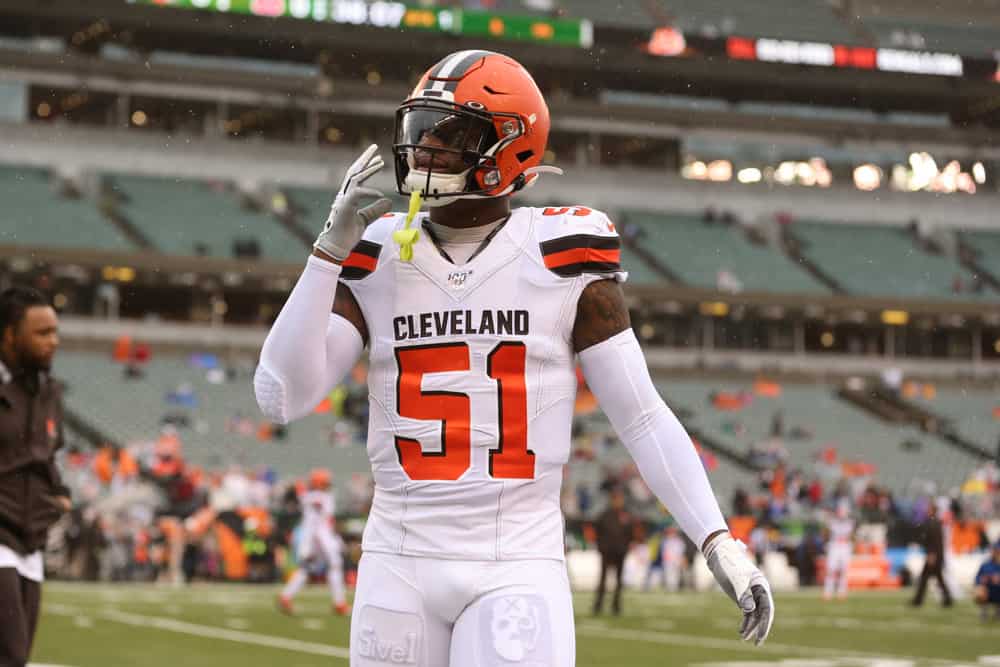 The NFL Draft is just days away and there has been a lot of speculation on who the Cleveland Browns will take with their first-round pick.
They have been linked to nearly every top offensive tackle prospect in the draft, as they have a need for the position.
Browns linebacker Mack Wilson was recently asked who he would want to add to the Browns defense in the draft and he responded: "Simmons from Clemson. His versatility is insane."
Simmons from Clemson. His versatility is insane. https://t.co/FNqQoYXNBd

— Mack Wilson (@5mackwilson1) April 10, 2020
Wilson is referring to Clemson linebacker Isaiah Simmons, who is widely regarded as a top-10 pick in this years draft.
If the Browns were to get Simmons, they would most likely have to trade up in the draft.
While some may argue the Browns should sit at pick No.10 and take the best available offensive tackle, Simmons could be worth a trade up.
Been watching Isaiah Simmons and can't really get enough of him, he's a freak. pic.twitter.com/nxuHIQI2sZ

— Johnny Kinsley (@Brickwallblitz) April 12, 2020

There's never been anyone quite like Simmons, who even himself, finds it difficult to draw NFL player comparisons.
"I don't know if I truly have one person you could compare me to just for all the different things I do," Simmons explained.
But, there are current NFL players that he models his game after.
"If I have to go look at film of somebody to get something, it would be Von Miller just for pass rush, Jalen Ramsey for man techniques and Tyrann Mathieu just because he plays around everywhere, as well," Simmons said.
Simmons also had a very impressive Combine.
At 6-foot-4, 238 pounds, Simmons ran the 40-yard dash in 4.39 seconds.
It was the second-fastest time for a linebacker at the combine since 2006.
He jumped 39 inches, with an 11-foot broad jump.
These are numbers that would impress most cornerbacks and is off the charts for linebackers and safeties.
#Clemson LB Isaiah Simmons

6-4 (93rd percentile)
39" vert (92nd percentile)
11'0" broad (98th percentile)
4.39 40-yard (99th percentile)

This is Earth's greatest defender pic.twitter.com/uXboqqGT0Z

— Trevor Sikkema (@TampaBayTre) March 1, 2020
Browns looking for Wilson to Step Up In 2020
While adding a playmaker such as Isaiah Simmons to the defense would be a solid addition, the Browns are also looking for bigger things from Wilson next season.
In 2019, Wilson had 82 tackles, 1 interceptions, a forced fumble, and 4 tackles for loss.
Wilson stepped into a starting role after the Christian Kirksey was lost with a season-ending injury in 2019.
Although Wilson didn't disappoint, the Browns will be looking for Wilson to elevate in play in 2020 and take the next step.
For Wilson, he understands the challenge that is in front of him and accepts it.
Never ran from no Challenge.. Just put it in front of me and watch what i do!

— Mack Wilson (@5mackwilson1) March 7, 2020
There has been talk that DC Joe Woods could use Wilson more as an outside linebacker in 2020 instead of middle linebacker where he played most of 2019.
"As far as position-wise, he really didn't say what I was going to play," Wilson said on the Browns Working From Home series. "But he was like, 'You're interchangeable.' I can play wherever, so I'm just going to go in, do whatever it takes to win, whatever position they want me to play, play it to the best of my ability and just work."