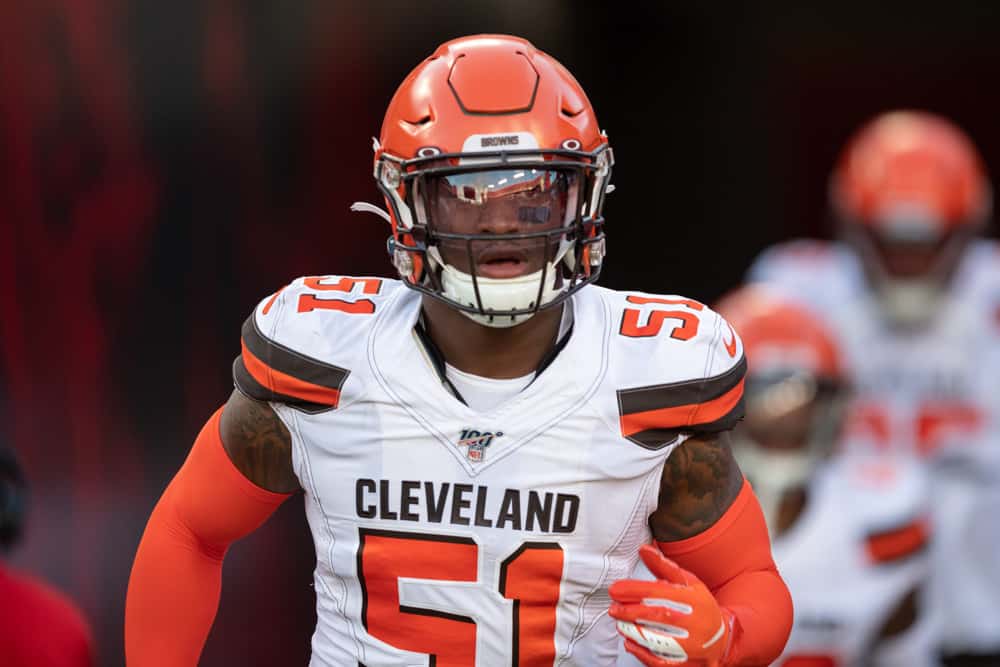 Mack Wilson had a prestigious college career with the Alabama Crimson Tide, and a solid rookie year with the Cleveland Browns.
His continued growth from college through his rookie year is expected to continue as Wilson will likely be depended on more this coming season with the Browns, especially with the report that the Browns will not re-sign Joe Schobert.
According to a recent social media post from Mack, he's ready take that next step and any challenges that come his way.
Let's take a look at Wilson's college achievements, his impact with the Browns in his rookie season, and what to expect from Mack moving forward.
College Achievements
Coming out of high school, Wilson was a highly recruited four-star prospect.
He ranked 34th on ESPN's top 300 players.
He received offers from reputable schools like Georgia, Clemson, Ohio State, LSU, USC, Michigan, and the school he spent three incredible years with, the Alabama Crimson Tide.
Wilson went on to live up to the lofty expectations that were set for him going into college.
During his three year career with the Crimson Tide, Wilson finished with fifty-nine solo tackles, fifty-four assisted tackles, including seven tackles for loss, and a sack.
On top of this, he had six interceptions (one of which he returned for a touchdown), a fumble recovery, and even caught a touchdown pass during his freshman year.
WNS is going to start posting a Prospect Spotlight. The first prospect? Mack Wilson (@iam__mw3o) LB – Alabama. Mack Wilson is one of the better cover LBs in the 2019 NFL Draft, which you can never have too much of in today's NFL.

Brandon Olsen (@WNS_Brandon) grade: Top 40 pic.twitter.com/Heh7qXmE8P

— Whole Nine Sports (@WholeNineSports) March 27, 2019
Wilson gained a reputation as being one of, if not the hardest-hitting linebacker in all of college football.
Combine and Draft
#Alabama LB Mack Wilson (@iam__mw3o) to enter 2019 #NFL Draft

READ: https://t.co/fALFVF5MWx | #NFLDraft pic.twitter.com/3PWZbkjPji

— Draft Wire (@TheDraftWire) January 14, 2019

Wilson had an adequate showing at the combine, earning him a combine grade of 6.3 out of 8.
Some recognized strengths of Wilson were his versatility to cover anyone from running backs to receivers, and even tight ends.
Another analyzed strength of Wilson was his ability to catch the football, which also leads to a fair amount of interceptions.
Lastly, was his ability to put explosive hits on opposing players, which lead to Wilson's player comparison being to that of former Alabama linebacker C.J. Mosley.
The main weakness of Wilson coming out of the combine was the inability to shed blocks leading to a low amount of tackles for loss.
Wilson was a projected third or fourth-round pick; however, he wound up slipping to the fifth round where the Cleveland Browns got a steal with the 145th overall pick.
"With the 155th pick in the 2019 Draft, the Cleveland Browns select Mack Wilson, LB, Alabama."

📺: NFLN/ESPN/ABC pic.twitter.com/tchxcHWsZI

— Cleveland Browns (@Browns) April 27, 2019
First-Year Accomplishments
In his rookie season with the Browns, Wilson backed up his strengths and even quieted talk about some of his weaknesses.
In his first season, Wilson totaled eighty-two tackles, an interception, a forced fumble, and four tackles for loss.
Some of those big hits he was known for in college found their way to the NFL.
#Browns LB Mack Wilson tweeted this celebratory post, featuring him standing next to concussed JuJu Smith-Schuster. He then deleted it. #Steelers pic.twitter.com/GbWPBbLZ3X

— Josh Rowntree (@JRown32) November 15, 2019
He stepped up incredibly for a rookie, especially once Christian Kirksey went out with a season-ending injury.
PICKED!@5mackwilson1 with his first NFL INT! pic.twitter.com/Nbh2vIupr5

— Cleveland Browns (@Browns) December 15, 2019
This forced Wilson to a bigger role than ever expected for him in his first season, and he did not disappoint.
Looking Forward
Moving into Wilson's sophomore year, he will most likely be counted upon to have an even bigger role in the defense.
While Wilson expressed his respect for Schobert, he believes that he can handle the challenges that will arise from being without Schobert.
This readiness for a challenge is something that Browns fans can get excited about.
Never ran from no Challenge.. Just put it in front of me and watch what i do!

— Mack Wilson (@5mackwilson1) March 7, 2020
It is clear to see that Wilson is motivated and will continue to work harder on his game.
So fans should expect more sacks, interceptions, and hard hits from Mack Wilson going into the 2020 season.