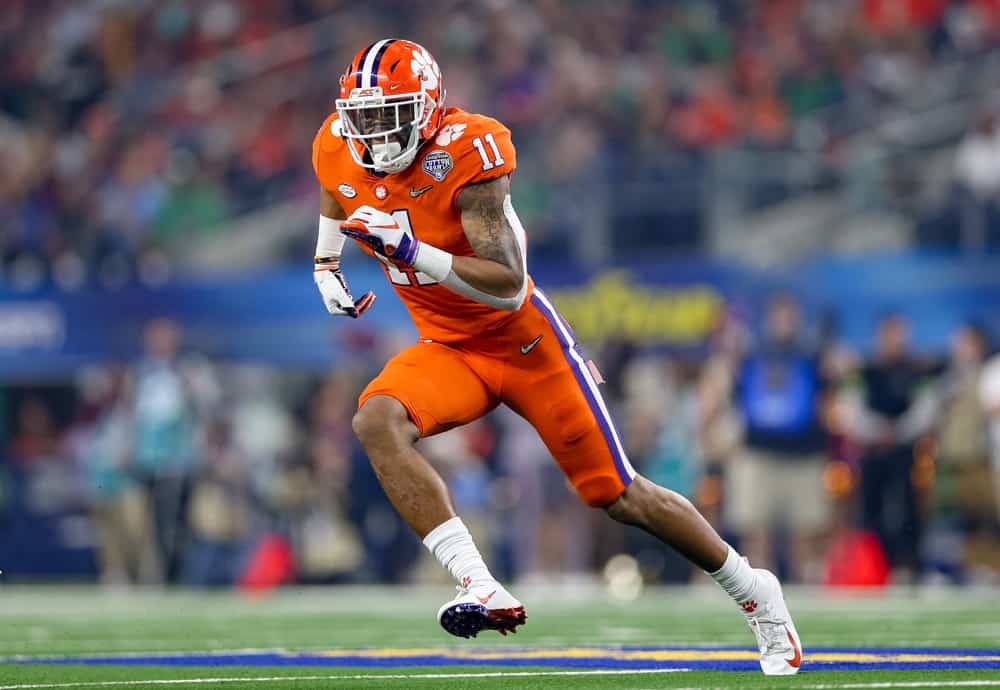 As the 2020 NFL Draft draws near, mock drafts and changing scenarios dominate the internet.
Most scenarios have Isaiah Simmons off the board before the Cleveland Browns´ tenth overall pick.
But a rising number of pundits see Simmons falling, some even past the Browns.
In @MoveTheSticks latest mock draft 3.0 he has us taking Clemson LB/S Isaiah Simmons at pick 10, What would your thoughts be if this turned out to be the pick for the #Browns ? pic.twitter.com/uFjEEzdtff

— MoreForYouCleveland (@MoreForYou_CLE) April 7, 2020
Multiple sources say the Browns would take Simmons if he is available.
If he is sitting there for the Browns, that probably means Andrew Berry´s top few choices at left tackle are gone.
The most predictable thing about the draft is something unpredictable will happen.
Cleveland might get lucky.
But if they want Simmons, they would do better to attack the board and move up for him.
How Far Up the Board Should the Browns Move?
The New York Giants are the key to Simmons´ availability.
They have similar needs to the Browns.
If the Giants stick to Plan A and draft an offensive lineman, Cleveland should be ready to move up.
With their defense in a full rebuild, the Giants might find Simmons too good to pass on.
But with so many other targets, Cleveland can´t sell the house to grab a top-three pick for Simmons.
Isaiah Simmons length and closing speed are just ridiculous. Makes disruptive plays a lot of LBs aren't able to make. pic.twitter.com/6hKMrYMS9p

— Rob Paul (@RobPaulNFL) April 5, 2020
The return price becomes more plausible after the fourth pick.
Miami is rumored to be open to trades.
But Arizona and Carolina are also potential trade partners.
It could still cost the Browns significant draft capital, which Berry treasures.
If Simmons and three or more offensive linemen come off the board early, Berry could even trade down.
But here are three reasons Cleveland should trade up to snag the best linebacker in the 2020 draft.
Reason 1: The Obvious and the Available
Isaiah Simmons is by far, the most talented and versatile linebacker in the draft.
Cleveland certainly has a need for bodies at the position.
There is virtually no quality left in free agency.
Patrick Queen of LSU and Oklahoma´s Kenneth Murray would do well for Cleveland.
But they can´t cover for deficiencies around them as the speedy Simmons might.
Simmons is fast, explosive, strong, and smart.
Isaiah Simmons is a terrifying blitzer with his explosion and length. Just throws the RB to come away with a sack. pic.twitter.com/5lwTpfO4rp

— Rob Paul (@RobPaulNFL) April 5, 2020
He can cover a receiver and rush the passer.
Not many ball carriers will get past him.
BJ Goodson might be under-rated in limited opportunities as a pass defender.
But there is little question about Simmons.
If not for the unique strength of quarterbacks and offensive linemen in this draft, Simmons would be a top-four pick.
He might wind up as the only first-round linebacker in this draft.
Reason 2: Game Plan-Wrecking Versatility
Simmons will line up at linebacker wherever he goes.
But the general consensus is he would make a fine safety, cornerback, or edge rusher, too.
Versatile defenders can offset creative offensive schemes and challenges.
One way to disguise the many holes we have on defense is by having an Ath like Isaiah Simmons who plays multiple positions well. He can literally switch up coverage pre-snap to adjust for the offense.

He also seems to play with a 🔥 that's contagious

— Fifth Quarter Carolina Panthers (@FQPanthers) April 4, 2020
Simmons can cover an extra receiver or be a force against a power formation.
If an offense goes up-tempo to prevent substitutions, Simmons can just shift position.
Cleveland needs to pick up more linebackers.
But alongside a proven run-stopper in BJ Goodson and a developing Mack Wilson,
Simmons can fill a specific role in Joe Woods linebacking corps.
Or, he can be free to create havoc all over the field.
Reason 3: Selling the Fans on the New Browns
Andrew Berry and the Browns are winning the offseason, so far.
Fans like what they hear from head coach Kevin Stefanski.
Signing Jack Conklin and Austin Hooper in free agency bought Berry instant credibility.
Throwing in Case Keenum was a solid move, too.
#Browns Andrew Berry said he feels really good about what the Browns have done in free agency to date. "It's a good start to the off-season, but we have a lot of work to do."

— Fred Greetham (@FredGreetham) April 10, 2020
Since then, the team added a bunch of defensive players, but none with the fanfare of their offensive additions.
Jadeveon Clowney is among the remaining free agents and trade targets linked to Cleveland.
But asking prices seem to be a problem even though the team has the most remaining salary cap space.
An aggressive push to grab the second-best (or arguably, the best) defender in the draft is in order.
Theres no way they allow the #Browns to have Myles Garrett, Mack Wilson, Denzel Ward and Greedy williams on the same team with Isaiah Simmons…plus the offense we have…no way

— Factory of Revenge (@UncleRobGotNext) April 9, 2020
There are potential short-term free agents available for the offensive line if the Browns miss on a rookie there.
But there are no linebackers available who can lift a team as Simmons can.
There are mid-round safeties and offensive linemen for Berry to select after Simmons.
Coupled with a Clowney signing or a Yanick Ngakoue trade, Berry can convince fans he has a plan on defense, too.