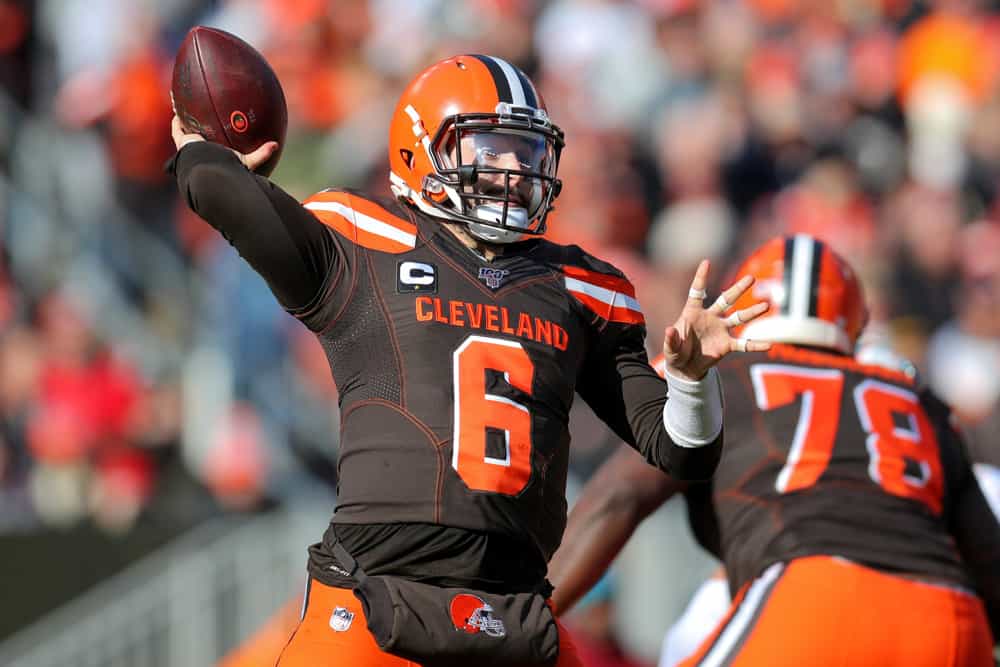 Baker Mayfield is still dealing with an injury he suffered when he hit his hand on Steeler's linebacker Bud Dupree's facemask in the Browns 20-13 loss to the Steelers.
Despite the injury, Mayfield was able to return and play the second half in the game.
Unlike a similar injury Drew Brees suffered earlier this year, the Browns were fortunate.
Mayfield was asked about how wearing a glove affected his play:
"It just took some getting used warming up," Mayfield said. "I've thrown with a glove, but I've never played with one, so it was a little different, but I got used to it. I thought I played fine.
Baker Mayfield isn't throwing in practice, but he doesn't seem too concerned about his availability this Sunday against the Bengals.
"Mama didn't raise a wuss," Mayfield said via Nate Ulrich of the Akron Beacon Journal while talking about playing this Sunday.
"I'd say if Bud Dupree was there just a millisecond earlier, it could've been pretty bad, but I'm pretty fortunate," Mayfield said.
"From everything that they evaluated, it's just a nice contusion, bruise, whatever you want to call it."
#Browns QB @bakermayfield on why he prefers not to wear a glove on his throwing hand #3Browns @wkyc pic.twitter.com/ozsgsqHZLX

— Matt Florjancic (@MattFlorjancic) December 4, 2019
"I'll try and go tomorrow for sure," Mayfield said.
Mayfield is also showing on the Browns/Bengals injury report for a rib injury.
Injury report for #Browns and #Bengals. Baker Mayfield limited with right hand/ribs pic.twitter.com/bBKsOaMGqO

— Nate Ulrich (@ByNateUlrich) December 4, 2019
In other news, Greg Robinson who missed last week's game with concussion symptoms, was back at practice today.
Safety Eric Murray who has also been out 5 games this year was back on the practice field as well.
Kitchens also mentioned he has not made a decision on whether tight end David Njoku will play this week and is still day-to-day.
Still no word on Olivier Vernon and his status for Sunday's game.