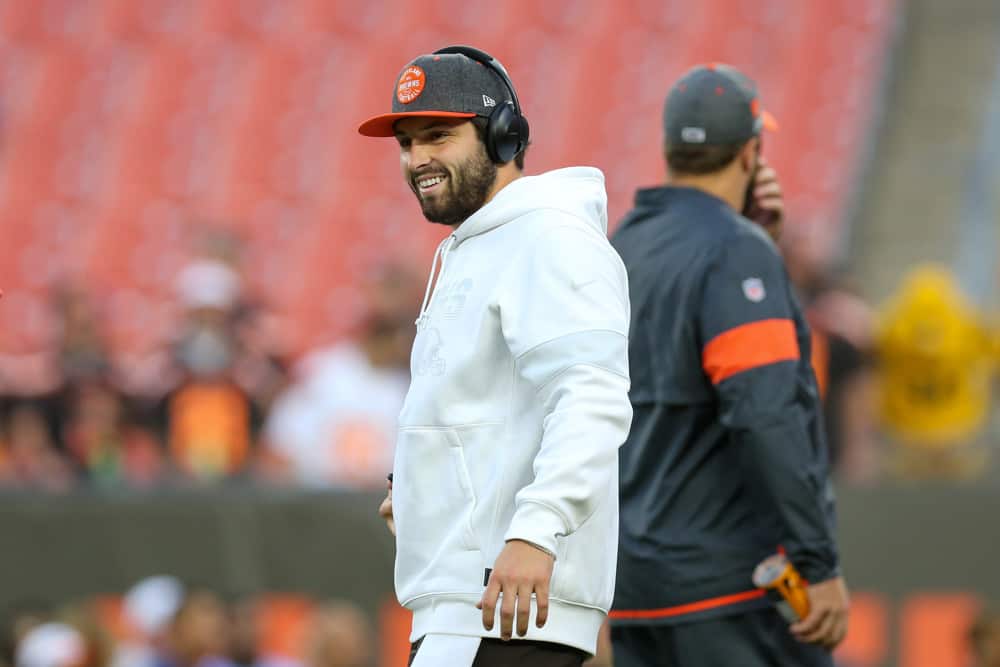 The Baker Mayfield-Colin Cowherd saga is back.
During Monday's edition of "The Herd with Colin Cowherd," the Fox Sports Radio host criticized Mayfield, saying that he preferred New York Jets quarterback Sam Darnold, even though both second-year signal-callers have similar numbers.
Here is Cowherd's full commentary, which came after the Cleveland Browns' 31-15 loss to the Baltimore Ravens.
"Isn't it funny sometimes how things can look differently when they're mostly the same. So, Baker Mayfield's record right now as a professional football quarterback is 12-16, and the knock on him [is] he throws too many picks. Sam Darnold's record is 10-15. The knock on him is he throws too many picks. Both today are 6-9. By the way, they've both just got crushed by the Ravens in the last two weeks and their numbers were nearly identical. Baker, when he got crushed, had an 84 quarterback rating, 61 percent completions, 192 yards. Sam Darnold's quarterback rating was mid 80s, little over 200 yards, 56 percent completion. Both are dealing with coaching instability this year and dysfunctional franchises. So much is the same. Yet, Sam Darnold is loved and cherished and thought of highly by the Jets' faithful. And, Baker Mayfield was booed yesterday and flipped off by fans. Same basic records as starters. Same basic flaw. We question both of their coaches. They're both dysfunctional organizations. They've both lost to the Ravens in the last couple of weeks and their numbers were virtually identical. But when Darnold lost to the Ravens it was 'you know, I saw things I like,' because he's easy to root for. Humble people are like that. And, when Baker lost to the Ravens, he is flipped off by fans and they boo him. Cocky, snarky, too many commercials, in love with himself. This is why I said from day one, 'I'm not handing my franchise valued [at] probably over $5 billion to Baker Mayfield and that personality. And, I would hand my franchise — though deeply flawed mechanically — to Sam Darnold as a franchise quarterback. Darnold doesn't have [Patrick] Mahomes or [Carson] Wentz's talent. He's not as athletically gifted as Deshaun [Watson] or Patrick Mahomes or Russell Wilson. But I said, 'I draft Darnold because I think A. He's more talented than Baker and B. He's a lot more mature than Baker.' They've had the same career, the same dysfunction, the same coaching issues, the same turmoil at coach, the same interceptions, the same record, losing to often the same teams. In fact, Baker's Browns are 2-0 against Darnold's Jets, but who does the fanbase respect? Who do they like? Which quarterback do they find optimism in ugly loses to Baltimore? Which quarterback is not being flipped off? This is exactly why I said, 'Baker to me as a franchise quarterback is undraftable.' His personality is not built to overcome the chaos Cleveland will force him to deal with. And, Darnold's personality is the kind I would build around with a franchise similarly in cold weather that is due to give Darnold a lot of instability, coaching chaos and dysfunction for 10 years. I know 'Colin right-Colin wrong' is 15 minutes away, but yesterday was a great example of why I called one guy undraftable and why I would have loved to draft the other."
Mayfield responded to a Fox Sports Radio tweet that links to Cowherd's commentary,: "I'm not in love with myself… but you are, that's for sure. Also, thanks for the follow on IG! Your constant support is appreciated! Glad I can help out your business!"
I'm not in love with myself… but you are, that's for sure. Also, thanks for the follow on IG! Your constant support is appreciated! Glad I can help out your business!

— Baker Mayfield (@bakermayfield) December 23, 2019
Both Mayfield and Cowherd have gone back-and-forth several times.
It dates back to when Mayfield was a prospect for the 2018 NFL Draft.
Before the Browns took Mayfield with the No. 1 overall pick, Cowherd called the Heisman Trophy-winning quarterback "undraftable" several times.
The two went at it again after the Browns acquired wide receiver Odell Beckham Jr.
Cleveland is officially eliminated from the playoffs and heading into the final game of the regular season against the Cincinnati Bengals.
Criticism of Mayfield will probably continue considering the Browns have the longest active playoff drought in the NFL.
The team has not made the playoffs since the 2002 season.
Oddsmakers considered the Browns preseason favorites to win the AFC North.
Odds to win the AFC North (Bovada):@Browns +120@steelers +195@Ravens +295@Bengals +1500

— Odds Shark (@OddsShark) August 13, 2019