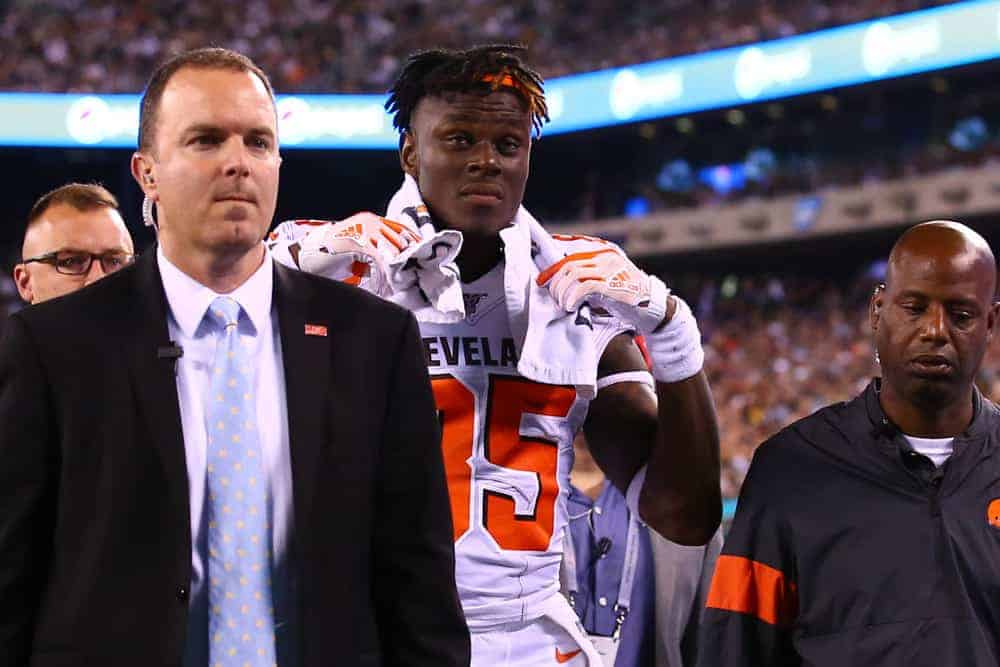 The number thirty-eight ring a bell?
That would be where Ricky Seals-Jones would rank among tight ends in receiving yards.
The tight end position has been dismal this season for the 6-9 Cleveland Browns.
Part of the problem is that David Njoku has only played in three games this season due to a wrist injury.
Njoku has looked like a backup tight end since his return, totaling one reception for four yards since December 8th.
He was also benched recently for a reported altercation with head coach Freddie Kitchens.
Olivier Vernon inactive forever Browns because of knee. David Njoku a healthy scratch 2d week in a row.

— Tony Grossi (@TonyGrossi) December 22, 2019
On his contract, Njoku has one more year of service, and a club option for a fifth year.
Currently, his stock is low enough for the Browns to trade him, and maybe get a sixth-round pick in return.
Worst case scenario, the Browns keep Njoku for a contract year, and let him prove his worth.
Instead, the Browns should try and cut a deal for any three of these tight ends.
Trey Burton-Chicago Bears
The Chicago Bears are likely done with Trey Burton.
His 2019 has been odd since the start of the calendar year.
Burton was a late scratch against the Philadelphia Eagles in the playoffs.
Since then, it has been an odd season.
After coming off a career-high of 54 receptions and 569 yards last season, Burton has struggled with injuries and inconsistencies as he has just 14 receptions for 84 yards.
Burton has not recorded a catch since October 27th after being placed on the IR on November 11th.
What makes Burton appealing is that the Bears appear to be done with him, but do not want to release him.
According to NBC Sports' JJ Stankevitz, the Bears "would have little reason to release Burton before 2020's offseason program-per Spotrac."
The Bears would only save $1.05 million if Burton was cut after June 1st.
Burton has two years left on his contract, which makes a clean swap of Burton for Njoku a perfect change of scenery for both parties.
Austin Hooper-Atlanta Falcons
If the Browns were to make a splash in free agency, Austin Hooper would make a lot of sense.
The Browns will have an estimated $52 to $55 million in cap space this offseason.
By signing Hooper, you add an offensive upgrade over Njoku, or pair Hooper alongside him.
Let Njoku play for a little bit, and then trade him to a team in need of a tight end for a draft pick midway through the 2020 season.
Hooper could command a salary similar to the likes of Zach Ertz, Kyle Rudolph, or Jordan Reed, who all make between $8-$9 million.
Hooper is having a career year with 68 receptions (needs only four receptions to pass his career-high), for 742 yards and six touchdowns.
Hooper is 6-foot-4, 253 pounds, and a big target that the Browns have lacked all season.
If the Browns could swing both Hooper and a healthy Njoku, now that's even better.
Jack Doyle-Indianapolis Colts
Jack Doyle is set to be an unrestricted free agent after seven years with the Colts.
His future appears to be with a different team.
At the age of 29, he only has a few more prime years left.
Doyle has consistently been in the shadow of other tight ends in the past, most recently Eric Ebron the last two seasons.
When needed in the passing game, Doyle has shown upside. In 2017, Doyle finished the season with 80 receptions on 107 targets, 690 receiving yards, and four touchdowns.
At 6-foot-6, and 262 pounds, Doyle would be a consistent touchdown target.
Doyle would also be cheap.
His season stats, for now, are 42 receptions (81st in the league), and 442 receiving yards (87th in the league).
Eric Ebron-Indianapolis Colts
What about Doyle's teammate?
Eric Ebron is set to be a free agent and is a prime candidate for what Mayfield likes in a tight end.
At 6-foot-4 and 245 pounds, Ebron has been a red-zone target in the past.
Ebron was named to the Pro Bowl last season after recording 66 receptions for 750 yards and 13 touchdowns, which led all tight ends in the league.
After being placed on the IR on November 26th, Ebron would also likely be a cheap option.
Ebron will be 27 next season, which means that he still has plenty of prime years to come.
OJ Howard-Tampa Bay Buccaneers
OJ Howard was once reported to be on the trading block midseason, via Matt Miller of Bleacher Report Insider.
If the Browns are looking to save their money and trade draft capital, Howard could be a prime candidate.
Howard has not lived up to expectations after being drafted 17th overall in the 2017 NFL Draft.
The former Alabama product has just 34 receptions for 459 yards and one touchdown.
A chance of scenery could be beneficial for Howard, especially since the Bucs are likely moving on from Jameis Winston.
Howard would likely only cost the Browns a sixth-round pick, something the Browns can certainly afford.
Tyler Eifert-Cincinnati Bengals
The Bengals are looking like a franchise that is about to be on a path towards full rebuild, which means that it would make little sense to keep a 29-year old tight end.
Tyler Eifert is 6-foot-6, 255 pounds, and someone that is familiar with the division.
Eifert would be a rebuilt project of his own, which makes him very cost-effective.
After a Pro Bowl season in 2015, where Eifert had 13 touchdowns, three straight injury plagued years followed.
In 2016, he played in eight games due to a lingering back issue, and then in 2017 he had surgery for his back. In 2018, Eifert suffered a broken ankle. Due to these injuries, from 2016-2018, Eifert only played in a total of 14 games.
It has been a bounce-back season for Eifert in 2019 though.
Despite playing for a 1-14 Bengals team, Eifert has 41 receptions for 402 yards and three touchdowns.
A healthy Eifert could help a contender with the right quarterback and this pairing of Eifert and Mayfield seems like a healthy relationship.