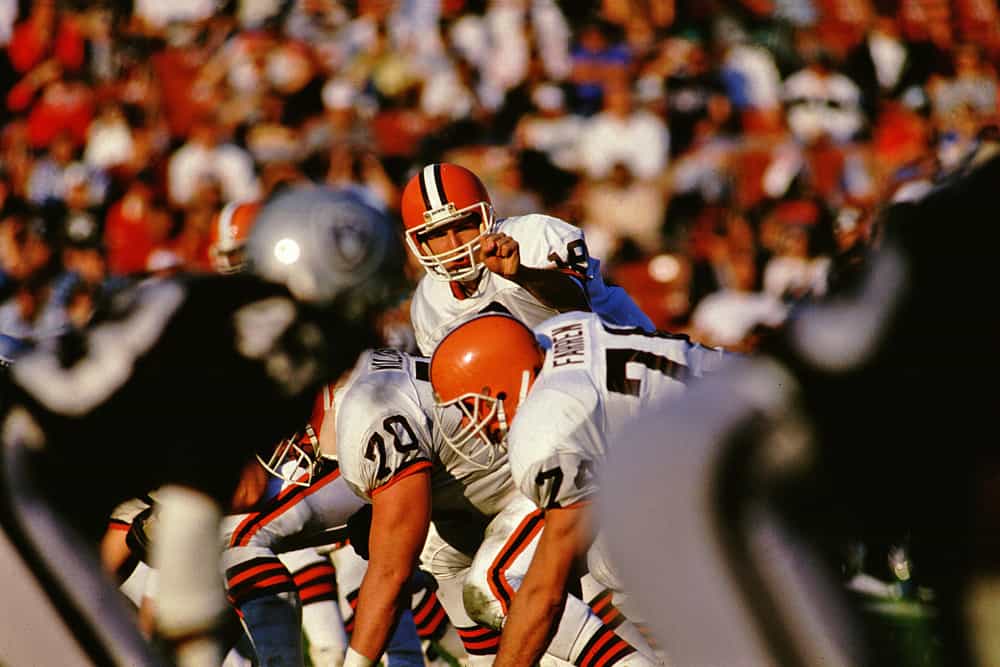 The Most Beloved Browns of All Time
The Browns have had many great players over the years, and the five below are currently the most beloved of all time.
The results here are based on polls of Cleveland Browns fans rather than sports analysts.
As a result, a few expected players who may be historically better than others on this list don't appear.
Warning – you aren't going to see Jim Brown here, as there is only room for five players.
That said, Brown was in the top 10.
Let's take a look at some of the most popular and beloved players in the history of the Cleveland Browns.
Bernie Kosar
Like many football fans, Cleveland Browns' followers love a good underdog story.
After all, the team has been a perennial underdog for several decades at this point.
As a result, the most beloved player in Browns' history is one of the biggest underdogs of all time: Bernie Kosar.
Kosar did not make the team during the initial draft but was picked up during the supplemental draft.
His popularity was based on a few factors. First, Kosar was a skilled player who kept the team competitive during tough times.
Secondly, Kosar was a local boy dedicated to the squad and the city in general.
When Bill Belichick waived him in 1993 due to injuries, fans were outraged in spite of lower quality play from the quarterback.
After finishing his career with Dallas and Miami, Kosar came back to Cleveland and still stays involved with the team even now.
Clay Matthews Jr.
The second Clay Matthews in the ultimate football family dynasty – beyond the Mannings – was a long-time player for the Browns.
Matthews was selected in 1978 during the NFL Draft and stayed with the team for 16 years.
During his time with the Browns, he was a defensive monster who helped create some strong and powerful stops over the years.
Matthews was known for his strength and his ability to rally the team in close situations.
During his productive career, Matthews recorded 1,595 tackles, 69.5 sacks, and picked up 16 interceptions and a touchdown.
And his son, Clay Matthews III, later became a great linebacker in his own right, though he did not join the Browns but the Green Bay Packers.
In spite of this, Matthews Jr. remains a well-regarded player in Cleveland to this day.
Joe Thomas
Although the offensive line isn't typically known to produce players that the general public appreciates, Joe Thomas was different.
As a friendly and approachable player, he quickly endeared himself to a Cleveland fan base going through some very tough times.
His 2007-2017 career coincided with some very rough streaks of play, including an 0-16 season paired with a few 1-15 seasons in a period of futility unique to NFL history.
However, Thomas remained an active player and was, arguably, the best offensive left tackle during this period.
Fans particularly appreciated Thomas' loyalty to the team – he never requested a trade during this period, in spite of catching the eyes of many other organizations.
This loyalty – and his streak of 10,363 consecutive snaps – endeared him to a fan base weary of disloyal players and rough play and decision making.
Thomas has currently taken up a career in broadcasting and currently is an analyst for the NFL Network.
Brian Sipe
Few Browns player lists would be complete without Brian Sipe, the Kardiac Kids quarterback who led so many thrilling come-from-behind wins in the 1979 and 1980 seasons.
By the time these seasons rolled around, Sipe was nearly a 10-year veteran, having been picked in round 13 of the 1972 NFL Draft by the Browns.
Sipe eventually won the NFL MVP during the Browns wild 1980 season.
Sipe also made the Pro Bowl in the same year and stayed loyal to his native Cleveland team for most of his career.
Fans in Cleveland love local players, particularly those who remain faithful to the squad through thick and thin.
Sipe went on to throw for 23,713 yards and 154 touchdowns.
Though his numbers are very similar to championship-winning QB Otto Graham, modern fans have better memories of Sipe's come-from-behind wins than they do Graham's incredible play.
Greg Pruitt
Although running Greg Pruitt may not have the same kind of name recognition common with Cleveland legend Jim Brown, natives have more recent and fonder memories of this skilled player.
During his college career, Pruitt was twice in the top three of the Heisman voting and made it into the College Football Hall of Fame.
The Browns picked him up in the second round of the 1973 NFL Draft.
As a vital part of the team's two-man rushing squad – unrelated rushers with the name Pruitt – Greg earned five Pro Bowl nods and gained 5,672 rushing yards and 27 touchdowns.
And his nine-year career showcased a humble player who lacked the kind of ego familiar to Jim Brown and which may have been off-putting to some fans.