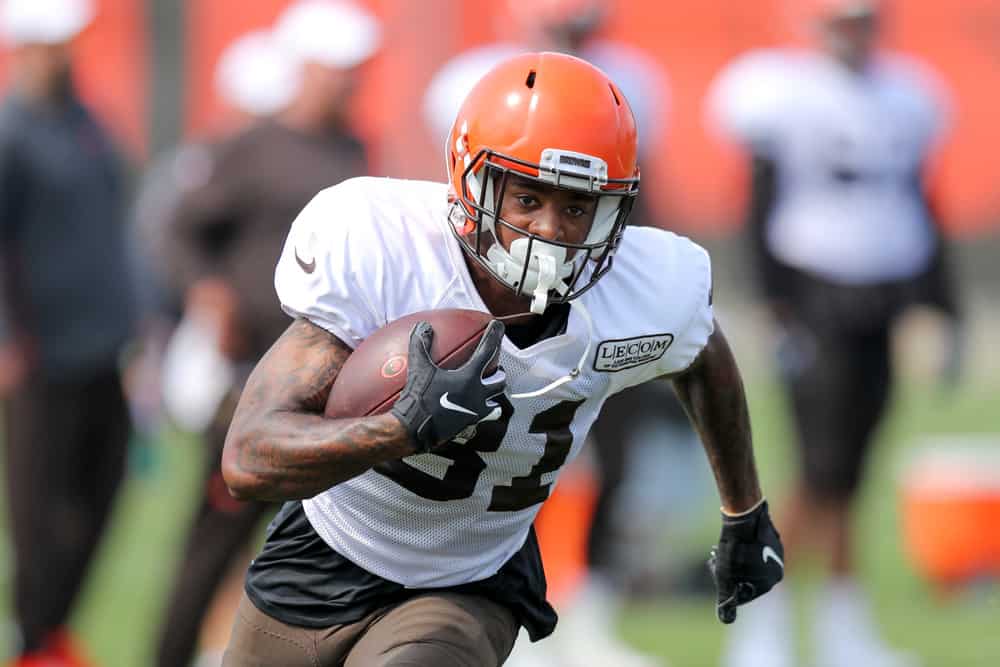 For the first time in recent memory, the Cleveland Browns have plenty of options at wide receiver.
There is a group of receivers challenging for potentially five spots on the depth chart.
Let's break down the groups and players that could contend for those spots on the roster.
The Top Two
This isn't really that difficult as the Browns will lead with Jarvis Landry and Odell Beckham Jr, so we will be short and sweet.
In 2019, Landry earned his fifth trip to the Pro Bowl with a state line of 83 receptions for 1,174 yards and 14.1 yards per reception.
As for Beckham, he battled a sports hernia and caught 74 passes for 1,035 yards and four touchdowns.
The two should be healthy for 2020 and back for another solid season.
.@bakermayfield + @obj connect for the 35-yard TOUCHDOWN!#MIAvsCLE pic.twitter.com/pYl2aWz9ju

— Cleveland Browns (@Browns) November 24, 2019
The Middle Crew
After resigning with the Browns, it appears that Rashard Higgins is going to go into camp as the team's choice as the No. 3 receiver.
It's all going to come down to which version shows up.
In 2018, Higgins broke onto the season with 39 receptions for 572 yards and four touchdowns.
In 2019, Higgins played in 10 games, just one start, and had only four receptions for 55 yards.
"TOUCHDOWN! IT'S RASHARD HIGGINS!"

🗣 Jim Donovan's call of our game winner pic.twitter.com/dk2JOTagr2

— Cleveland Browns (@Browns) November 11, 2019
As for the other candidates that have some high ceilings, that includes Damion Ratley, KhaDarel Hodge, and sixth-round pick Donovan Peoples-Jones.
As previously mentioned in this week's mailbag, DPJ has more promise as a return specialist than he does as a receiver.
That could open the doors for another receiver on the outside looking inward.
Ratley has a shot to make the cut after going for 200 yards last year in his second season in the NFL.
Hodge only had four receptions for 76 yards last season and is the same age at Ratley at 25.
Baker Mayfield to Damion Ratley for a 46-yard TD

(via @Browns)pic.twitter.com/oYpTmzn1Xs

— NFL Update (@MySportsUpdate) December 29, 2019
The Prospects
JoJo Natson, J'Mon Moore, Taywan Taylor, and DJ Montgomery are all names that will enter training camp but are also players trying to impress all 32 teams.
Taylor has the best chance of making the team but he is still considered a longshot.
In 2018, he recorded 37 receptions and a touchdown for the Titans; however, he logged just three games in 2019 with zero receptions.
As for the undrafted free agents, the Browns picked up Ja'Marcus Bradley, who finished with 60 receptions and 10 touchdowns for Lousiana.
At 6-foot-1 and 194 pounds, he will certainly try to battle for a roster spot.
The Browns also added former Colorado wide receiver Tony Brown, who was coached by former Brown Darrin Chiaverini.
Louisiana capitalizes on the pick.
TD Nunez to JaMarcus Bradley.
10-0 Ragin' Cajuns 🔥🌶 pic.twitter.com/a6rY3Kev8H

— The Vermilion Sports (@VermilionSports) November 17, 2018
Final Thoughts
Some teams will go with six receivers but in this case, my prediction is that the Browns go with just five on the depth chart.
The Browns have tight ends Austin Hooper and Davis Njoku who can catch the ball.
Also, don't forget that Kareem Hunt is a running back that can play receiver.
The roster spots are going to come down to OBJ, Landry, Higgins, Ratley, and DPJ, and DPJ will challenge Landry for punt returning duties.