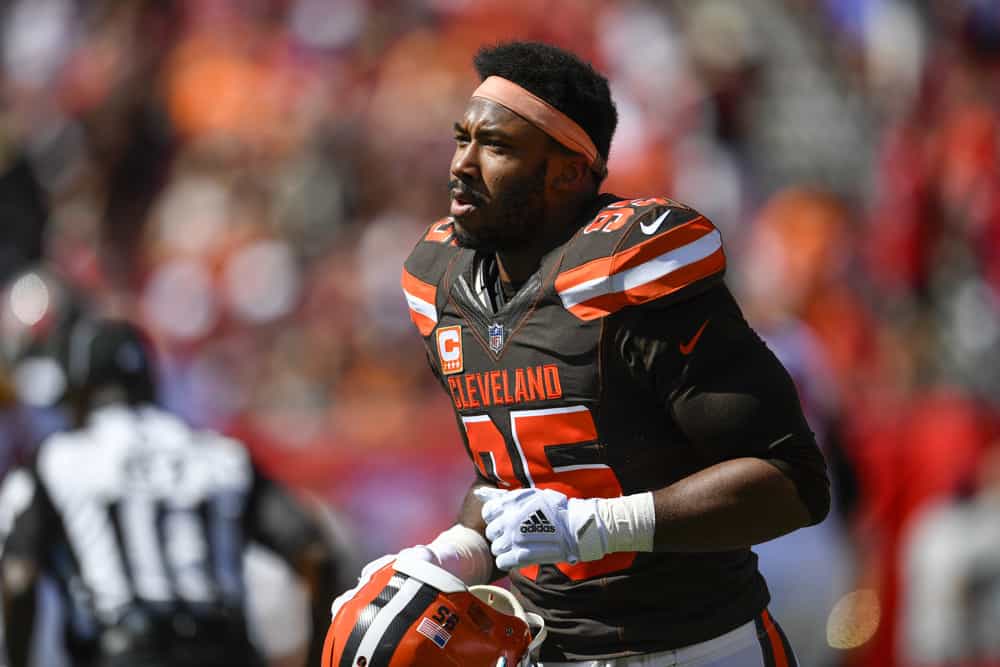 Cleveland Browns general manager Andrew Berry believes defensive end Myles Garrett will be on the Browns for years to come.
In April, the Browns exercised the fifth-year option for Garrett.
"We do see Myles as a long-term member and pillar in our organization,'' Berry said last week on 105.7 The Fan in Baltimore. "Great player, great person. Obviously, he did make a mistake last year that he's learned from. But our confidence in and faith in Myles has not wavered and we're looking to seeing what he does this year and certainly for years to come.''
Garrett is the only top-five selection of the 2017 NFL Draft to have the fifth-year option on his rookie contract picked up.
2017 draft class fifth-year options for top 5 picks:
1. Browns DE Myles Garrett: ✅
2. Bears QB Mitch Trubisky: ❌
3. 49ers DL Solomon Thomas: ❌
4. Jaguars RB Leonard Fournette: ❌
5. Titans WR Corey Davis: ❌

It's hard to find a sure thing in the draft.

— Field Yates (@FieldYates) May 2, 2020
The Browns also exercised the fifth-year option on tight end David Njoku's rookie deal.
Cleveland.com's Mary Kay Cabot reported the Browns will likely see how part of the upcoming season unfolds before starting to discuss the possibility of extending Njoku's contract.
Berry served as the Browns' vice president of player personnel when they selected Garrett as the first overall pick of the 2017 NFL Draft.
"[Berry] views [Garrett] as one of the best edge rushers in the NFL," cleveland.com reporter May Kay Cabot wrote. "[Berry] also said he wants [Garrett] here long term, and has stressed the importance of keeping the Browns' home-grown talent."
In February, the NFL reinstated Garrett after suspending him indefinitely.
The suspension lasted six games and came on Nov. 15, a day after Garrett hit Pittsburgh Steelers quarterback Mason Rudolph in the head with the quarterback's helmet.
The NFL fined 33 players for their roles in the Browns-Steelers brawl on Nov. 14, 2019.
Garrett, 24, has compiled 30.5 sacks in 37 career games.
In 2018, Garrett made the Pro Bowl.
It's possible Garrett would have made the Pro Bowl in 2019 if not for his suspension.
Garrett finished with 10 sacks in 10 games, which was tied for fourth-best in the NFL at the time of his suspension.
Spotrac.com shows Garrett is owed $4.61 million for the 2020 season and $15.18 million in 2021.
It's likely Garrett would want a significant pay increase in 2022 and beyond.
Dallas Cowboys defensive end DeMarcus Lawrence is the highest-paid defensive end in the NFL, making an average of $21 million per season.
Frank Clark of the Kansas City Chiefs ($20.8 million per season), Trey Flowers of the Detroit Lions ($18 million per season), Yannick Ngakoue of the Jacksonville Jaguars ($17.79 million per season) and Cameron Jordan of the New Orleans Saints ($17.5 million) round out the league's highest five high-paid defensive ends.