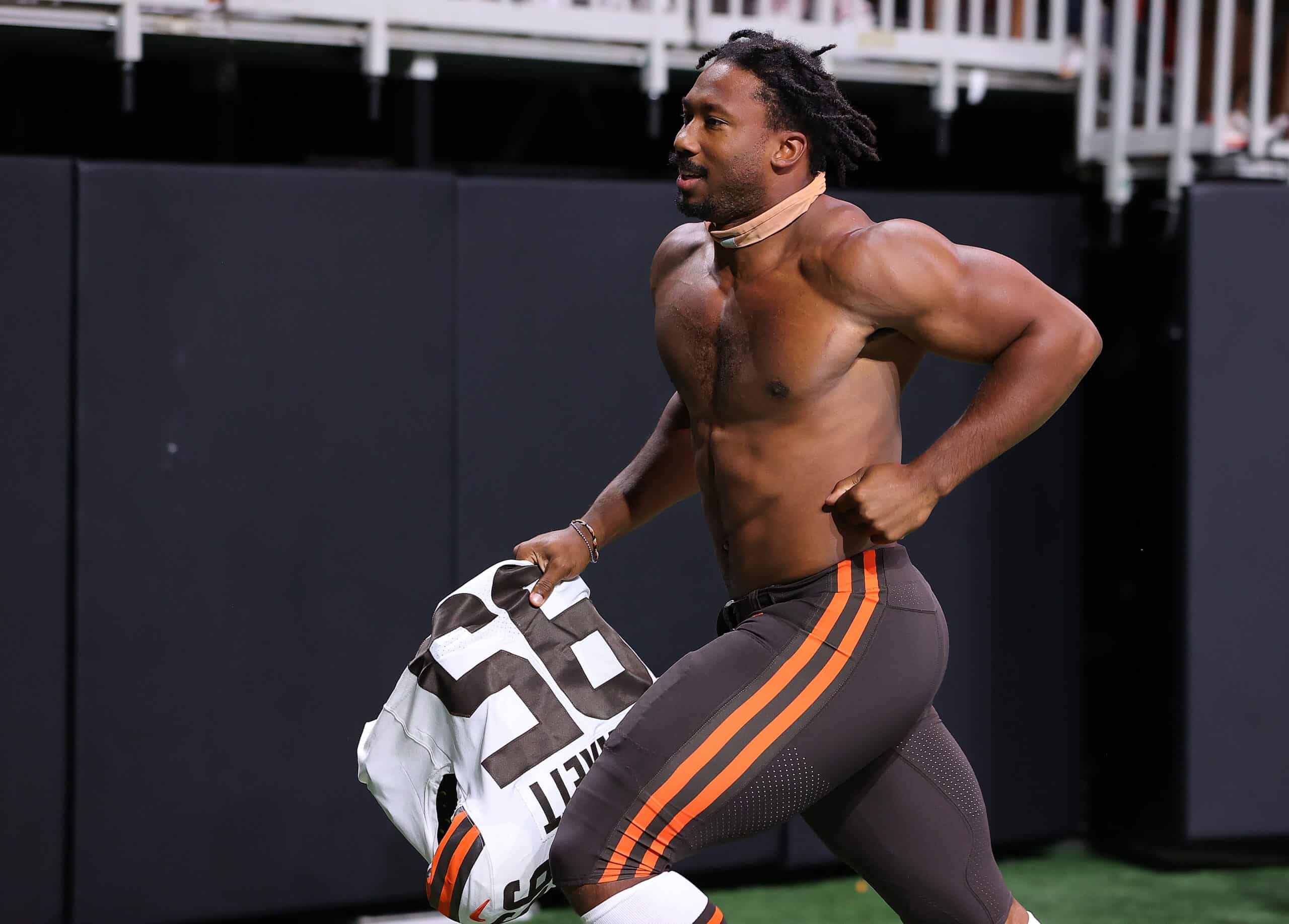 Joe Woods' defense kicked things into another gear these past two weeks, terrorizing Justin Fields and Kirk Cousins.
And no one scared the opposing quarterbacks more than the Cleveland Browns star edge rusher, Myles Garrett.
But he doesn't think that has anything to do with the NFL calling his name for a "random" drug test.
"I go sleeveless for one game and they hit me with a you got a random drug test in the morning," Garrett posted on Twitter.
I go sleeveless for one game and they hit me with a "you got a random drug test in the morning"🤦🏾‍♂️😂 pic.twitter.com/P3i2EMHuFD

— Flash Garrett ⚡️ (@Flash_Garrett) October 5, 2021
Myles Garrett went with the sleeveless jersey for the first time against the Vikings.
And he believes it is his large and well-defined upper arms that prompted the call for a urine sample.
Of course, the league's player testing system is a negotiated system and totally random.
#Browns Myles Garrett's past two games:

🔸12 Total Tackles
🔸5.0 Sacks 🤯
🔸6 TFLs
🔸10 QB Hits
🔸15 Pressures ⚡️

Can't stop Jurrasic Myles. 🦖 pic.twitter.com/tt6drVC42U

— The Hottest Take (@Hottest_TakePod) October 3, 2021
And Garrett's social media post is clearly tongue-in-cheek.
But he wouldn't be the first player to wonder aloud about the randomness of their selection.
Especially when their name gets called right after a big game or two.
Garrett Is a Man On a Mission 
Myles Garrett has been on fire ever since calling out teammates before the Chicago Bears game.
Word slipped out that the pass rushers are holding extra, players-only practices during the week.
And the results have been exciting to watch.
Garrett racked up 5 sacks and 10 quarterback hits against Chicago and Minnesota.
Myles Garrett is unfair 🤯

T-1st with 9 QB pressures in Week 4

(🎥 @TheOBRFilmBDN)
pic.twitter.com/vSEpvyrnF2

— PFF (@PFF) October 4, 2021
Folks are reporting this like it is sudden acceleration on his part.
But Garrett hit Patrick Mahomes 3 times, sacking him once, in the season opener, too.
Houston was a subpar game statistically for the Browns defensive star, but he still made his presence felt.
And it's not like a healthy Garrett has never averaged a sack-per-game before.
Garrett Is Not The Only Pass Rusher On Fire 
Cleveland's front four has played well as a unit all season.
But they really turned it on after critics questioned their low sack total and Tyrod Taylor's success in Week 2.
Jadeveon Clowney consistently ranks among the top of PFF's defensive linemen ratings.
Takk Mckinley joined Garrett and Clowney in the top 7 edge rushers after Week 3.
Highest-graded #Browns from Week 4:

1️⃣ Joel Bitonio, OG- 90.9
2️⃣ Myles Garrett, EDGE- 90.2
3️⃣ Greedy Williams, CB- 86.4
4️⃣ Jadeveon Clowney, EDGE- 81.4
5️⃣ Malik Jackson, DI- 81.1 pic.twitter.com/eJsiu6t3Tr

— PFF CLE Browns (@PFF_Browns) October 4, 2021
And the interior linemen, who quietly closed the middle against the run, got in the action this week.
Malik Jackson and Malik McDowell each had quarterback hits, with Jackson adding a pair of deflected passes.
Overall, PFF ranks Cleveland as the second-best defense in the league, just behind Buffalo.
And it's little wonder the league and opponents want to know how Garrett and his teammates are doing it.