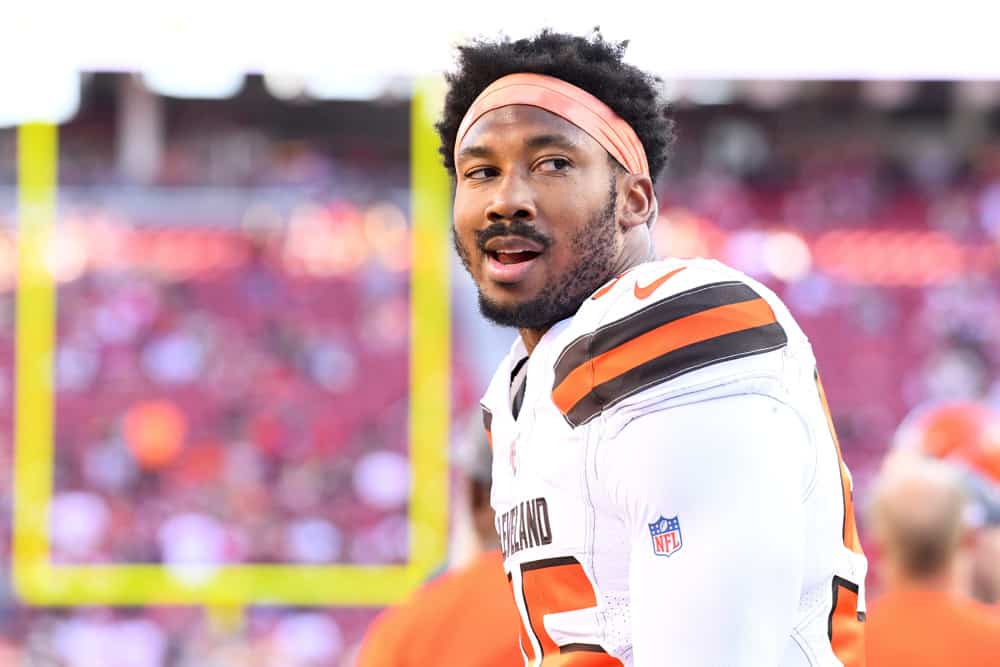 Don't let the Thursday Night Football incident from 2019 fool you.
Myles Garrett is a stellar person within the community, and he continues to prove it time and time again.
Now, the Browns defensive end is taking part in a 5K race for a great cause.
Join me in raising money for my the Alzheimers Association, in the Run with the Pro Virtual 5K. Receive a cool (Run with Myles #95) t-shirt, custom medal and a thank you race bib with my stamped autograph on it. Register now at https://t.co/bjeOsLIhJR🤟🏾 pic.twitter.com/sykCX1dAlT

— Myles Garrett ⚡️ (@MylesLGarrett) July 8, 2020
About the Race
During this COVID-19 pandemic, it's easy to be a bit selfish.
However, that's not exactly Garrett's forte.
This "Run With the Pro" virtual race will take place across a number of different cities.
The goal is to help raise money and awareness for the Alzheimers Association.
Unfortunately, since this is all virtual, no one will be able to actually run in-person with Garrett.
Yet another misfortune stemming from COVID-19.
So, how exactly does this all work?
Per the event's website, contestants will sign up and receive a t-shirt with the name and number of their favorite player.
In this case for Browns fans, they would receive a "Garrett #95" shirt.
Runners will also receive a medal and thank you bib after registering.
The cool thing about the running itself is the convenience.
Whether you are a treadmill person or someone who prefers hitting the trails, contestants can run anywhere they please.
This allows runners of all experience levels to participate and stick to a pace that is comfortable for them.
All they have to do is record their time and submit it!
Cleveland Course
In addition to being able to run wherever they want, contestants can also choose to follow the path set-up around First Energy Stadium.
The entire course can be found here.
Essentially, the race starts at the stadium, runs down by the river, back up towards Euclid, down east 9th, and finishes back at the stadium.
Another nice feature of the event is the added flexibility in terms of when runners can complete their 5K.
Since this is virtual, not everyone has to run at the same time.
Those who register have from now until September 12th to record and submit their times.
More cities and players are expected to be participating in this as well.
So far, the site has Pittsburgh, Atlanta, Chicago, San Francisco, and New York as additional cities that will play a part in this event.
How to Register
To register, you can visit the website by clicking on this link.
The entry fee is listed at $45 but also gets participants some additional perks.
There is also an additional reward for someone who can refer the most amount of people onto their respective pro's team.