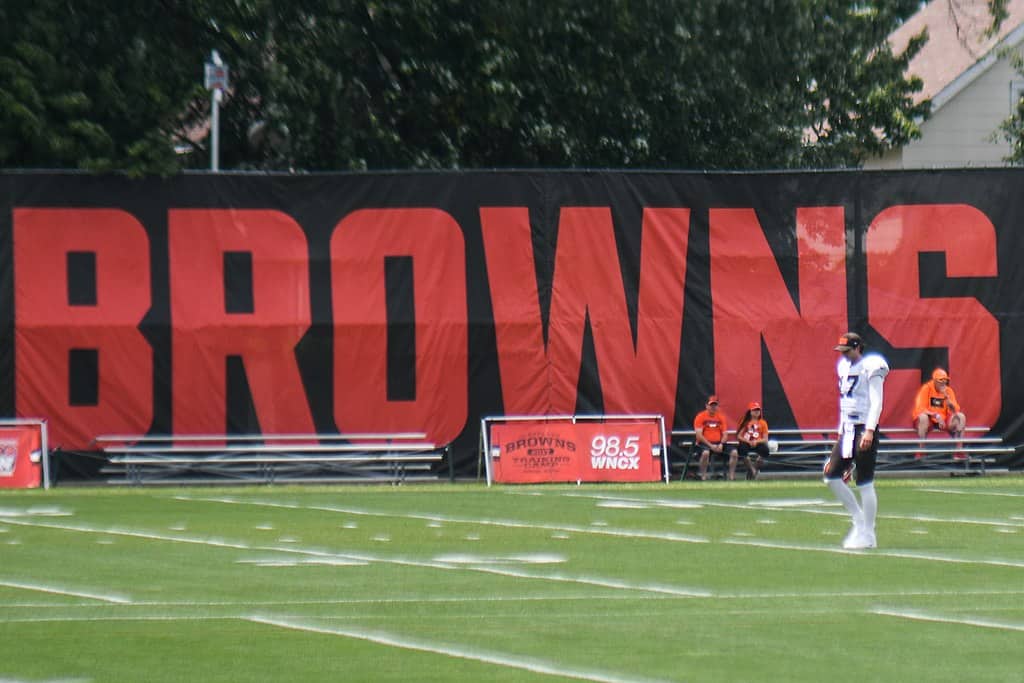 The Cleveland Browns front office deserves applause for the incredible job they've done this offseason.
The organization is in much better shape than it was a few seasons ago.
They've done an exceptional job adding young and promising players to this roster.
However, whenever you add a bunch of young talent, sometimes it takes away jobs from veteran players.
The Browns do have a few positions that are a bit overcrowded heading into training camp.
A couple of veteran players could end up getting cut loose in the preseason.
3. Pharaoh Brown
The Browns have added a significant amount of talent at tight end lately.
They signed Pro Bowl tight end Austin Hooper and drafted Harrison Bryant during the 2020 draft.
Both players are expected to have large roles on the team under Kevin Stefanski's new scheme.
That's not all, the Browns still have David Njoku as well, but he reportedly asked to be traded.
1/2 Browns' TE David Njoku and his agent Drew Rosenhaus asked today for the team to trade him. The Browns told Njoku they would like to keep him, but Rosenhaus told them he's intent on a trade. They want a trade before training camp.

— Adam Schefter (@AdamSchefter) July 3, 2020
Whether or not he gets traded could have an impact on the rest of the tight ends.
Cleveland has Pharaoh Brown, Stephen Carlson, and Nate Wieting all listed as options behind Bryant.
Brown has not been able to make much of an impact during his first two seasons in Cleveland.
The 26-year-old has two receptions for 27 receiving yards through 11 games.
He appears to have the lowest ceiling of all the tight ends on the Browns roster.
It wouldn't be surprising to see the team let him go in order to get the younger players more reps.
2. Taywan Taylor
25-year-old wide receiver Taywan Taylor came into the league with fairly high expectations.
He was taken in the third round by the Tennessee Titans during the 2017 NFL Draft.
Taylor combined for 53 receptions, 697 receiving yards, and two touchdowns during his first two seasons in the NFL.
In August of 2019, the Titans traded Taylor to the Browns in exchange for a seventh-round pick.
Titans trade WR Taywan Taylor to Browns

Roster Moves 📰 » https://t.co/92eNITFoeb https://t.co/nKuE1jE8Mk

— Tennessee Titans (@Titans) August 31, 2019
Sadly, Taylor's first season in Cleveland was a dud since he only played in three games.
However, he might not get another chance to prove himself with the Browns.
The Browns have a crowded receiver group which makes Taylor's chances much more difficult.
He's currently projected as the No. 6 receiver on the roster, which means he's in danger of being cut.
Taylor is going to need a bounce-back performance during camp otherwise he could be looking for a new organization.
3. Terrance Mitchell
Another position that is fairly overcrowded is the defensive back spot in Cleveland.
The Browns have their two starters locked up with Greedy Williams and Denzel Ward.
Behind them are veterans Terrance Mitchell and Kevin Johnson with the primary backup jobs.
However, the Browns have a few young players that could be pushing for those spots during camp.
One player that is worth watching in camp is undrafted free agent A.J. Green out of Oklahoma State.
The Browns gave Green the highest amount of guaranteed money for an undrafted player in history.
Undrafted CB A.J. Green coming to Cleveland with "a mountain on my shoulder"

📰 » https://t.co/pqj3hNwSEp pic.twitter.com/6UKJnQIauK

— Cleveland Browns (@Browns) May 14, 2020
Green along with a bunch of other young defensive backs will be fighting for a spot in camp.
Mitchell does give the team a veteran presence, but the Browns also have Johnson as well.
The organization could save some money in terms of cap space if they decide to let go of Mitchell.
He recorded 21 tackles, two tackles for loss, and one interception through 15 games (four starts) with Cleveland last season.
His stats aren't exactly jumping off the page, so he could be replaceable if the organization feels that a younger player is ready to step up during camp.