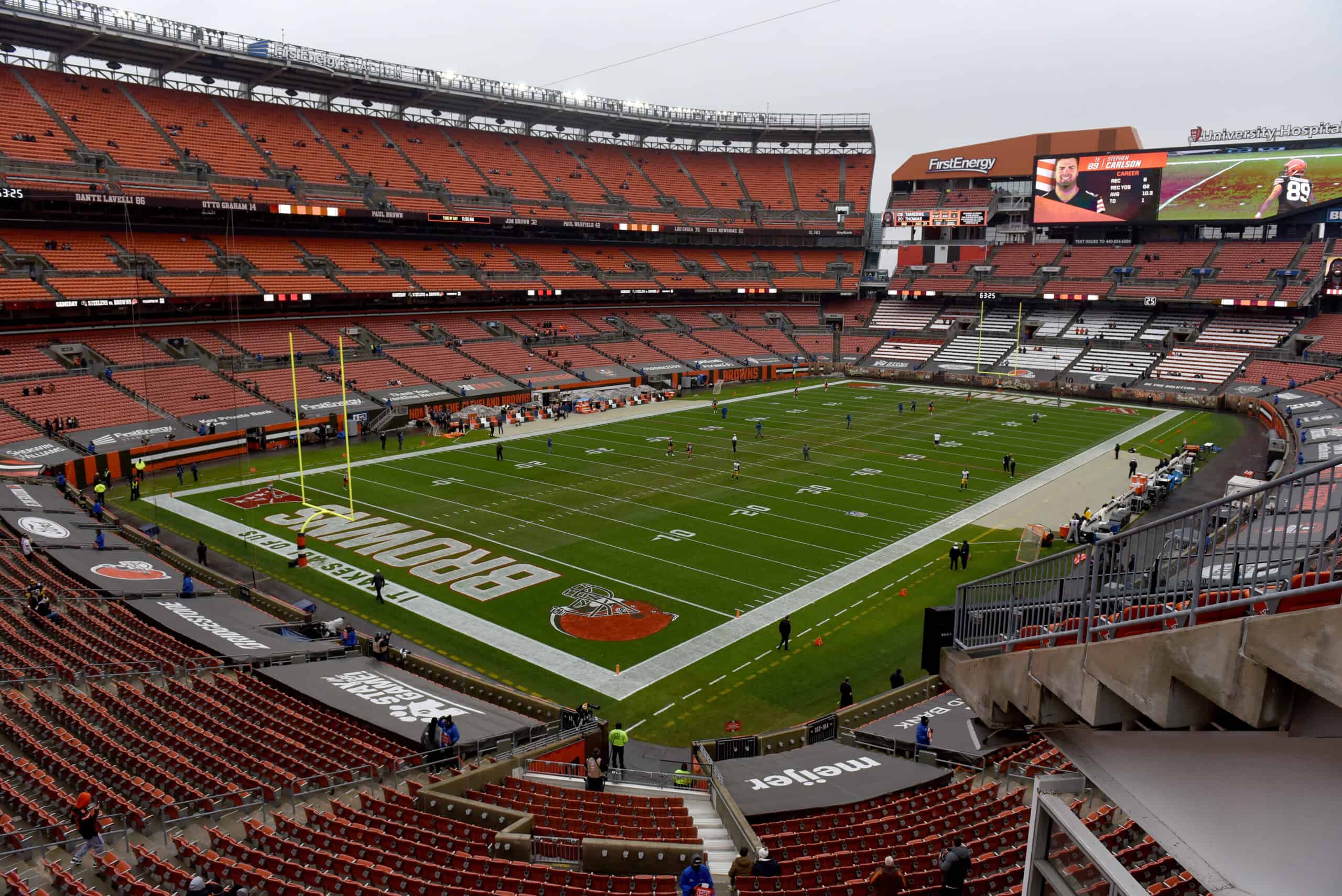 The Cleveland Browns are eagerly anticipating the 2021 season for many reasons.
Besides having one of the most talented and complete rosters in years, 2021 marks the team's 75th anniversary.
We know the stadium will be decorated accordingly with the latest reveal being of the new end zone art.
— jen niznik (@JenNiznik) July 23, 2021
The end zone will have the classic Browns helmet on one side and the 75th-anniversary football logo painted on the opposite side.
In between will be the Browns name printed in white letters outlined with what appears to be a hint of orange.
Thus far, the 50-yard line is empty so we do not yet know if there is a later reveal for that or if it is purposely being left empty for 2021.
Other 75th Anniversary Decorations
Earlier this month, banners were being hung at FirstEnergy Stadium.
They have the 75th-anniversary helmet logo on them.
#Browns have started to decorate First Energy Stadium with 75th Anniversary banners pic.twitter.com/qYI63hvGPR

— Brad Stainbrook (@BrownsByBrad) July 5, 2021
Another Big Reveal Tomorrow
All of this leads up to the big reveal that the Browns have been teasing for weeks.
— Cleveland Browns (@Browns) July 5, 2021
Curious fans are excited to find out what this is.
Many believe it is an orange uniform even though the team did not wear one until 1953.
I had no idea the Browns wore orange jerseys in 1953 pic.twitter.com/8olHTpckzV

— Ben Axelrod (@BenAxelrod) January 29, 2021
In 1946, the Browns wore a version of this uniform which was leaked on social media months ago as being the official 75th-anniversary uniform.
LEAK: #Browns anniversary jerseys reportedly have been leaked pic.twitter.com/LMwib8b9ev

— Brad Stainbrook (@BrownsByBrad) March 7, 2021
Training Camp
After the big reveal tomorrow, it is time to focus on the business at hand.
That is training camp; players report on July 27.
This culminates an offseason where the team's roster has improved due to free-agent signings and draft picks.
Preseason games are back in 2021 so we will get a glimpse of how the Browns are pulling the superstar roster together.
The first preseason game is at Jacksonville on August 14.
While the 75 anniversary is exciting and certainly a celebratory event, the best way to cap off 2021 is with a winning season that allows the Browns to win the division and advance to the postseason and hopefully to the Super Bowl.