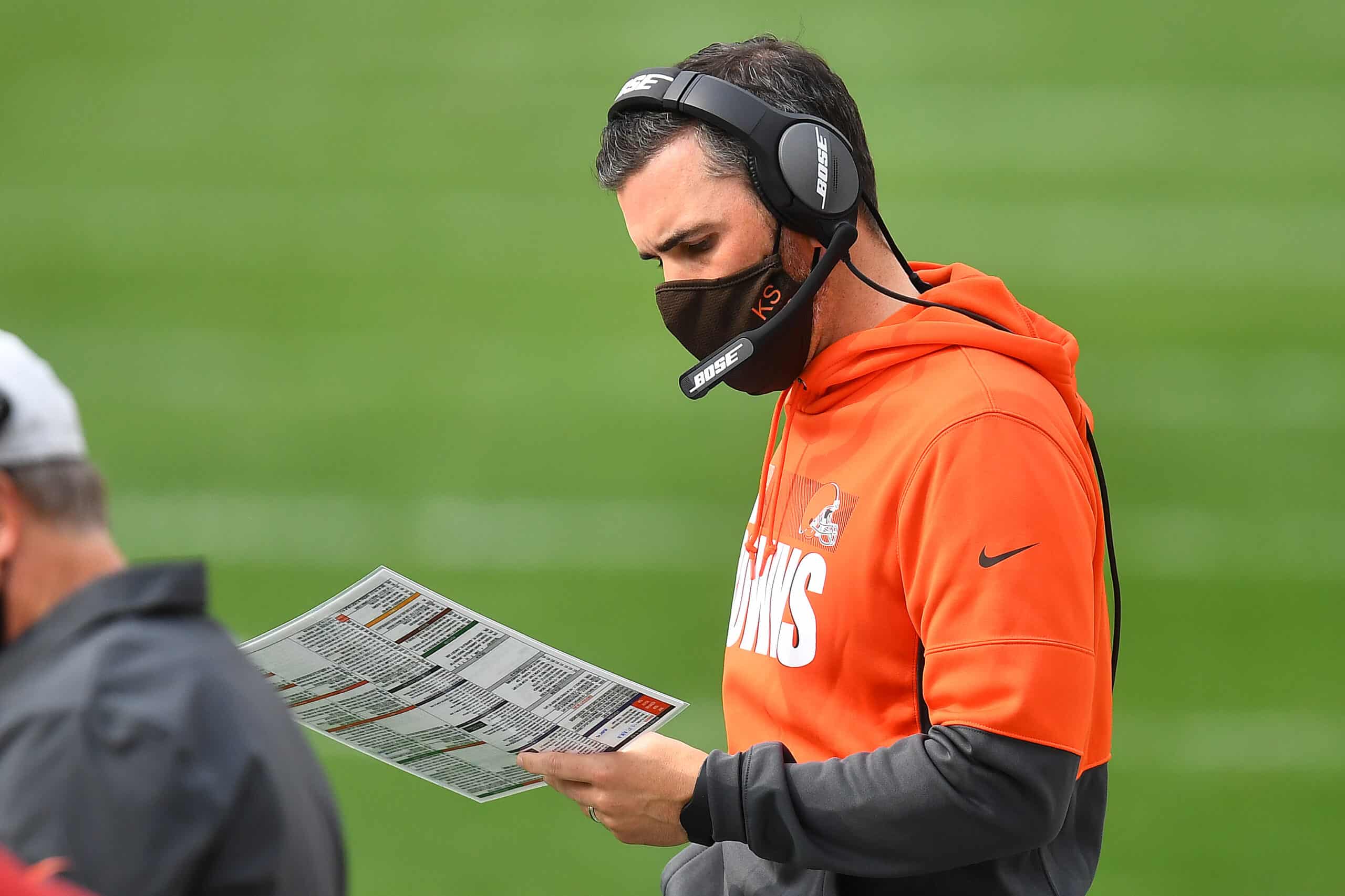 The Cleveland Browns are about to embark on one of its most exciting seasons ever.
With a loaded roster and great leadership from head coach Kevin Stefanski, the hype is not unfounded.
Stefanski, the reigning NFL Coach of the Year, enters his second season as a head coach.
THAT'S OUR COACH. 😤

Kevin Stefanski is the 2020 Coach of the Year! pic.twitter.com/EtY4p6ByrF

— Cleveland Browns (@Browns) February 7, 2021
With just one season under his belt, is Stefanski considered a top ten coach in the NFL?
Top 5 NFL coaches right now

1. Andy Reid
2. Sean McDermott
3. Matt Lafleur
4. Bill Belichick
5. Kevin Stefanski (Coach of the year isn't for top 10 ranking, that accolade puts him in top 5)

— JamesjimJimmayyy (@jmillz_glock) July 17, 2021
The answer is yes, and here is why.
1. Wins and Losses
Stefanski led the Browns to an 11-5 regular-season record in 2020.
The Browns also won the wildcard playoff game so not only did he get them into the playoffs, but also he led them to a playoff win.
Football is all about statistics, and the most important statistic is wins and losses.
Stefanski, in his first year as a head coach, and achieved the fourth-best win and loss record in the NFL in 2020.
21 teams had worse records; 6 teams had better records, and 4 teams had the same record including the Super Bowl Champion Tampa Bay Buccaneers.
Kevin Stefanski: NFL's Coach of the Year 🏆

Browns ranked 10th in EPA per play this season

They were 21st in 2019 📈 pic.twitter.com/7dcVpiJrC4

— PFF (@PFF) February 7, 2021
2. Pandemic Pressure
Stefanski took his first head coaching job just weeks before the worldwide COVID-19 pandemic.
He managed to assemble his staff and conduct a lot of business virtually when it would normally be done in-person.
In addition, he dealt with a lot of COVID-19 issues among the players and contracted the virus himself.
He kept his composure despite what had to be a bitter disappointment in not being on the sidelines with his team in their first playoff game.
And this young man grew up to become so powerful… he beat other other teams while sitting on his couch in his basement. #Browns #Steelers #AFCNorth #NFLPlayoffs #KevinStefanski https://t.co/qvibfpSK9t

— John Wallencheck (@johnwallencheck) July 17, 2021
3. Leadership
Stefanski is not flashy.
He goes about his business in an extremely organized and regimented manner.
His personal discipline filters down through the staff and the players.
He also does not make excuses.
Stefanski said many times last year that the team who handles adversity the best (from COVID-19 and injury) would win.
Though that did not ultimately end up being the Browns, he is engraining a mindset in Berea for the long term.
4. Likeability
Being liked is not a necessity for an NFL head coach.
It does help.
The players gravitate toward people they like and admire.
He earned their respect which helps in dealing with issues that can erupt in the locker room.
The Browns have a lot of young players; some have egos that need to be managed.
Stefanski has done a great job in that regard also.
Conclusion
Kevin Stefanski is definitely among the top ten coaches in the NFL.
It is true that the sample size of his work is small, only one season.
For Stefanski to stay in this elite group, he needs to keep doing what he did in 2020, and the Browns need to keep winning games.
Stefanski is a low key guy so he likely does not care if he is considered a top ten coach.
He is more worried about the daily management of the team and having a winning season.
That's what makes him one of the best.