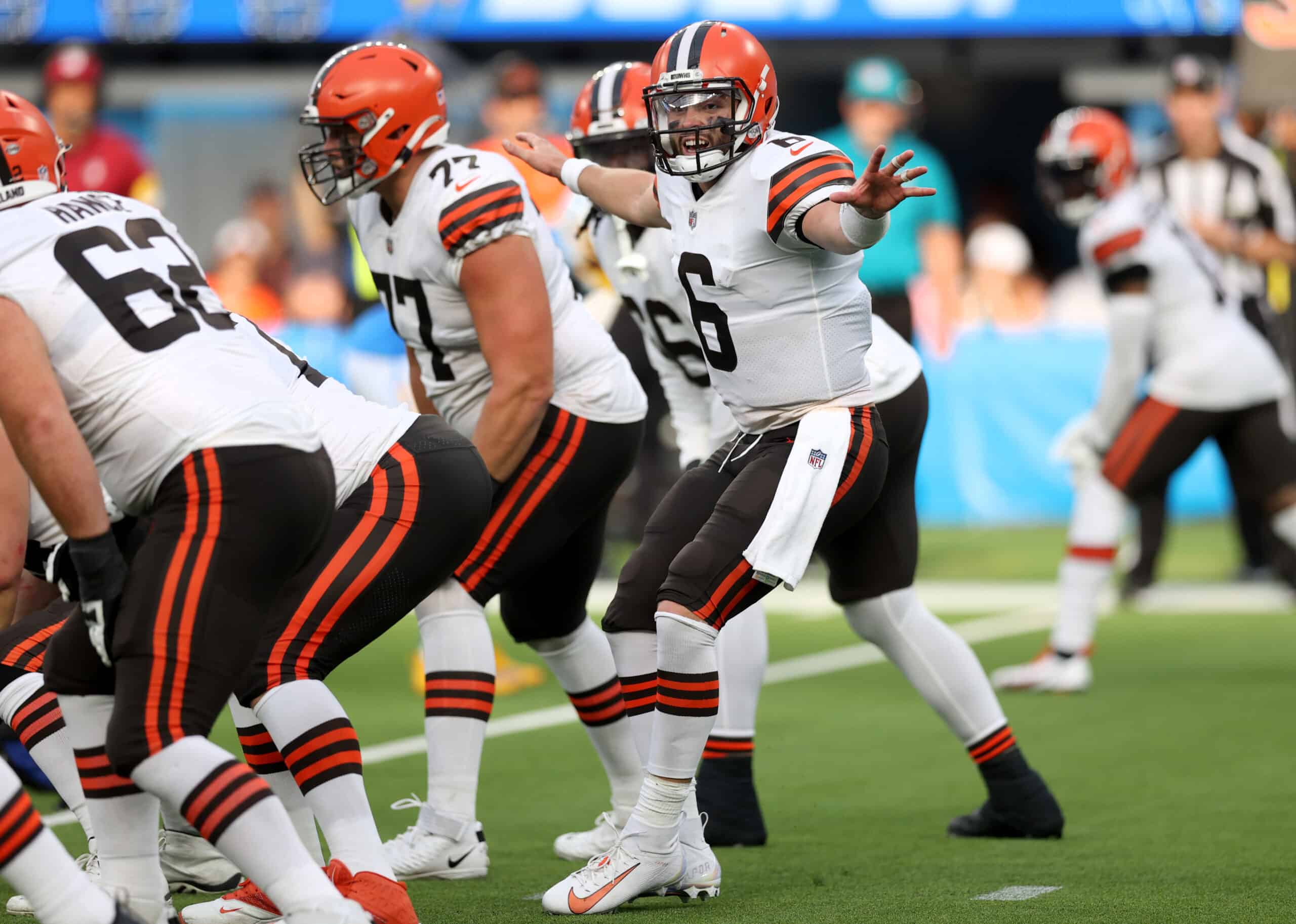 The Cleveland Browns lost a heartbreaker to the Los Angeles Chargers on Sunday, October 10.
The final score was 47-42.
It was an offensive shootout that was up for grabs up until the final seconds of the game.
Check out my TikTok video recap of the game.
Here are the news and notes from the game.
Record Breakers
The Browns were record-breakers in the Week 5 game.
In this case, the team would have preferred if the Chargers earned this record.
Instead it was the Browns who were the first team in NFL history to lose the game after scoring more than 40 points and 500 yards of offense without giving up a turnover.
The #Browns are the first team in NFL history, including the playoffs, to lose when scoring 40-plus points with 500 yards and zero turnovers, according to Elias @ESPNStatsInfo

— Jake Trotter (@Jake_Trotter) October 10, 2021
LeBron James 
King James was seen at the Browns-Chargers game.
His Lakers had a preseason game later in the day, but he still showed up to cheer on his Browns.
Many question how many favorite teams James has, but the point remains James showed up for the Browns.
.@KingJames came out to support his Browns 👏

(via @NFLBrasil)pic.twitter.com/yD1uzUnBM8

— Bleacher Report (@BleacherReport) October 10, 2021
The Browns remain one of LeBron's favorite 7 football teams.

— Anthony Lima (@SportsBoyTony) October 10, 2021
LeBron now back on the Cleveland Browns bandwagon, at SoFi giving the go-ahead TD a standing ovation. I thought he grew up a Cowboys fan???

— Skip Bayless (@RealSkipBayless) October 10, 2021
Monday Morning MRIs
Injuries continue to be an issue for the Browns, and more were suffered on Sunday.
Greedy Williams, who is doing a great job filling in for the injured Greg Newsome II, Denzel Ward, Jack Conklin, and MJ Stewart need MRIs on Monday for further evaluation.
Stefanski said Greedy Williams, Denzel Ward, Jack Conklin and MJ Stewart will need MRIs.

— Zac Jackson (@AkronJackson) October 10, 2021
Deja Vu For JOK And Joe Burrow In Week 5
In scary news, two Ohio NFL players suffered the same freak and unusual injury in their games.
Bengals quarterback Joe Burrow and Browns rookie linebacker Jeremiah Owusu-Koramoah were both transported to the hospital after their respective games for throat contusions.
We wish both of them speedy recoveries.
#Browns announce that LB Jeremiah Owusu-Koramoah suffered a throat contusion in today's game vs. the #Chargers and was taken to a local hospital as a precaution for further evaluation.

Two players in one day, joining Joe Burrow.

— Ari Meirov (@MySportsUpdate) October 11, 2021
Officiating Woes
Quarterback Baker Mayfield was not the only one who took issue with the officiating.
Social media was full of angry fans who were also wondering what the refs were thinking at different points in the game.
What if I told you both of these plays resulted in penalties against the #Browns ? 🥴. @NFL refs are a joke. I understand missing a call, but calling a penalty on the wrong team is unacceptable. pic.twitter.com/9K2b7KfFnX

— Adam Johnson (@AdamJ112001) October 11, 2021
I'm over the refs always playing a big part in #Browns games. @NFLOfficiating always does the same thing and the next day they just issue a statement saying there was an error made. Players are held to high standards. Refs should be as well.

— Brandon Clay (@brandoncpay407) October 11, 2021
The #Browns are playing against the #Chargers and the Refs today…

— Tyler Johnson (@T_johnson_TJ) October 10, 2021
Time to shake off the bitter taste of this loss and move on to preparing for the Arizona Cardinals who are coming to town in Week 6.