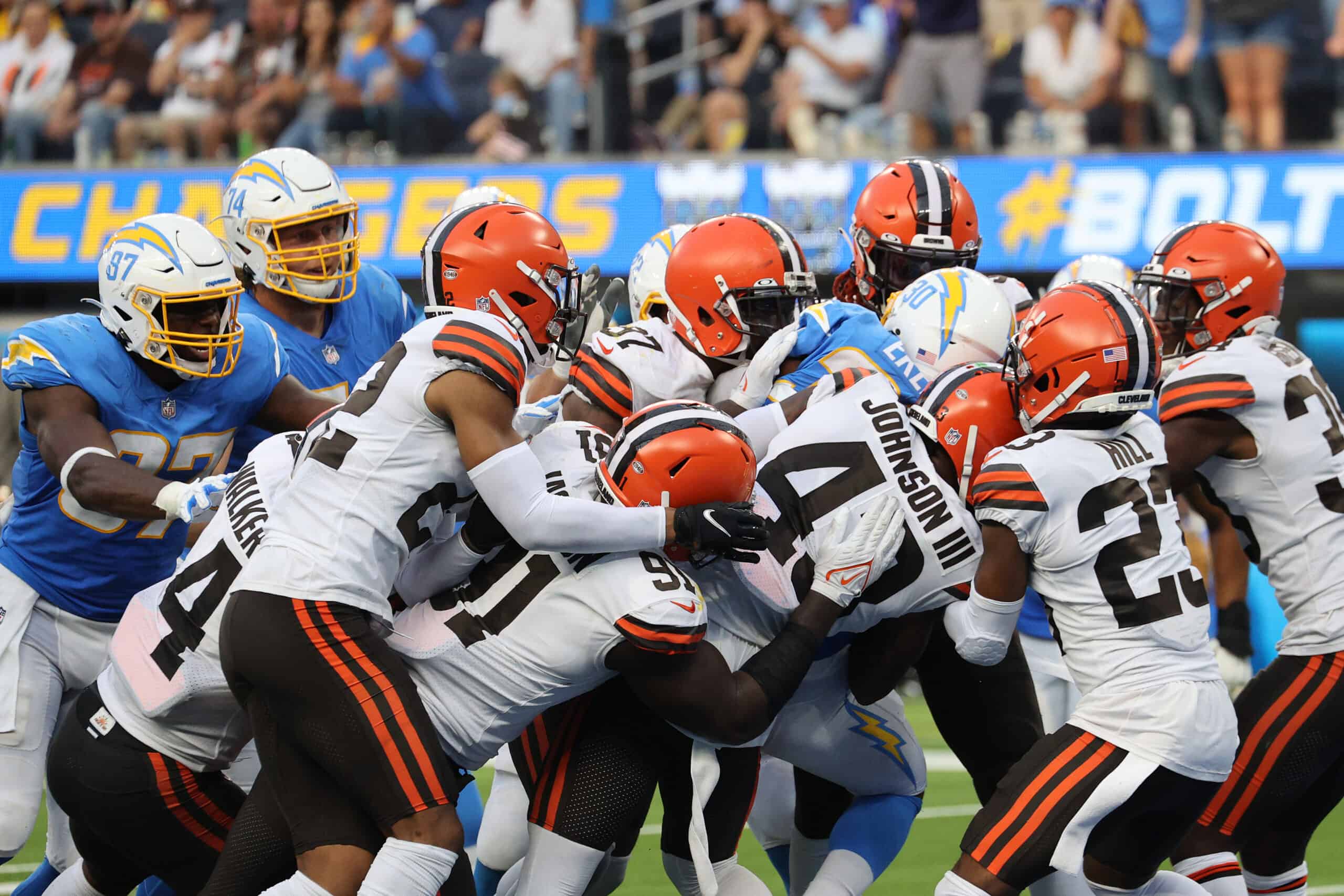 The Cleveland Browns defense was far from good on Sunday.
While it wasn't quite 50 points the Browns surrendered, 47 isn't much better.
Of course, some questionable penalties did the defense no favors.
Regardless, they won't use that an excuse moving forward.
There are plenty of corrections to be made following Sunday's loss.
Miscommunication
The secondary is the group facing the most criticism this week.
Not one, but two complete busts in coverage allowed Justin Herbert to hook up with Mike Williams on long touchdown completions.
JUSTIN HERBERT AND MIKE WILLIAMS DID IT AGAIN! #BoltUp

📺: #CLEvsLAC on CBS
📱: NFL app pic.twitter.com/1aT7cBWbxG

— NFL (@NFL) October 10, 2021
Justin Herbert ➡️ Mike Williams. 72-yard TD.

This connection has been 🔥 this season

(via @NFL)
pic.twitter.com/cFNKXGzWJi

— Bleacher Report (@BleacherReport) October 10, 2021
Neither touchdown featured complex routes concepts or anything like that.
Just a simple lack of communication, pre-snap and post-snap, resulted in a pair of backbreaking scores.
While Joe Woods will certainly receive some heat, those on the field deserve blame as well.
At the professional level, those types of breakdowns should not happen.
Especially more than once.
Getting Off the Field
Fourth down was a huge issue for the Browns on Sunday defensively.
As offenses improve, getting off the field in four-down territory is easier said than done.
Still, it needs to be done to be successful.
On Sunday, the Chargers were a perfect 3-3 on fourth-down conversions.
Two came on the same drive on LA's first possession in the second half.
Herbert connected with Austin Ekeler and then Keenan Allen to extend the drive, eventually resulting in a touchdown.
During that drive, the Browns led 27-13 and seized complete control of the game.
Those conversions, and that scoring drive, kept Los Angeles right in it.
Injuries
It's worth noting that injuries were a factor on Sunday for the Browns.
Every team deals with them each week, but a pair of guys in particular would have been nice to have Sunday.
Greg Newsome II (calf) and Jadeveon Clowney (elbow) were both inactive in the loss against the Chargers.
Clowney's breakout game came a few weeks ago in the win over Chicago in which he recorded two sacks on Justin Fields.
Newsome is off to a fantastic start in his rookie season and hopes to resume his strong play when he returns from injury.
#Browns CB, Greg Newsome II, is off to a strong start. 🔥

In 2 Games Newsome II has recorded:

🔸78 Coverage Snaps
🔸3 Targets
🔸2 Receptions Allowed 🔐
🔸6 Yards 🤯#NFL @gnewsii pic.twitter.com/mcCgJruI8B

— The Hottest Take (@Hottest_TakePod) September 20, 2021
No Excuses
Excuses aren't something you'll find from a Kevin Stefanski coached team.
If anyone knows how bad Sunday's defensive performance was, it's him.
We'll see how the coaching staff and players respond this week as they get set to welcome in the Arizona Cardinals to town.