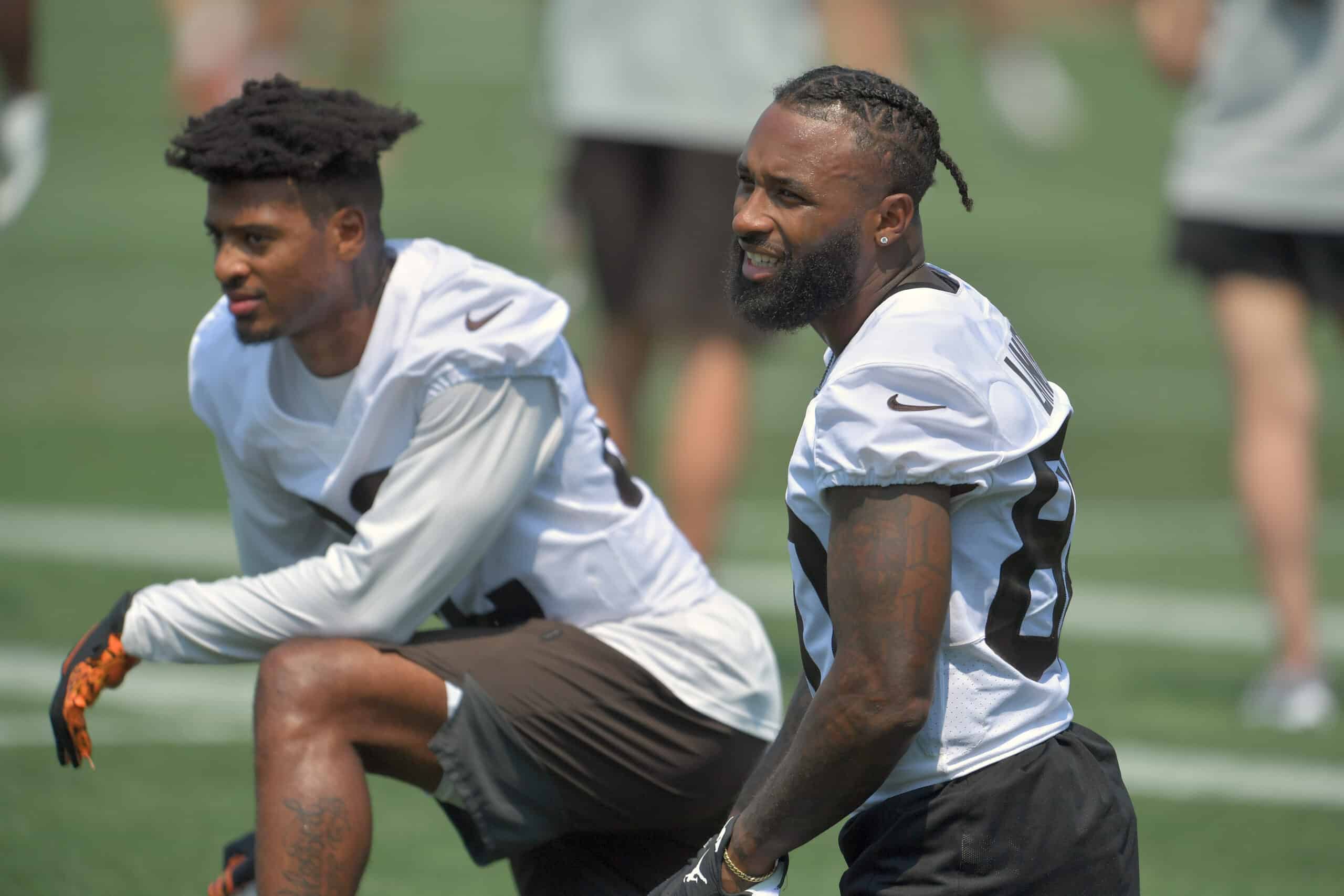 The Cleveland Browns hosted an open practice/team scrimmage at FirstEnergy Stadium on Sunday, August 8, 2021.
Today marked Day 10 of Browns training camp.
Called the Orange and Brown scrimmage, it was the first fan-filled Cleveland Browns event held inside FirstEnergy Stadium since the end of the disappointing 2019 season.
Fans came out in droves, 40,000 of them to be exact.
You think #Browns fans are really truly believing? Season tickets are completely sold out, the waitlist for season tickets is >5000 and very few single game tickets are available. Oh, and 40,000 people collected tickets for today's open practice at First Energy Stadium. pic.twitter.com/pA8b78CKR0

— Aditi Kinkhabwala (@AKinkhabwala) August 8, 2021
Here are the news and notes from a fan-filled team scrimmage.
1. Hollywood And DPJ Deliver
On one of his big plays, Rashard Higgins hauled in a diving touchdown catch from Case Keenum.
Hollywood Higgins DIVING Touchdown and celebration at today's Orange and Browns scrimmage 💪@CALLME_WOOD #Browns pic.twitter.com/oV7RwLMQwW

— DynastyCLE (@DynastyCLE) August 8, 2021
Higgins is competing with Donovan Peoples-Jones, who is balling out at camp for the WR3 position.
DPJ had his own big plays connecting with Mayfield more than once.
QB Baker Mayfield to WR Donovan Peoples-Jones (again)
(Via #Browns) pic.twitter.com/8hoyU9XfrM

— Brad Stainbrook (@BrownsByBrad) August 8, 2021
2. Tight Ends On Display
The Browns are deep at the tight end position, and we saw them at work today.
Harrison Bryant caught a Case Keenum TD.
Case Kennum to Harrison Bryant for 6. #Browns pic.twitter.com/vWVxAan5M5

— Camryn Justice (@camijustice) August 8, 2021
David Njoku did also.
#Browns David Njoku touchdown ft. the Chief Spike. pic.twitter.com/273Fcu0Ogd

— Camryn Justice (@camijustice) August 8, 2021
Austin Hooper struggled.
#Browns TE Austin Hooper is having a rough day with 2 drops so far.

— MoreForYouCleveland (@MoreForYou_CLE) August 8, 2021
3. Kareem Hunt Takes It To The House
A sight that never gets old is Kareem Hunt outrunning the field and taking it to the house.
Kareem Hunt as fans started chanting "Steelers suck" pic.twitter.com/zuvVuXpA7k

— Dan Labbe (@dan_labbe) August 8, 2021
4. Malik McDowell Gets Hurt
Defensive tackle McDowell was brought in during the 2021 season to fortify the Browns' defense.
He was drafted by the Seattle Seahawks in the second round (35th overall) in the 2017 NFL Draft.
McDowell has battled serious off-the-field issues that involved serving time in prison.
With all of that behind him, he came to the Browns looking for a fresh start.
Today, he suffered an oblique injury during the scrimmage.
The extent of the injury is yet to be determined.
#Browns Kevin Stefanski said DT Malik McDowell suffered oblique injury.

— Scott Petrak ct (@ScottPetrak) August 8, 2021
5. Grant Delpit Is Ailing
Everyone is eager to see what second-year safety Grant Delpit can do.
Delpit suffered a season-ending Achilles injury at camp last season and never played an NFL snap.
We are now learning that Delpit has been dealing with a hamstring injury in the past week.
Grant Delpit has been sidelined for the past week with a minor hamstring injury, per @MaryKayCabot.

— clebrownsnetwork (@clebrownsntwork) August 8, 2021
It was such a fun day for both the Browns players and fans; the video clips do not encompass all of the great plays of the day.
KhaDarel Hodge and Nick Chubb added their own big plays.
The Browns resume practice on Tuesday, August 10.