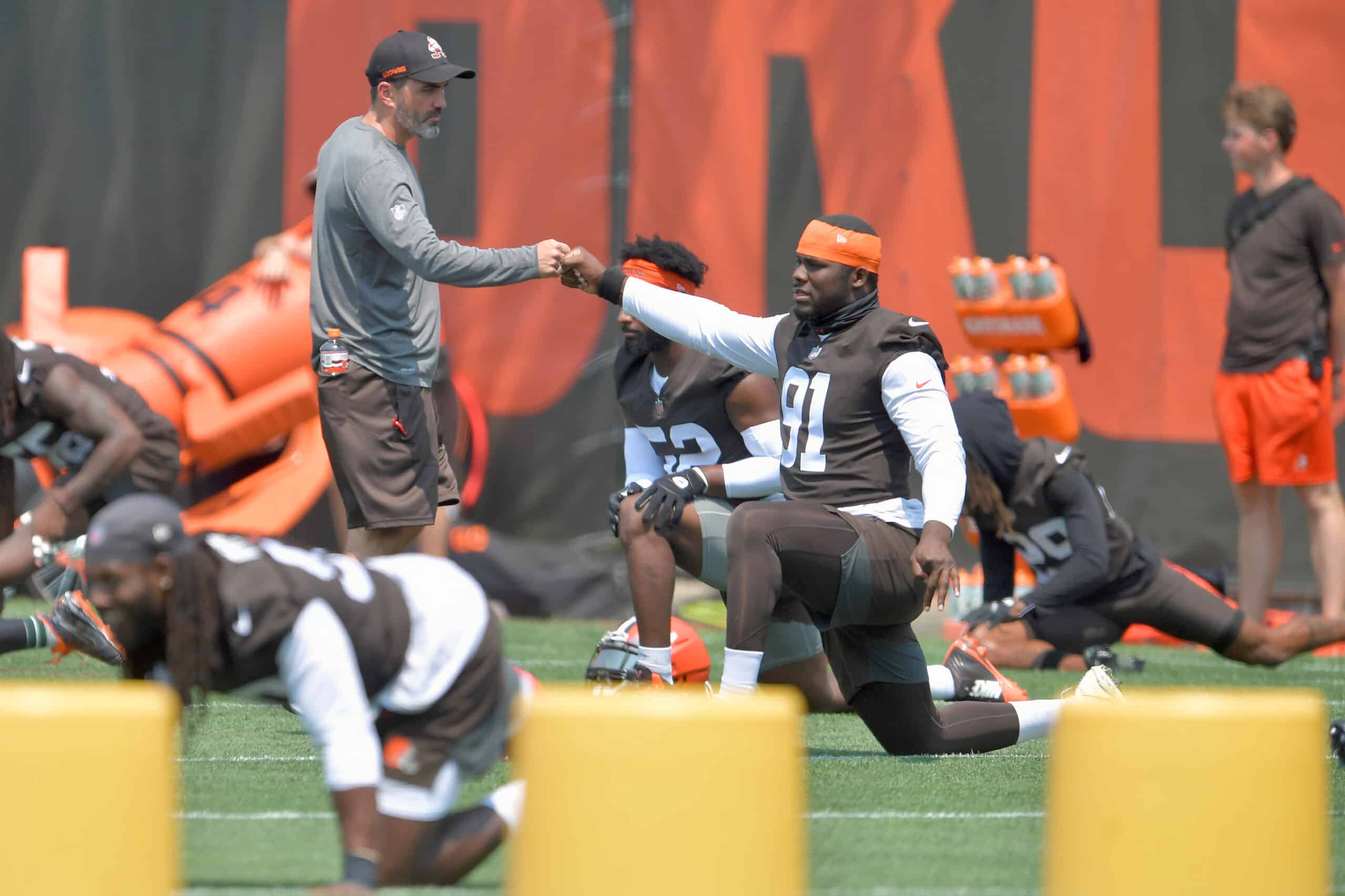 Day 9 of Cleveland Browns training camp did not have the usual video stream of highlights.
Coach Stefanski is clearly preparing the team for the long season ahead so the practice was a lot slower and less eventful.
The players did not wear pads, and it was more of a walk through.
This is the lead up to Sunday's Orange and Brown team scrimmage.
Coach Stefanski Is Being Deliberate
#Browns coach Kevin Stefanski said the team would bring the tempo down today, and he wasn't kidding. Practice was basically a jog through. Jarvis Landry was back after resting yesterday. Denzel Ward got rest today.

— Nate Ulrich (@ByNateUlrich) August 7, 2021
The Browns have enough players with minor injuries and players recovering from major injuries last season so his plan is well thought out.
Andrew Billings
Billings spent his first four NFL seasons with the Cincinnati Bengals before signing with the Browns in March 2020.
The defensive tackle, who suffers from asthma, opted out of the 2020 season for COVID-19 reasons so he has yet to put on the Browns uniform for a fall game day.
At minicamp in mid-June, the coaches told him he needed to cut weight, 20 pounds of it to be exact.
Billings did a lot of running in the Atlanta heat and reported to camp leaner and ready to play.
Andrew Billings is making the most of big opportunities.

He spent the five week period before training camp getting in better shape.

📰 » https://t.co/SMKxCy492e pic.twitter.com/rY8LDA45xo

— Cleveland Browns (@Browns) August 8, 2021
Quarterback RV
The RV is back.
It vaulted into popularity in 2018 during the Browns stint on Hard Knocks.
Former quarterback Drew Stanton came up with the idea, and it lives on.
Coach Stefanski reported that he has not gotten an invitation to go inside the RV yet.
Will a player please invite this man to an event or visit to an RV @bakermayfield @God_Son80 😂 #browns #BrownsCamp https://t.co/b9siV2TVjs

— Ben Genet (@BenHeavyDuty) August 7, 2021
Takk McKinley
On a much more serious note, McKinley is not with the team right now.
Coach Stefanski is not saying much.
He alluded to "personal reasons."
Stefanski is not sure when McKinley will rejoin the team but is "hopeful" it happens before the regular season begins.
This is not good news, and everyone hopes McKinley is okay.
#Browns HC Kevin Stefanski said DE Takk McKinley remains away from team for personal reason and Stefanski doesn't have date he expects him to return. Stefanski said he's hopeful McKinley will return in time for start of season.

— Nate Ulrich (@ByNateUlrich) August 7, 2021
Hall of Fame Mention
Saturday night in Canton was the long overdue induction for the Pro Football Hall of Fame's Class of 2020.
Pittsburgh Steelers Coach Bill Cowher gave a shout out to the Cleveland Browns with whom he played and coached.
Do all NFL teams have a photographer following the players around? This is Bill Cowher when he played for the Cleveland Browns in 1982. pic.twitter.com/SyWfxbCtKa

— 🎶🎵🎶 (@allNightRocker) August 8, 2021
He also talked about Marty Schottenheimer's influence on his life and made a strong case for Schottenheimer to also be inducted.
Proof that rivalries never die, the Steelers fans in the audience (and there were many) provided a chorus of boos during this part of his speech.
Steeler fans booing Bill Cowher for thanking the Cleveland Browns is peak Pittsburgh fandom

— DollarDog Nick @BIGPLAY (@DollarDogSports) August 8, 2021