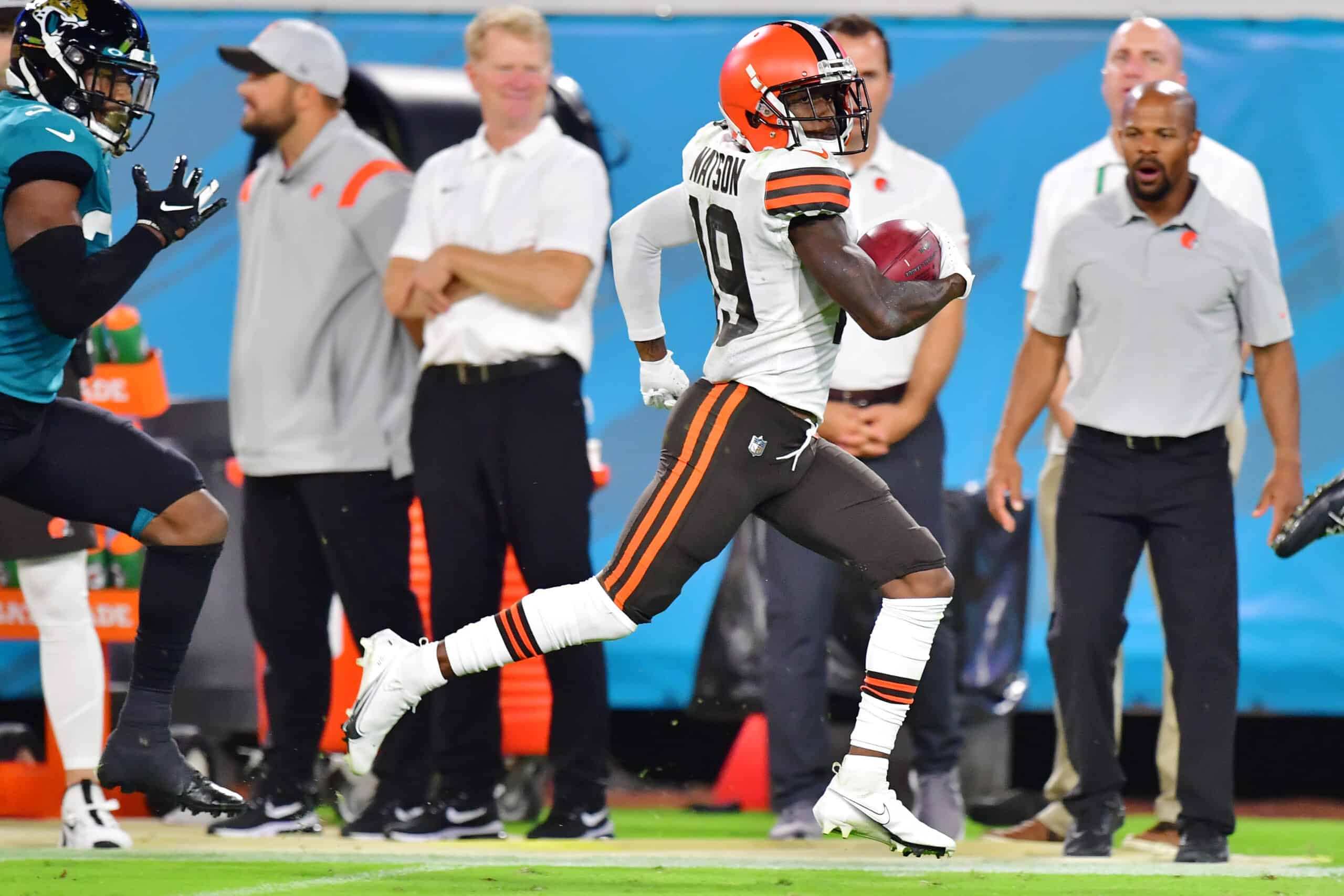 The Cleveland Browns defeated the Jacksonville Jaguars in the team's first preseason game in two years.
The final score was 23-13.
Preseason games tend to show how deep the roster is and how well reserve players do in game situations.
As predicted, the Browns are deep and talented.
Here are the news and notes from the game.
1. Rookies Showed Up
#Browns Jeremiah Owusu-Koramoah is the team's best blitzer. Got his 1st sack there on Minshew. He had high expectations for himself this game and is making an immediate impact

— Mary Kay Cabot (@MaryKayCabot) August 15, 2021
#Browns rookie Richard LeCounte III almost had an interception, then he really did have an interception to end the half

— Nate Ulrich (@ByNateUlrich) August 15, 2021
The names most often mentioned for making plays were Jeremiah Owusu-Koramoah, Richard LeCounte III, and Demetric Felton.
We saw the versatility of Felton being used on both sides of the ball and in the kicking game.
Demetric Felton about to be such an underrated weapon for this team #Browns.

— Tyler Johnson (@T_johnson_TJ) August 14, 2021
2. Quarterbacks Looked Good
#Browns backup QB Case Keenum: "It was good to get back out there and knock the rust off. I thought it was a good night."

— 92.3 The Fan (@923TheFan) August 15, 2021
Both Case Keenum and Kyle Lauletta looked good in the game.
Lauletta had the better statistical day with 19 completions on 27 attempts and 2 touchdowns.
He threw for over 200 yards.
What a connection from Kyle Lauletta to Davion Davis for the touchdown 👀pic.twitter.com/n2k6ODvtWT

— Billy Heyen (@BillyHeyen) August 15, 2021
3. Kicking Was Perfect
The kicking competition between Cody Parkey and Chase McLaughlin is tightening up.
Both were perfect on the night.
Parkey converted two field goals; one was from 48 yards.
The 48 yarder hit the upright before going through.
I know all is right in the world because Cody Parkey doinked a field goal #Browns

— Cory Pierce (@C_Pierce14) August 15, 2021
McLaughlin converted one field goal and two extra points.
4. Browns Running Game Was Stalled
The Browns running game was ineffective.
Seemed as though the Jags were already in the backfield when the ball was being handed off.
Only 41 total yards were gained on the ground, and the average run was less than 3 yards.
5. What About Trevor Lawrence's NFL Debut?
DT Sheldon Day sacks Trevor Lawrence on the rookie's first preseason snap

— Jake Trotter (@Jake_Trotter) August 14, 2021
The Browns defense welcomed the first overall pick to the NFL in his first NFL snap with a sack.
Lawrence kept his composure and made some plays after that, but he threw for just 71 yards and was sacked twice.
6. Player Notes: Donovan Peoples-Jones And Mack Wilson
This Donovan Peoples-Jones catch was RIDICULOUS pic.twitter.com/2ivENKXaa2

— Billy Heyen (@BillyHeyen) August 14, 2021
Both Donovan Peoples-Jones (DPJ) and Mack Wilson have done well at camp.
DPJ caught the first pass of the game which is especially ironic given that Jacksonville's Coach Urban Meyer has often talked about how talented he is and mused that he ended up at Michigan instead of Ohio State.
He is making a strong case for becoming WR3 in 2021.
#Browns LB Mack Wilson is questionable to return to the game with a shoulder injury.

— Noah Weiskopf (@BrownsWithNoah) August 14, 2021
Mack Wilson left the game with a shoulder injury.
Hopefully, it is minor, but no other information is available yet.
The Browns play their second preseason game on Sunday, August 22 at 1 pm EDT.
They host the New York Giants for the game, and there will be joint practices with the two teams prior to the game.