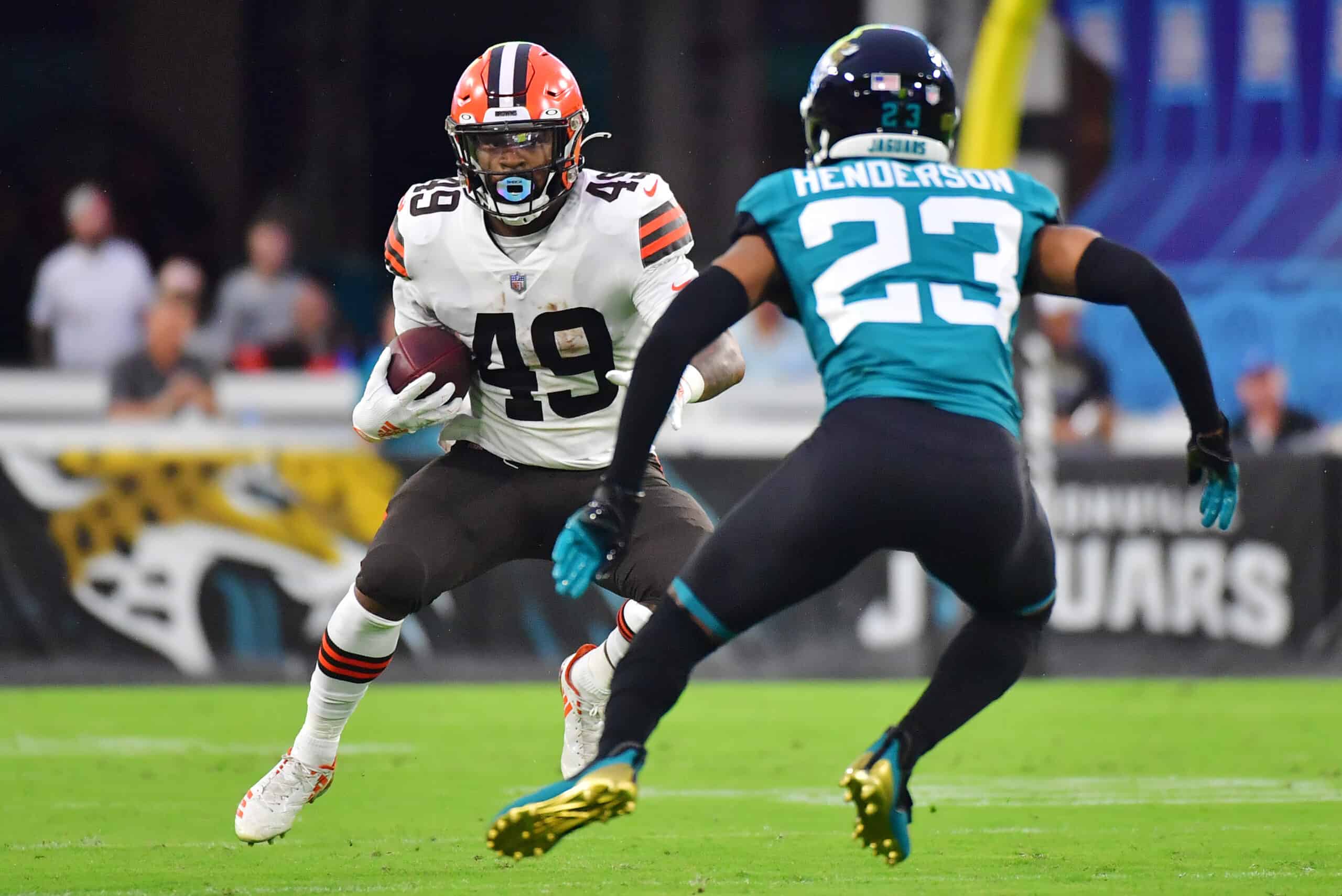 They certainly didn't look very much like the team we remember from January.
But the Cleveland Browns played a football game this weekend.
And even though it was a preseason game, fans were excited to watch.
Case Keenum and Kyle Lauletta led the Browns to a 23-13 victory over the Jacksonville Jaguars.
Starting the year off with a W!#CLEvsJAX pic.twitter.com/jjBf8JJAfD

— Cleveland Browns (@Browns) August 15, 2021
The defense welcomed Trevor Lawrence to the NFL with a sack and kept him off the scoreboard.
Cleveland's rookie class made their presence felt throughout the game.
There were flaws, but overall it was a solid performance by the players competing for roster spots.
Here are 3 Browns players who stood out in the Jaguars game.
1. Jeremiah Owusu-Koramoah 
Andrew Berry memorably traded up to draft Jeremiah Owusu-Koramoah in the 2021 NFL Draft.
The move was widely lauded as landing the Browns a second first-round player.
But if there were any doubters among Browns fans, JOK eased their fears in his preseason debut.
Owusu-Koramoah was all over the field, racking up 8 tackles and a sack.
Jeremiah Owusu-Koramoah making noise 🔥 @j_owuu @Browns

📺: #CLEvsJAX on @nflnetwork (or check local listings) pic.twitter.com/YOcYCYl6C7

— The Checkdown (@thecheckdown) August 15, 2021
He was credited with 3 tackles for a loss, showing speed and power.
More importantly, he played fast, but controlled, with no glaring over-runs or mistakes.
We didn't get to see JOK tested in coverage during the game.
But he still had an impact for the Browns.
2. Richard LeCounte III
Cleveland invested a first-round draft pick and significant free agent resources in their secondary.
And a lot of social media and news content is focused on the return of Grant Delpit and Greedy Williams.
But the star of the secondary against the Jaguars was fifth-round pick Richard LeCounte III.
The safety out of Georgia had an interception and a sack for Cleveland.
Here's Richard LeCounte's INT.pic.twitter.com/GZBulV6z97

— Eric Taylor (@EricTaylorTTR) August 15, 2021
He was also credited with 2 passes defensed, including what was almost another interception.
LeCounte showed incredible range on the play, racing to the sideline to help the cornerback on a deep pass.
Unfortunately, some rookie debut jitters showed up, and the ball fell through his arms.
The rookie also fumbled on his actual interception return, but AJ Green recovered to prevent a disaster.
3. Joe Jackson 
Every player on Cleveland's defensive line performed well against the Jaguars, including Joe Jackson.
Jackson was only credited with 2 tackles on the night, but he was way more productive than that.
Owusu-Koramoah's sack might not have happened if not for Jackson.
The incumbent defensive end flushed the passer and grabbed Gardner Minshew's jersey at the shoulder.
JOK shows his evasiveness and balance here on this pass rush to take down Minshew for the sack.@TateSigworth is happy #CLEvsJAX pic.twitter.com/bj7wAR1Ruo

— Boom or Bust: The Draft Show (@BoomOrBustDraft) August 15, 2021
His hold slowed the quarterback for a split second before JOK secured the tackle for his first sack.
Jackson was also the defender who blew up Jacksonville's 4th-down conversion attempt.
And his bull rush around the right end cut off Trevor Lawrence's escape from another sack.
Porter Gustin had Lawrence on the run when Jackson forced him to pull up, allowing Gustin to secure the takedown.
Other Notables: Felton, Davis
Donovan Peoples-Jones continued his noteworthy preseason with a solid starting performance.
But recently acquired Davion Davis led the team with 56 yards on 4 receptions.
He put an exclamation mark on the night leaping for a 27-yard touchdown before the half.
Running back Demetric Felton didn't do anything spectacular during the game.
Davion Davis went 🆙🆙🆙#CLEvsJAX | #Browns

📺: @nflnetwork | @WEWS pic.twitter.com/y79qFPVUcm

— Cleveland Browns (@Browns) August 15, 2021
But he certainly contributed, fielding a punt and a kick, as well as making a tackle on coverage teams.
Felton also caught 4 passes on 6 targets for 44 yards.
He could be the second Andrew Berry 6th-round draft pick to contribute heavily to Kevin Stefanski's attack.
Corey Taylor ran hard, providing the best running performance on a bad night for rushing.