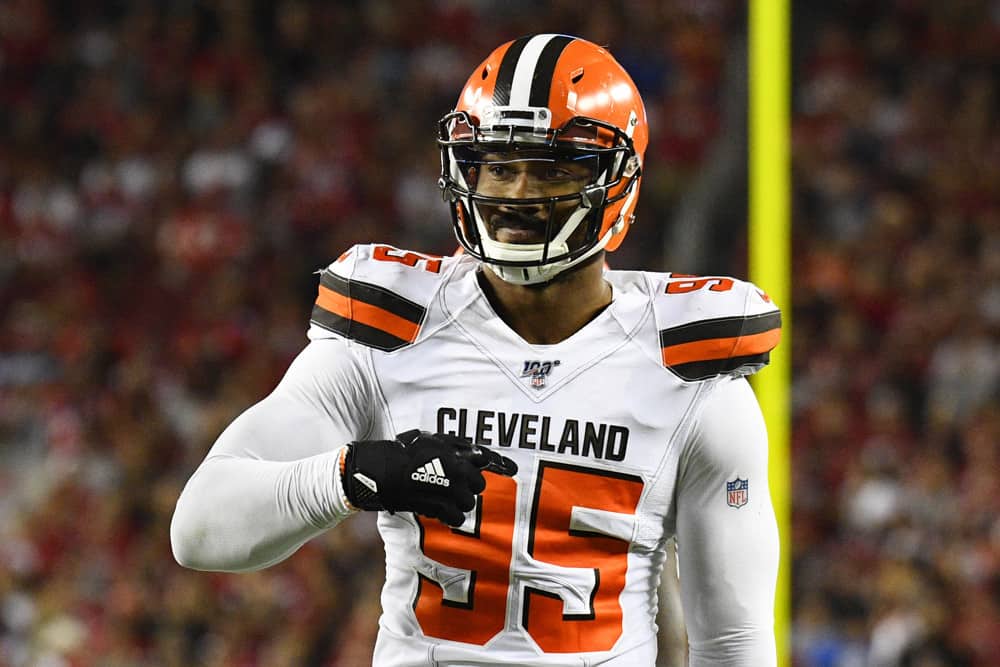 Longtime NFL analyst and TV personality Adam Schein released his 2021 NFL Bold Predictions this week.
And at least one of them doesn't seem so bold to Cleveland Browns fans.
Schein is a contributor to multiple sports networks and hosts the "Schein On Sports" show on Sirius Radio.
Among his 9 bold predictions is a new NFL sack record, 20 years after Brett Favre's infamous flop gave the title to Michael Strahan.
.@AdamSchein's bold predictions for 2021 season: Browns DE Myles Garrett breaks single-season sack recordhttps://t.co/NEGzwZ8fpi pic.twitter.com/54EtenUlPQ

— Around The NFL (@AroundTheNFL) May 27, 2021
And the new record holder will be… Myles Garrett.
Over the past two decades, (5 players) reached 20-plus sacks, but none could knock Strahan from his throne. Now, with 17 games in the regular season, I expect this record to fall ASAP. And Garrett's the guy to do it.
Schein points out that Garrett was on a record-setting pace before Covid-19 slowed him down last year.
Myles Garrett: NFL sack leader 💪
pic.twitter.com/n1Mk738ycr

— PFF (@PFF) November 15, 2020
Garrett wasn't far off that pace, with 10 sacks in 10 games, back in 2019, either.
But Schein told his readers that when Garrett is healthy, he is unblockable.
The analyst says no one has the combination of size, speed, skill, and motor that Garrett brings to the field.
Schein Says It's Not All Garrett
In his short blurb about Garrett and the sack record, Schein alludes to players around the Browns' star.
He mentions the innumerable free agents and draft picks expected to impact Cleveland's attack.
Schein cites the improved defensive unit as an X-factor in Garrett's record-setting future:
"The Browns' D is loaded at all three levels. So opponents can't just throw every resource at Garrett. The man is going to eat."
Jadeveon Clowney, Takk McKinley, and Jeremiah Owusu-Koramoah can make it hard to double team Garrett.
Reminder: Myles Garrett is really, really good…

(h/t @CBSSports on IG) pic.twitter.com/laD5pehSBE

— CBS Sports HQ (@CBSSportsHQ) May 15, 2021
But if teams try, Malik Jackson and Andrew Billings are adept at occupying the extra blocker for their teammate.
Improvements behind Garrett could buy an extra split second with improved pass coverage, too.
It all adds up to an exciting season to be Myles Garrett.
And it makes us wonder why Schein classifies this as a "bold" prediction.
Other Interesting Schein Predictions
Schein makes 9 bold predictions in all, a couple of which might interest Browns fans.
His top prediction is that Aaron Rodgers will stand in the way of a Cleveland Browns AFC Championship.
Schein seems certain Rodgers is done as a Packer and predicts he will land in Denver.
He further asserts that Rodgers will guide the Broncos "deep" into the postseason.
"The Denver Broncos with Aaron Rodgers would be in the mix for the Super Bowl in the AFC."

What would the Broncos look like with another legendary QB under center? @AdamSchein says Super Bowl contenders. pic.twitter.com/o2adeOjBtn

— CBS Sports Network (@CBSSportsNet) May 25, 2021
Schein says he would not bet against the former Packer taking on the Chiefs, Bills, or our Cleveland Browns.
Another one of Schein's eye-opening predictions involves the Bengals and Steelers.
Specifically, he predicts Cincinnati will finish ahead of Pittsburgh in the AFC North.
He believes in Joe Burrow behind an improved offensive line.
But he also cites an aging Ben Roethlisberger battling the league's most difficult schedule behind a flawed line.