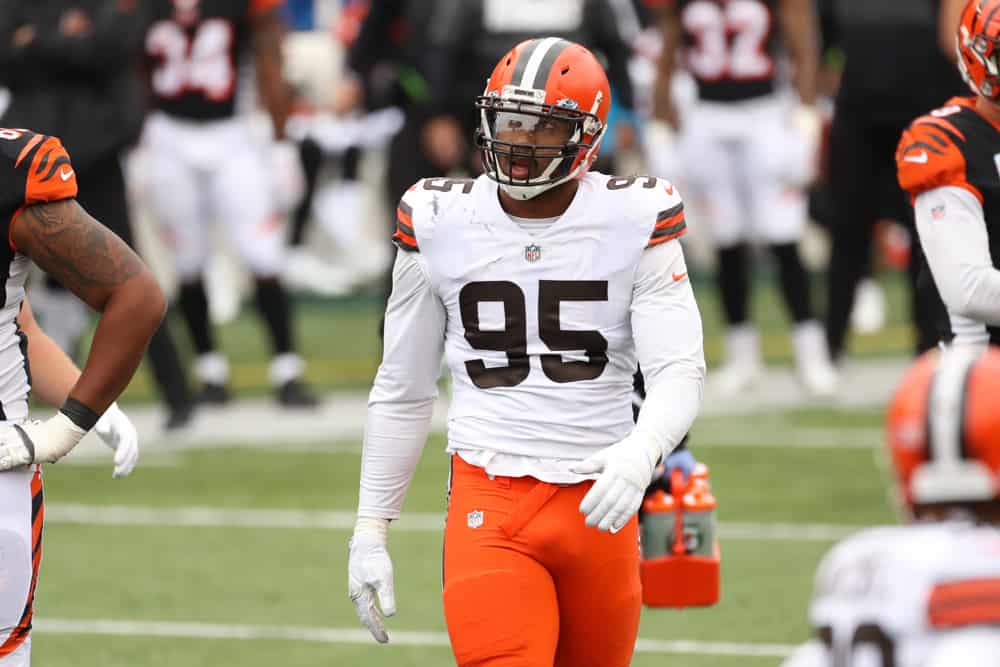 Andrew Berry set to work early improving the Cleveland Browns defense.
Much has been made of the new players added to Joe Woods' unit.
There could be as many as 9 different starters from the group that took the field against Baltimore last September.
Is this revamped #Browns defense now a top 10 unit in the NFL? 👀

Cleveland's PFF Draft Grade: 🅰️ ➕ pic.twitter.com/2JJzgvVNbA

— PFF (@PFF) May 2, 2021
But as much as is expected from our rookies and free-agent additions, there is more expected from the incumbents.
Jadeveon Clowney, John Johnson III, Troy Hill, and Jeremiah Owusu-Koramoah bring great expectations.
But Myles Garrett is still the man in Cleveland, and the guy we expect to stand out in 2021.
Those expectations are reflected by the betting world's odds-makers and bookkeepers.
.@AdamSchein's bold predictions for 2021 season: Browns DE Myles Garrett breaks single-season sack recordhttps://t.co/NEGzwZ8fpi pic.twitter.com/54EtenUlPQ

— Around The NFL (@AroundTheNFL) May 27, 2021
That includes BetOnline.ag listing Garrett with the second-best odds of winning Defensive Player of the Year.
Not only that, but along with Aaron Donald, Vegas deems Garrett a huge favorite to be the choice.
Donald (+450) and Garrett (+550) come in well ahead of TJ Watt (+900) and more than twice as likely as any other player.
Why Garrett Has a Great Shot at DPOY
Garrett, Donald, and Watt are often listed among the top defensive players in the NFL.
But to win awards like the Defensive Player of the Year requires some statistical arguments.
And as great a player as any individual may be, the ten guys around him have a tremendous impact.
There are big expectations for Clowney, Malik Jackson, Andrew Billings, and Takk McKinley.
And better health for Garrett after his Covid-affected 2020 season will keep him in the DPOY mix, too.
Flash Garrett is an absolute nightmare for opposing QBs. ⚡️

Here are all 12.0 of his Sacks from the 2020 campaign. 🔥

(🎥 per #NFL) #Browns @MylesLGarrett pic.twitter.com/dfPgnhG4ez

— The Hottest Take Sports Podcast (@Hottest_TakePod) May 22, 2021
However, the additions to the next two levels of the Browns defense are what really enhances Garrett's odds.
With their rebuilt and reinforced safety and cornerback groups, Cleveland's coverage is noticeably tighter.
The coverage ability of Owusu-Koramoah and the returning Malcolm Smith at the middle level helps, too.
Quarterbacks will have to think twice before tossing the ball to wide receivers, tight ends, or backs.
And that extra split second of processing the coverage will exponentially add to Garrett's sack potential.
Is It All About The Sacks? 
Make no mistake about it, the only thing bigger than a sack in an edge rusher's mind is a strip-sack.
And the only thing bigger than a strip-sack is a strip-sack-recovery.
Few in the NFL are better at taking the ball away from a captured passer than Myles Garrett.
But like Donald and TJ Watt, Garrett is no one-trick pony.
He plays the run as well as any defensive lineman and will boast a solid number of tackles, too.
Myles Garrett's career stats…

• 4 seasons (51 games)
• 152 tackles, 42 TFL
• 42.5 sacks, 83 QB hits
• 10 FF, 3 FR, 6 PD
• 2x all-pro (1st: 1, 2nd: 1)
• 2x pro bowler ('18,'20) pic.twitter.com/oOC7Rru6Nj

— NFL Stats (@NFL_Stats) May 19, 2021
Joe Woods knows he can occasionally fool defenses by dropping Garrett back in coverage.
It's not an optimal use of his Pro Bowl edge rusher, but it offers the opportunity for a highlight play.
Even without any gimmicks, Garrett's full-motor, whistle-to-whistle style draws attention.
Cleveland's new status as a playoff team further increases Garrett's exposure, which improves his award chances.
But all Garrett really has to do is play his game and be himself to be the DPOY and MVP for Cleveland fans.