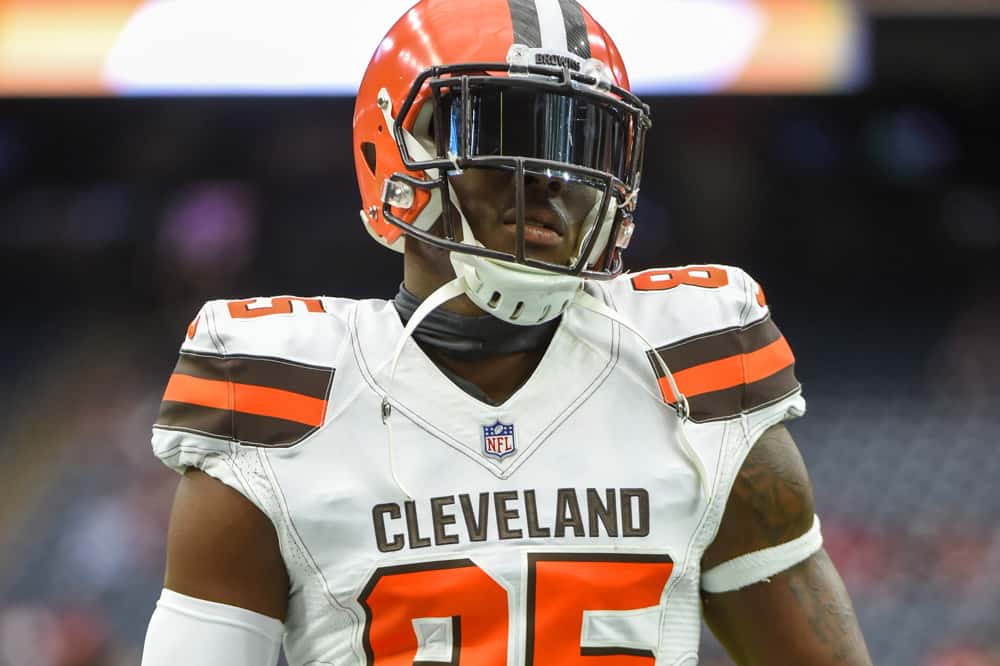 When the Cleveland Browns signed Austin Hooper this past off-season, it became clear that David Njoku's value inside the organization had diminished.
Adam Schefter recently reported that Njoku has demanded a trade out of Cleveland, adding to the belief that "Chief" could be finding a new home shortly.
Now, the rumors of potential landing spots are starting to fly.
Chris Roling, NFL analyst for Bleacher Report, recently compiled a list of trades he believes could happen before this upcoming season begins.
The list included a deal with Njoku that would send him to the Green Bay Packers.

The Deal
Roling's breakdown of the trade makes sense on the surface, noting that the trade would be a win-win scenario.
Thanks to surrounding talent and an approach that can unlock the 23-year-old's potential, the Green Bay Packers could be that team—especially now that Jimmy Graham is gone and with names like Jace Sternberger yet to emerge.

Those Packers could win a bidding war with a Day 2 pick—teams told ESPN's Jeremy Fowler that he might be worth a fourth- or fifth-rounder—and get a 36-year-old Aaron Rodgers a high-upside weapon, while the Browns would rid the locker room of a player who doesn't want to be in town.
The more you dive into a potential deal, the more it makes sense.

What the Packers Would Get
A tight end with the athletic ability of Njoku being paired with Aaron Rodgers would certainly be something opposing defenses concern themselves with.
Jimmy Graham was never exactly what Packers fans wanted, but he was playing on the wrong side of 30.
Njoku's best years are still ahead of him if he can manage to stay on the field and produce with some level of consistency.
He couldn't do that in Cleveland.
Perhaps a change of scenery, paired with a more experienced quarterback and new offense, could do wonders for Njoku's career.
Is David Njoku worth it? 👀 pic.twitter.com/O4sX97x1sx

— Packers Nation (@PackersNationCP) July 9, 2020
If there's a quarterback in this league who can get the most out of his receiving targets, it's Rodgers.
Interestingly enough, the Packers had a serious chance to draft Njoku back in 2017 when many fans were clamoring for him.
Instead, they traded back out of the first round completely and selected Kevin King.

What the Browns Would Get
it's unclear exactly what the Browns would want in return in a potential deal.
A late-round draft pick or a player that provides some depth would be a starting point for the guessing game.
Addition by subtraction plays a major role here though.
Reports of Njoku being unhappy in Cleveland surfaced earlier this month.
#Browns TE David Njoku wants out, and he's been unhappy for a minute:
https://t.co/arNIOM0uXl

— Pro Football Rumors (@pfrumors) July 6, 2020
If there is one thing Cleveland fans hate, it's players that do not want to be here.
Especially those that have been underwhelming thus far.
Pile that on to the trade-demand, and you have one unhappy mess.
It's clear that efforts to find a role that keeps him happy would take more work than finding an appropriate trade package.
Njoku's shortcomings in Cleveland were not entirely his own fault.
The organizational turmoil, between the John Dorsey saga and Freddie Kitchens experiment, makes it tough for any player to succeed.
Regardless, Njoku has simply not done enough in his time in Cleveland, and a trade involving him seems probably in the near future.