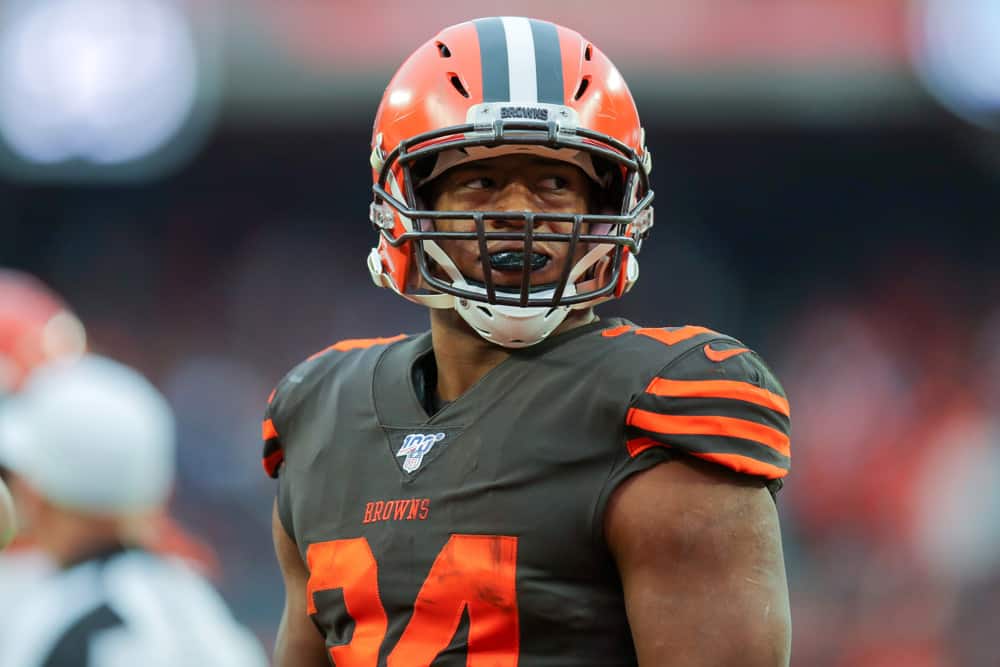 On NFL Network's NFL Total Access show, Hall of Fame running back LaDainian Tomlinson said that Nick Chubb is the most underrated player in the league:
The most underrated player in the NFL is _______ 🤔

📺: @NFLTotalAccess pic.twitter.com/InPr82NEVa

— NFL Network (@nflnetwork) July 4, 2020

In this 'Players Only' edition of the show, Tomlinson joined retired NFL players Willie McGinest and Shaun O'Hara to discuss underrated players.
While Tomlinson's television teammates chose defensive players, he went with the Cleveland Browns running back:
"I'm going to go with Nick Chubb, guys. Think about this, since Nick Chubb was drafted in 2018, all he has done is break the most tackles of any running back. He is graded the highest according to Pro Football Focus of any running back, and he is only second in yards after contact to Derrick Henry."
Tomlinson is showing tremendous confidence in Chubb, and no one should blame him after Chubb has had two productive years in the NFL.
As a running back himself, the former San Diego Charger and New York Jet knows his way around the position.
If he is championing Chubb, then Browns fans should be excited.
Tomlinson Thinks Chubb is Perfect for Stefanski's Offense
NFL.com's Grant Gordon recently released an article discussing why Chubb has a higher ceiling now that he is in Kevin Stefanski's offense:
Is ceiling higher for RB Nick Chubb under new Browns regime? (via @NFLResearch)https://t.co/ULhtvIVXtV pic.twitter.com/tHvvZn1Ggm

— Around The NFL (@AroundTheNFL) July 5, 2020
Tomlinson agrees:
"This is a perfect offense for Nick Chubb, he's going to get the opportunities."
Tomlinson thinks that the Browns will be having a run-heavy offense, which can open up the passing game by using play-action as well.
With Stefanski rehauling the Browns' offense heading into 2020, Tomlinson is confident that Chubb will have a stellar season.
Tomlinson's Bold Statement about Chubb's Upcoming Season
Not only does the 41-year-old former running back think that Chubb will improve from his strong sophomore year, but he also is  taking it a step further:
"Nick Chubb will lead the league in rushing next year. I know they have Kareem Hunt in the backfield, but Nick Chubb is a dog, it's about time that people start respecting this man. We talk about the running backs, nobody talks about Nick Chubb, but next year he is going to prove that he is one of the best running backs in the National Football League."
While there are reasons why Chubb may not win the rushing title in 2020, Tomlinson thinks Chubb will do it.
Chubb has a decent chance of being in the mix for the rushing title, but having Hunt in the backfield will take away carries from Chubb.
Also, Jack Conklin wants Chubb to win the title.
Conklin is ready to make an impact in his first season with the team.
With Jedrick Wills Jr. and Conklin being strong additions to the offensive line, there is a chance that Chubb improves on his impressive 2019 season.
Browns fan may not want Chubb to be fighting for the rushing title this season because that may mean he will have had too many touches.
He is such an important part of the Browns offense, and with him being such a young player, Cleveland wants his legs to last for many years.
It will difficult for Stefanski to balance the offense in terms of touches, but if Chubb is the hot hand in many games, then he has a chance of winning the rushing title and removing that "underrated" tag.