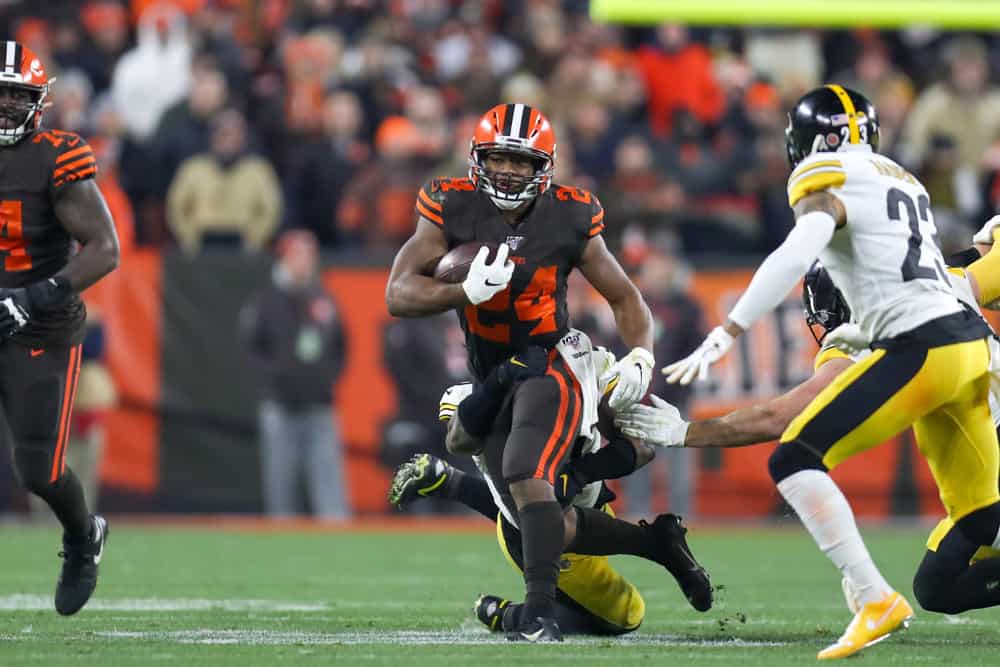 So close.
Nick Chubb was so close to being the 2019 NFL rushing champion.
If it wasn't for a Week 17 dud against the Cincinnati Bengals and Derek Henry's nearly God-like moment on the last game, Chubb would have been the best.
The 2020 season, Chubb may not get the same opportunity.
For these three reasons, it could be a reality.

1. The Schedule
The Browns play the Washington Redskins, Cincinnati Bengals (twice), Houston Texans, Jacksonville Jaguars, and New York Giants, which feature very below average rush defenses.
The rest of the schedule features 10 teams that ranked in the top half of the league in rushing defense.
That also includes four games (three teams) in the top-5 in the Baltimore Ravens (5th), Philadelphia Eagles (3rd), and New York Jets (2nd).
That is going to be difficult, even for Chubb, to crack over 100 yards each game.
Chubb rushed for 1,494 yards last year, and that number will be difficult to reach in 2020.
Going through Nick Chubb's explosive plays and touchdowns from 2019 because I'm bored and have nothing better to do.

Conclusion: he's very good and about to run in a scheme his game was built to thrive in.

Here's Part I because he has a ton. pic.twitter.com/J6boHdtLdt

— Jake Burns (@jake_burns18) March 21, 2020
2. Kareem Hunt
It's really hard to believe that Hunt will not be used in a rushing role in games.
That takes away carries and yards from Chubb.
Hunt was suspended for eight games last season, which gave Chubb eight more games to be the man in control.
In 2017, Hunt was the NFL's leading rusher and was on pace to do it again in 2018 until his off-the-field actions landed him without a job.
We have heard that Hunt will be used as a pass-catching back, but if Hunt is anything like he was two years ago, that could change.
Since the return of Kareem Hunt, there is just 1.3 PPR #FantasyFootball points that separate himself (56.3) & Nick Chubb (57.6).

Rush attempts
Chubb: 84
Hunt: 25

Receptions
Chubb: 6
Hunt: 20

Average fantasy points per touch
Chubb: 0.64
Hunt: 1.25pic.twitter.com/H01cgVaMG7

— Nate Hamilton (@DomiNateFF) December 2, 2019
3. History Doesn't Repeat Itself 
This is a new day in age in football.
Running backs that rank in the top-5 for rushing yards in a season do not consistently make their way back.
2017 Rushing Top-5: Kareem Hunt, Todd Gurley, Le'Veon Bell, LeSean McCoy, Mark Ingram
2018 Rushing Top-5: Ezekiel Elliott, Saquon Barkley, Todd Gurley, Joe Mixon, Chris Carson
2019 Rushing Top-5: Derek Henry, Nick Chubb, Christian McCaffery, Ezekiel Elliott, Chris Carson
When looking at the last three years, Gurley, Elliott, and Carson are the only three running backs that have ranked in the top-5 in back-to-back seasons.
Running backs have been prone to injury, which led to players like Ingram and Barkley not repeating.
Also, we can't ignore that we do not know if the system new head coach Kevin Stefanski implements will truly complement Chubb.
All we do know is that the numbers do not lie.
Maybe, Chubb can be an outlier.