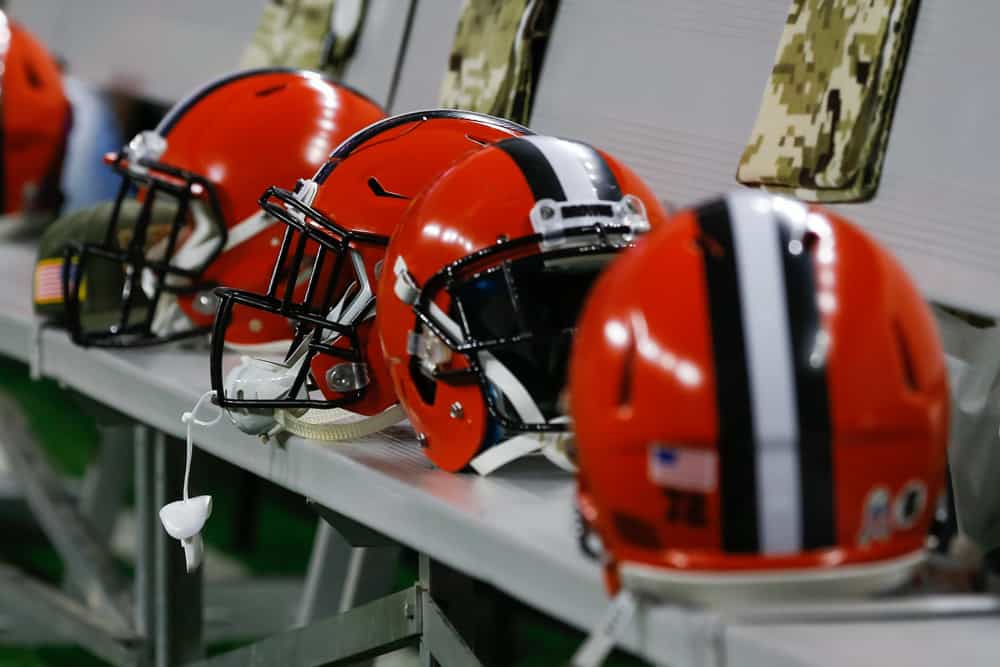 No Cleveland Brown has ever accepted a 10-year, but what if some all-time greats were offered a chance?
Kansas City Chiefs quarterback Patrick Mahomes accepted the largest contract in sports history earlier this week.
There's no question Kansas City didn't want to lose the former MVP and Super Bowl MVP, given his production over the last two seasons.
With that being said, it makes you wonder.
Which all-time Browns would have been given the same opportunity?

No. 5: Dante Lavelli (WR)
Receivers don't typically get long contracts but for argument's sake, having Dante Lavelli on this list makes sense.
When the Browns first began playing professional football, Lavelli quickly put his name on the map.
In the team's first year of existence, he led the AAFC in receiving yards with 843.
He followed that with a second-year stat line of 799 receiving yards and nine touchdowns.
Given that the Browns were a brand new franchise, Laveli's two-year stat line would have looked pretty impressive during the late 40s.
No. 4: Otto Graham (QB)
If there was a quarterback that deserved a long-term contract, it would be the best Browns quarterback of all time.
There's no doubt that it's been a while since the Browns have featured a successful quarterback.
In 1946, Graham was essentially the first quarterback to take over the position.
From 1946-1955, Graham finished his career with 23,548 passing yards (2nd all-time) and 174 touchdowns (a record).
That also included making the All-Pro team seven times and Pro Bowl five times.
What makes Graham deserving is that he produced league-leading passing yards when the Browns started in the AAFC.
Certainly, the Browns could have given a Mahomes-like contract to their rock at the position.
When the Browns transitioned to the NFL in 1950, he led the league in passing yards in 1952 and 1953.
No. 3: Ozzie Newsome (TE)
This is a simple choice given that Newsome finished as the Browns all-time leader in receiving yards and has nearly 300 more receptions than No. 2 on the all-time list.
When Newsome was 25, he has produced seasons of 781 and 1,002 receiving yards.
He made the All-Pro team five times during the 1980s.
Newsome was no doubt one of the best at getting the ball and should be rewarded for that.

No. 2: Joe Thomas (OL)
In comparison, Philadelphia Eagles lineman Lane Johnson signed a six-year, $63 million contract in 2016 and followed that with a four-year extension in 2019.
The highest-paid lineman in the league essentially signed a six-year contract, so what about another four years?
If anyone deserved it, that would be Joe Thomas.
Thomas recently retired after spending 11 years with the Browns that featured the following:
10X Pro Bowl selection
7X First-Team All-Pro
2X Second-Team All-Pro
NFL 2010s All-Decade Team
Thomas is going to be in the Hall of Fame and deserved the length of a decade-long contract.
Played 11 seasons for the Browns.
10 time pro bowler.
Played 10,363 consecutive snaps.
NEVER MADE THE PLAYOFFS.

We will survive 2020.
Happy Joe Thomas Day. pic.twitter.com/2nWA3NitYd

— Dawgs of War Podcast (@DoWPodcast) July 3, 2020
No. 1: Jim Brown (RB)
No running back will ever get a 10-year contract, but there was no running back that has ever played the game like Jim Brown.
Brown led the league in rushing in eight of the nine seasons that he played.
He was incredibly difficult to tackle, given his career average of 5.2 yards-per-carry.
In Brown's first season, he led the league in rushing with 942 rushing yards and nine touchdowns.
He followed that with a sophomore season of 1,527 rushing yards and 17 touchdowns.
We can go on and on about his greatness but make no doubt.
He was the Patrick Mahomes of running backs during his era.
Jim Brown retired after 118 games. He towers above every other RB in stats through 118 career games as a runner despite not playing in the most run-friendly of eras.

And he ranks 1st in yards from scrimmage, too (top-5 all highlighted). pic.twitter.com/AV1B7rCJJt

— Football Perspective (@fbgchase) July 6, 2020