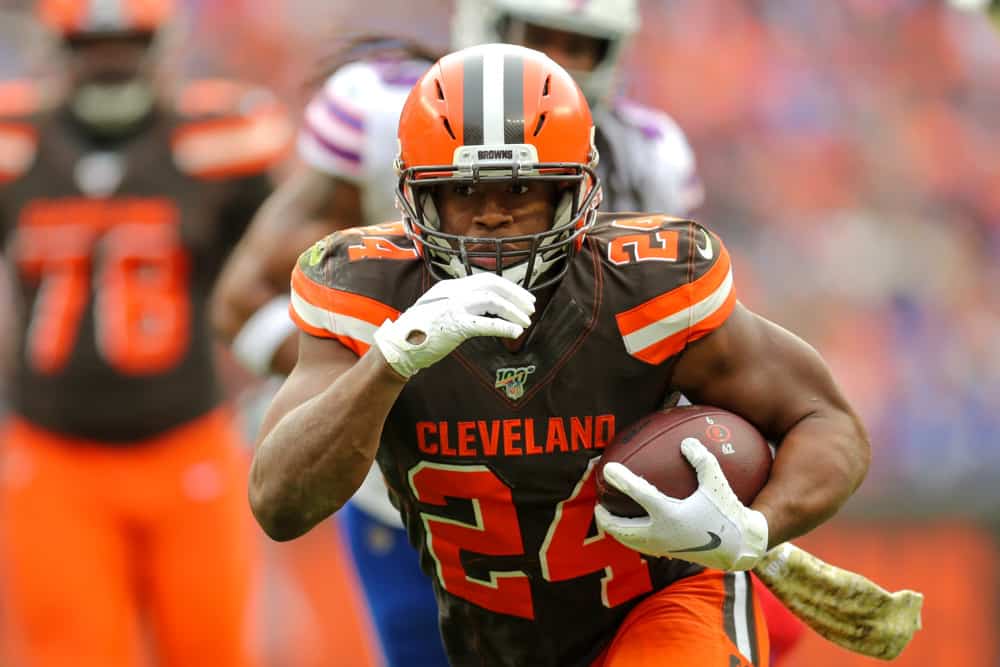 NFL.com Digital Content Producer Grant Gordon released an article about if Kevin Stefanski's presence in Cleveland will unlock new potential heights for Nick Chubb's performance:
Is ceiling higher for RB Nick Chubb under new Browns regime? (via @NFLResearch)https://t.co/ULhtvIVXtV pic.twitter.com/tHvvZn1Ggm

— Around The NFL (@AroundTheNFL) July 5, 2020

Entering his third NFL season with the Cleveland Browns, Chubb has had a stellar career thus far.
In the article, Gordon points out that Chubb has the most rushing yards for  any Browns running back through the first two seasons:
Nick Chubb, 2018-19: 2,490

Jim Brown, 1957-58: 2,469

Kevin Mack, 1985-86: 1,769

Marion Motley, 1946-47: 1,490
With a new season upon us and the Browns with a new head coach and general manager, the sky seems to be the limit for Chubb.
Why is Chubb's Ceiling Higher Under Stefanski?
Under Stefanski, Dalvin Cook became one of the best running backs in the league:
"Vikings running back Dalvin Cook turned in a star-making performance under Stefanski, as well, so it's easy to surmise another sensational season for Nick Chubb."
If Stefanski can continue to produce a strong rushing offense in Cleveland, Chubb may cement himself in the top tier of running backs by the end of the 2020 season.
Stefanski helped Cook produce a 1,000-yard season with double-digit touchdowns:
"Stefanski's lone full season as Minnesota's offensive coordinator last year was Cook's third season in the pros and far and away his finest yet. Granted, Cook was relatively free of injury problems that had previously plagued him, but his numbers were scintillating all the same with career-highs of 1,135 rushing yards and 13 touchdowns."
With Stefanski in charge, maybe Chubb can set a new career-high in touchdowns.
He had eight rushing touchdowns in each of his first two seasons in the league.
Chubb Can Become the Best Running Back in the NFL
Chubb is one of the best young players in the NFL, and he is continuing to get better.
Experts from many NFL outlets agree with this statement, including Marc Sessler of NFL.com.
In May, he ranked three Browns players in the 2020 All-Under-25 Team, and Chubb was starting at the flex position.
The NFL Players Association also named him the "Top Veteran Rising Star."
In this article, Gordon thinks that Chubb can even improve from his impressive 2019 statistics:
"Finishing the year with 1,494 yards, Chubb trailed only rushing titlist Derrick Henry (1,540 yards) and also ran off seven 100-yard games, which tied Ezekiel Elliott for tops in the league."
Any player in the same conversation as Henry and Elliott should be considered one of the best in the league.
According to Gordon, Chubb is already one of the NFL's best running backs:
"Those 2,490 yards are third in the NFL over the past two seasons and further evidence that in just two seasons, Chubb has become one of the top backs in the league."
Will Competition with Kareem Hunt Get in the Way of Chubb's Ceiling?
No one will know this answer until the Browns show how they plan to utilize Kareem Hunt in 2020.
If Freddie Kitchens was still the head coach, then the answer to the question would be yes.
Chubb was utilized less when Hunt returned from suspension last season.
With Chubb and Hunt playing together starting Week 1 in 2020, the Browns offense will most likely improve.
Therefore, Chubb will have more opportunities to succeed and will have more opportunities to score.
Meanwhile, the Browns have rehauled their offensive line for the better.
In addition to drafting Jedrick Wills Jr., the Browns signed Conklin to a three-year, $42 million contract.
In March, Conklin said that he wants Chubb to win the 2020 rushing title.
With a new coach, general manager, and offensive line, Chubb may be able to make an extra jump this season.
We all know that Chubb looks ready to make that jump:
👀 @NickChubb21 man just lifted a truck! pic.twitter.com/0GNmq3Jcyt

— Zach Chubb (@ZachChubb10) May 25, 2020
If all the stars align, he may even put up numbers that put him in the conversation for the Most Valuable Player award.