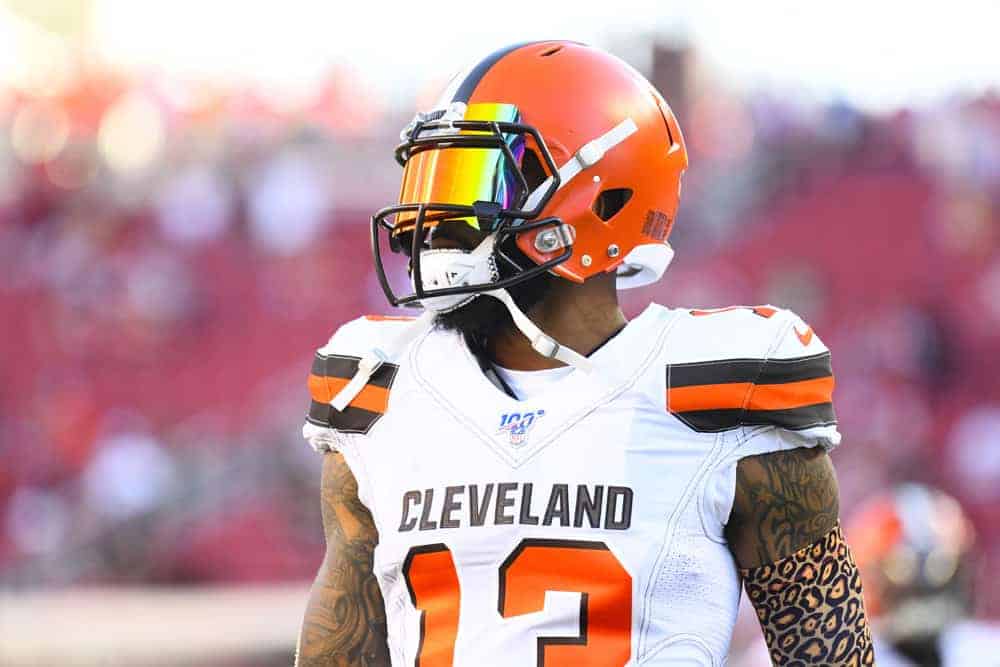 In March of 2019, the Cleveland Browns made a massive trade that landed them superstar wide receiver Odell Beckham Jr. from the New York Giants.
The three-time Pro Bowl receiver came at a hefty price, but the Browns believe that Beckham can be their superstar No. 1 option for years to come.
Things didn't exactly go according to plan for the former first-round pick last season.
The Browns offense struggled as a whole, but Beckham didn't look like himself at all in 2019.
However, despite his struggles, NFL Hall of Famer Shannon Sharpe believes that Beckham can still be great.
What Did Sharpe Say About OBJ?
"There is no doubt in my mind that there was something nagging Odell last year," said Sharpe.
He goes on to mention that Beckham had surgery and that was part of the reason that his production dropped off last season.
Sharpe goes on to say, "Odell has set a standard for himself…He's a damn good receiver. And that's the expectations people expect every time he steps on the field. And when he doesn't, he's going to be criticized."
He brings up some solid points, and it's tough to put all the blame on the shoulders of OBJ.
Sharpe believes that quarterback Baker Mayfield needs to step up because it's tough to produce superstar numbers when your quarterback struggles as much as Mayfield did last season.
"Odell can still be great. He's still technically sound. He's tremendous right after the catch. He has tremendous hands," says Sharpe.
Beckham's 2019 Season
Beckham admitted that he wasn't 100 percent during the 2019 season due to nagging injuries.
He mentioned that his ankle injury has been bothering him since he broke it during the 2017 season.
Beckham underwent core-muscle surgery in January, but vows to be bigger and stronger in 2020.
A little update on rehab post surgeryhttps://t.co/dyAVLt8kaL pic.twitter.com/soqCEOq0c7

— Odell Beckham Jr (@obj) May 4, 2020
Despite dealing with injuries, Beckham hauled in 74 receptions, 1,035 receiving yards, and four touchdowns through 16 games last season.
It was a decent year in terms of production, but a superstar receiver like Beckham is expected to do more than just average.
He finished with 90-plus receptions, more than 3,500 yards per season, and 10 touchdowns or more during his first three seasons in the NFL.
Beckham set a ridiculously high standard for himself that is going to be difficult to reach each and every season.
Will Beckham Improve in 2020?
The Browns revamped their offense and are hopefully going to be a better all-around team in 2020.
However, the performance of OBJ will go a long way in determining the success of their offense.
Getting Beckham back at 100 percent is the key for the Browns this offseason.
They need a reliable superstar receiver that they can count on when they need a big play in a clutch moment.
The Browns traded big pieces in order to get Beckham to be "the guy" for their offense.
It's only been one season, so it's tough to judge the trade-off one injury-riddled campaign.
Cleveland's offense should be in great shape if Mayfield can step up and perform like he did during his rookie season.
Browns fans should be excited about their new-look team with a healthy OBJ leading the charge in 2020.