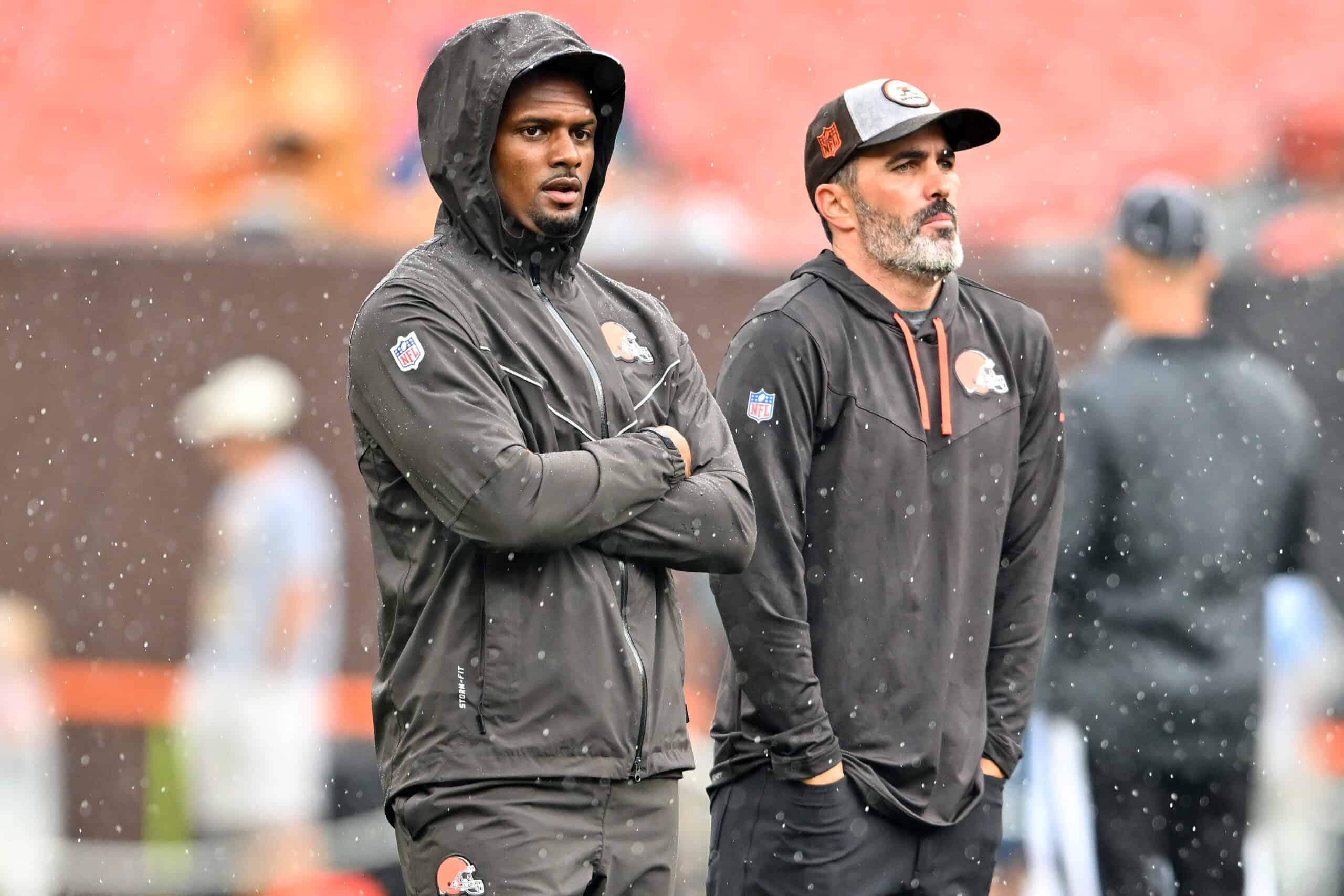 Is Cleveland Browns head coach Kevin Stefanski on the hot seat?
No.
Is there pressure on him to succeed this season?
Absolutely.
That's what happens when you have a star quarterback making $45 million per year.
Deshaun Watson, the man making that money, needs to deliver too.
But who has the most pressure to win in 2023?
That's Stefanski, according to Pro Football Talk's Mike Florio in this interview with ESPN Cleveland.
How much pressure is on Kevin Stefanski going into this #Browns season? @ProFootballTalk says there's more on Kevin than even Deshaun Watson.

Do you agree? pic.twitter.com/ZxEtyqQyhm

— ESPN Cleveland (@ESPNCleveland) July 28, 2023
Is Florio correct with this sentiment?
Double Down on Deshaun
Florio makes a great point in that interview regarding Watson's salary.
There's an absorbent amount of money tied up in his deal.
Given that, and the draft picks traded away to acquire him, he is the future.
That makes his job security a bit stronger than Stefanski's, as Florio points out.
"If it doesn't work this year, it's not going to be Deshaun Watson's fault. It's not going to be 'we have to move on from Deshaun Watson'. They got to try something else to turn it around next year… Once you go desperation to bring in Watson, at some point you have to go desperation to justify Watson", Florio explained.
When a team finds their star quarterback, they aren't quick to give that up.
Especially with a fully guaranteed deal like Watsons.
So, Florio is right in that other changes will be made if the Browns fall on their face this year.
The first of those changes could very well be Stefanski.
Becoming a Dynamic Duo
Watson's relationship and comfortability with Stefanski will play a large part in this team's success (or lack thereof).
As was reported earlier this week, their chemistry seems to be on the rise.
Those words will mean more once games start to matter, but it's a positive sign for now.
Look at Andy Reid and Patrick Mahomes.
Those two are in sync at all times and the offense blossoms as a result.
On the other end of the spectrum, Denver's season crumbled to pieces as Russell Wilson and Nathaniel Hackett struggled to figure it out.
Now, Hackett is out of a head coaching gig.
If Stefanski is to avoid that same fate, developing a bond with Watson that produces on-field success is a must.