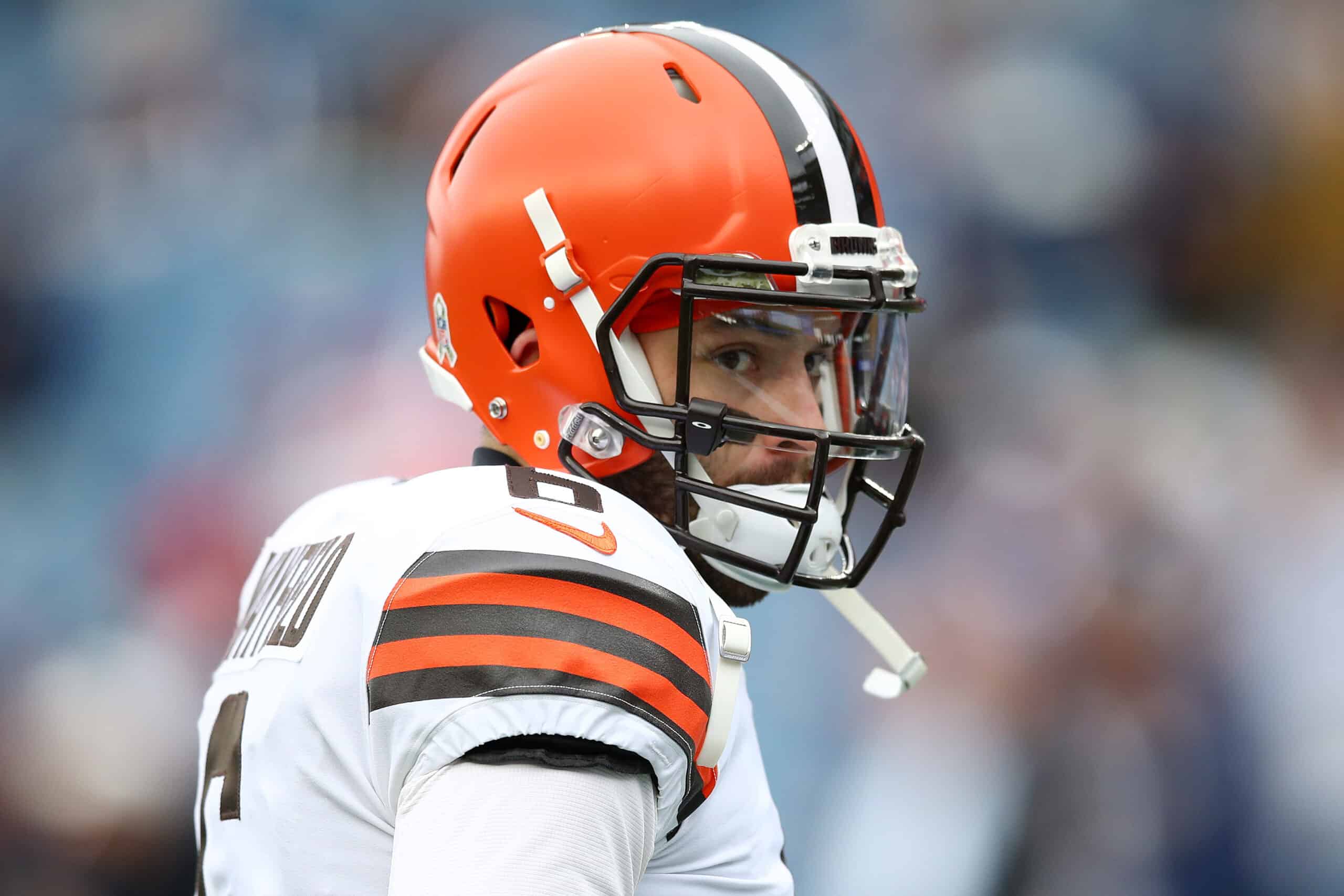 Well, this is certainly shaping up to be a Cleveland Browns offseason like old times.
Not old enough to be good, however.
This is reminiscent of offseasons the franchise has had since returning to the NFL.
Off-field drama, quarterback controversy, and general confusion are parallels to be drawn between then and now.
The quarterback discussions are most prevalent now as Baker Mayfield took to social media Thursday to snap back at a local beat reporter, Mary Kay Cabot.
Clickbait. You and many other Cleveland local media continue to be drama stirring reporters with no sources or facts. Don't put words in my mouth so you can put food on your table. I'm not your puppet. https://t.co/MfHnqWk65s

— Baker Mayfield (@bakermayfield) January 6, 2022
Of course, plenty of folks across the internet took notice.
Here are some of the best reactions from the NFL world to Baker's comments.
"That's Weeden's Music!"
Former Browns quarterback Brandon Weeden had a forgettable career at best in Cleveland.
He tends to avoid talking about the Browns in his post-playing days.
However, even Weeden had something to say about this mess.
He sides with Mayfield, blaming Mary Kay for stirring up drama over the years.
Same stuff different year with her. She can't help herself… https://t.co/sUJvgVx3kN

— Brandon Weeden (@bweeden3) January 6, 2022
It's interesting to see another take from an NFL player.
Most media members have sided with MKC on this. Perhaps this all hints at a league-wide divide between NFL players and their respective local media members.
Local Media
Speaking of the Cleveland media, plenty of members here chimed in as well.
Local sports talk radio host Adam "The Bull" has been vocal about Baker's involvement with the media in the past.
On Thursday, he shared a tweet emphasizing his feeling that Mayfield prioritizes the drama over football.
2021-22 Baker Rankings

1-Actor
2-Twitter fights
3-NFL player

— Adam the Bull (@AdamtheBullFAN) January 6, 2022
Beat reporter Daryl Ruiter shared some thoughts via social media as well.
Daryl dismisses the notion that those in the local media make up lies for clicks and views.
The notion that she or any of us just make stuff up for clicks is beyond absurd. https://t.co/oohHMCdpza

— Daryl Ruiter (@RuiterWrongFAN) January 6, 2022
He also said there is typically more to it than simply what is said in public and on the record.
Leaving it at this: What is said publicly – on the record – is often times the opposite of what is really being said behind the scenes.

— Daryl Ruiter (@RuiterWrongFAN) January 6, 2022
Matt Dery, who operates mainly out of Detroit but maintains ties to Cleveland radio, chipped in as well with a jab at Mayfield.
@AdamtheBullFAN Will Baker block this account too? https://t.co/hF5HvjazCm

— Matt Dery (@DerySpeaks) January 6, 2022
One wouldn't expect local media members to start going after one another on this.
Even if some disagree with MKC, Darly, or others, being vocal about it could be detrimental to their future media career.
That's not to accuse anyone of lying just to defend Mary Kay, it's just something to consider.
National Attention
This disappointing season from the Browns has drawn eyes from across the country.
Thursday's Twitter fiasco only made the spotlight brighter.
Gregg Rosenthal of NFL.com thinks this is a certain indicator of the beginning of the end of Mayfield's time in Cleveland.
Baker felt about done in Cleveland when overly transparent sources started complaining about Stefanski's play calling to Mary Kay Cabot a month ago. Now it looks done done.

— Gregg Rosenthal (@greggrosenthal) January 6, 2022
Andrew Ciolli, a relief pitcher in the Baltimore Orioles organization, is siding with Mayfield in this exchange.
I will give up on my own family before I give up on Baker Mayfield

— Andrew Ciolli (@A_Ciolli) January 6, 2022
Back At It
It's unfortunate to see the football world talking about the Browns for all the wrong reasons again.
This is the kind of stuff this new regime is supposed to be getting rid of.
Instead, this entire season has been one step back.
It almost feels like things will get worse before they get better.
This offseason will be a crucial one with plenty of decisions for Andrew Berry and company to make.
Putting out the fire with Baker Mayfield and the media is step one.