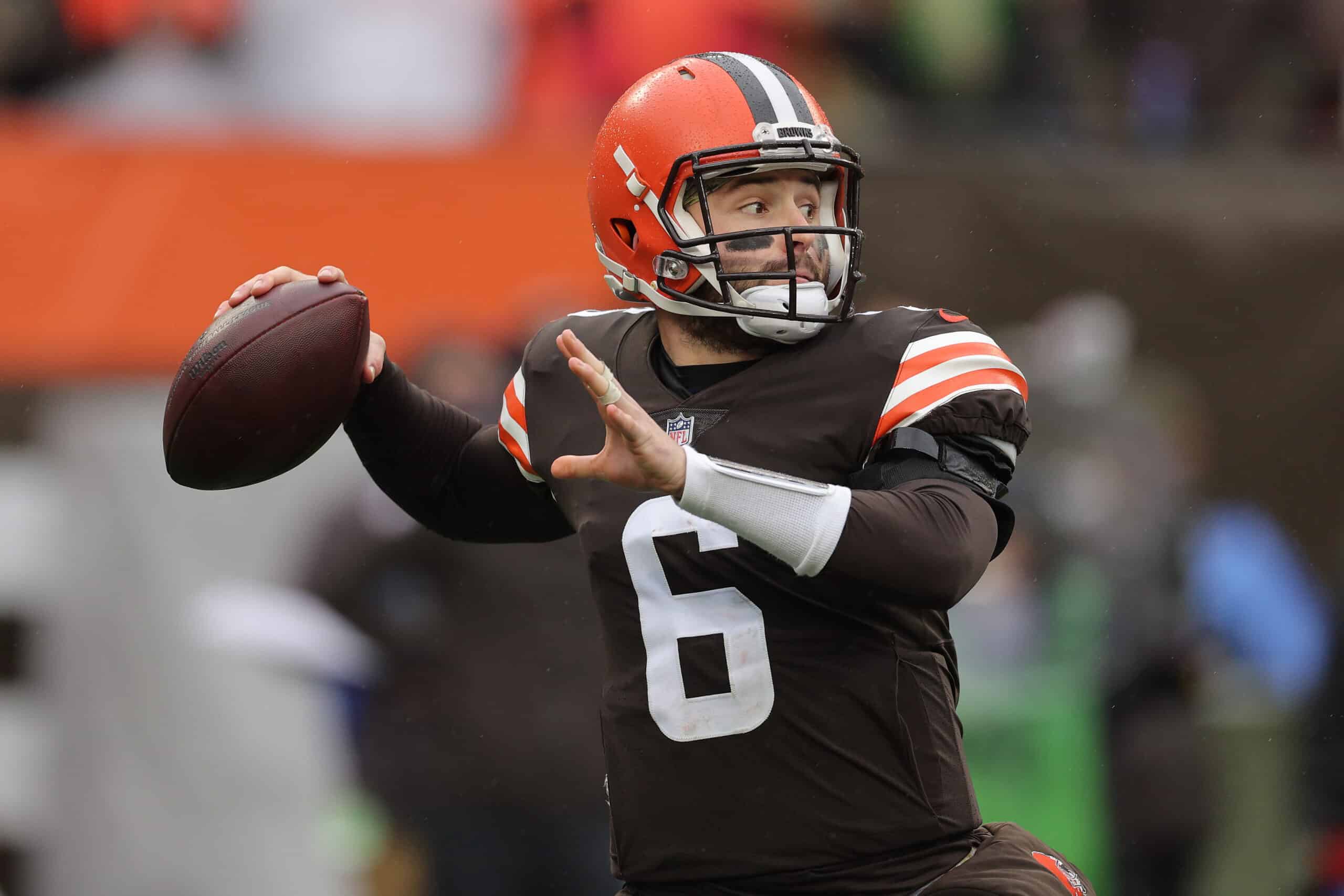 Cleveland Browns quarterback Baker Mayfield is due to have surgery later this month to repair an injured left throwing shoulder, according to multiple reports.
ESPN's Jake Trotter reported Mayfield is due to have surgery on Jan. 19 in Los Angeles, citing an unnamed source.
Dr. Orr Limpisvasti is the doctor expected to perform the surgery.
Limpisvasti is the orthopedic surgeon for the Anaheim Ducks in the NHL.
Orr Limpisvasti is the doctor who will perform the surgery, per source. He is the orthopedic surgeon for the NHL Anaheim Ducks. #Browns

— Jake Trotter (@Jake_Trotter) January 6, 2022
On Wednesday, the Brown put Mayfield injured reserve.
The Browns are already eliminated from the playoffs and decided Mayfield would not play in the team's regular-season finale on Sunday afternoon against the Cincinnati Bengals.
Case Keenum is set to start in Mayfield's place.
Mayfield got sacked nine times during Monday night's loss to the Pittsburgh Steelers.
"I have continued to lay it out on the line when I haven't been healthy and tried to fight for our guys," Mayfield said on Sunday. "Right now, I'm pretty damn beat up to be honest with you. There's no way around it. I gave it everything I had tonight."
The Browns went into "Monday Night Football" having already gotten eliminated from playoff contention when the Bengals won the AFC North division on Sunday with a victory over the Kansas City Chiefs.
On Monday night, Mayfield became the first NFL quarterback since 2019 to throw 10 straight incompletions.
Mayfield also became the first quarterback to be sacked at least five times and have five passes batted down at the line of scrimmage in the same game.
Since Week 2 of the 2021 season, Mayfield has played with a torn labrum in his non-throwing shoulder.
Mayfield also reinjured his shoulder in Week 6.
Throughout the season, Mayfield has played with a harness to prevent his shoulder from popping out of place.
"I'm a fighter. If anybody ever questions how much I want it, just turn on this tape," Mayfield said. "It wasn't pretty but I kept going, I kept swinging. That's who I am and that's who I'll continue to be. That's how I've always been."
Mayfield's 35.3 QBR ranks 26th in the NFL.
In the 2021 season, Mayfield has completed 60.5% of his passes for 3,010 yards, 17 touchdowns and 13 interceptions.
Mayfield has missed two games in the 2021 season, including one on the reserve/COVID-19 list.
The Browns (7-9) are sitting in last place in the AFC North.
Mayfield, 26, is due to make about $18.86 million in the 2022 season.
It marks the final year of Mayfield's rookie contract.
Browns general manager Andrew Berry and the team's front office could use the franchise tag on Mayfield for both the 2023 and 2024 seasons.
Berry could also look to offer Mayfield a contract extension.
Going into the 2021 season, it's likely Mayfield sought a similar average annual salary to the contract extension signed by Buffalo Bills quarterback Josh Allen, who is due to make an average of $43 million per year through the 2028 season.
However, the No. 1 overall pick of the 2018 draft has not played up to Allen's level this season.
Last season, Mayfield led the Browns to their first playoff victory since Jan. 1, 1995.