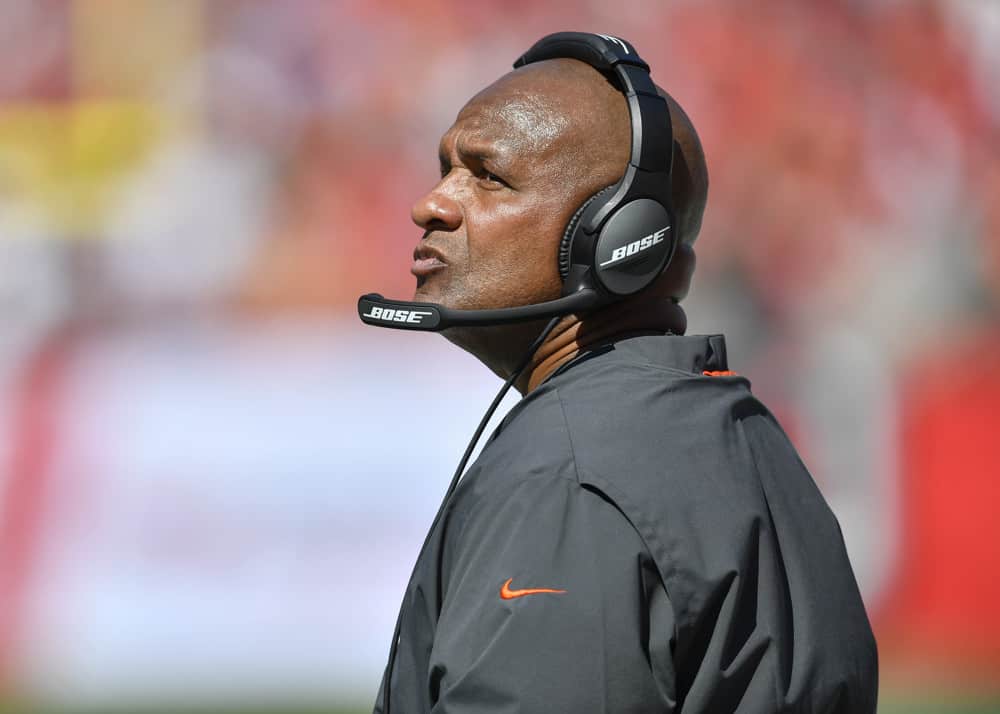 If you had Hue Jackson drama on your February bingo card, congratulations!
The former Cleveland Browns head coach wasted no time this month making headlines.
Off the heels of the Brian Flores lawsuit news, Jackson is making similar claims.
The Flores details include him accusing the Miami Dolphins of paying him $100,000 per loss in the 2019 season.
Jackson now says Browns owner Jimmy Haslam may have been ponying up some cash for Jackson's teams to purposely tank.
Trust me it was a good number!

— Hue Jackson (@huejack10) February 2, 2022
Flores and Jackson have set the NFL world on fire with their claims this week.
Time and investigations will dictate if much comes of this.
What we can look forward to now, however, are some entertaining reactions.
Here Comes the Money…
When "Here Comes the Money" blasted at the 2022 Royal Rumble and Shane McMahon returned to the ring, the crowd in St. Louis went bonkers with applause.
Hue returning to social media headlines didn't warrant a very similar response.
It did, however, get folks thinking about money.
Hue amassed a 3-36-1 record during his tenure in Cleveland.
If the payout per loss landed in the ballpark of the $100,000 that Flores claims he was offered, wouldn't Jackson have made a couple of million dollars in that time?
The social media crowd, per usual, has something to say about that.
Getting paid 100k to lose games would have me sign the entire Bishop Sycamore roster.

— Ahmed/Lakers are finished/DAWN FM AOTY 🇸🇴 (@big_business_) February 1, 2022
If so, Hue Jackson, who went 3-36-1 with the Browns, should be richer than Elon Musk. pic.twitter.com/zKk9TPpE4j

— Clay Travis (@ClayTravis) February 2, 2022
If Hue Jackson got paid extra for losing games he should be able to purchase the Broncos https://t.co/7wrJZRCbYC

— Will Brinson (@WillBrinson) February 2, 2022
Hue Jackson now the second-richest man in America behind only Jeff Bezos. https://t.co/cMrE5NkWxC

— Super 70s Sports (@Super70sSports) February 2, 2022
Even Barstool got in on the action, jokingly labeling Hue a "likely billionaire" in one of their articles.
Likely Billionaire Hue Jackson Says He Was Offered Extra Money To Lose Games By The Browns Owner https://t.co/aU6ucCi4bG pic.twitter.com/j5oZ6ZMHXr

— Barstool Sports (@barstoolsports) February 2, 2022
If we hypothetically take that $100,000 figure, multiply it by 36, and give it to Hue, he's looking at $3.6 million.
That's a lot of money for a lot of losing.
Could the Words of Hue be True?
The timing of Hue's statements has many thinking he just wants to capitalize off Flores' claims.
Why bring this up now so many years after the fact?
Not everyone is buying into what Hue is selling here.
Hue Jackson is about as believable as Vince McMahon at this point.

— Joe Vorell (@JoeVorell) February 2, 2022
Perhaps there's some tape that league officials can check to determine whether this is true or not.
After all, Jackson loved being able to check the tape after losses.
In honor of Hue Jackson day, always remember to "watch the tape". #browns pic.twitter.com/n8Ta9KK1XP

— Browns Rally Possum (@BrownsRally) January 31, 2022
Hue has already doubled down on this.
He says he stands with Brian Flores and can back up every word he is saying.
I stand with Brian Flores. I can back up every word i'm saying.

— Hue Jackson (@huejack10) February 2, 2022
Meaning for the Browns?
If Hue is telling the truth and it comes to light, the Haslam family will certainly be under some fire.
Those teams under Hue lacked talent, and "tanking" for better draft picks is not a novel concept.
Paying head coaches six figures to purposely lose ball games, however, creeps into Paul Crewe in The Longest Yard territory.
Although Jimmy Haslam having to a football team of prisoners against their prison guards would make for some quality entertainment.
It's another story that has Browns fans rolling their eyes and waiting for this to pass.
Jackson claims that this whole incident won't "stay hidden" much longer.
It won't stay hidden much longer. It can't. Whats crazy is i tried to tell you all yet you didn't want to listen because of all the losing involved.

— Hue Jackson (@huejack10) February 2, 2022
Is there something big with the Haslam family brewing?
It's too early to tell.
We've seen Hue try to start social media fires before.
How this turns out is anyone's guess at this point.