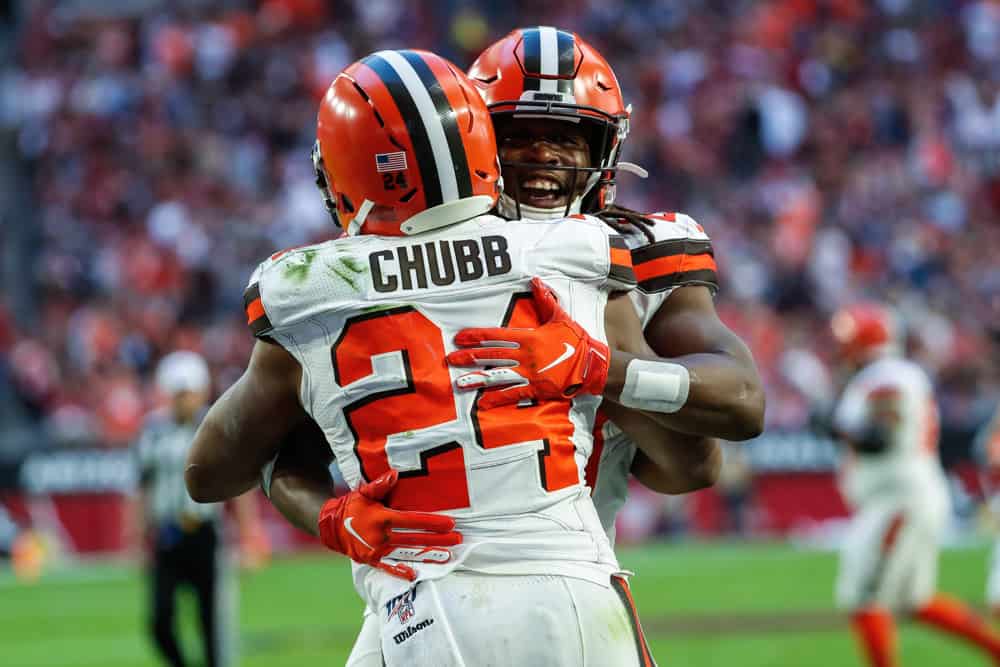 It's simple: Kareem Hunt and Nick Chubb are the best pair since PB&J.
The combination is a fierce tandem according to ESPN's Stats and Information.
According to ESPN's Jake Trotter, both Chubb and Hunt are punishing opposing teams defenses.
Take a look at it by the numbers.

Yards After Contact
Going back to last season, it didn't matter if teams put any hands on Chubb.
He was going to barrel you down.
Nick Chubb has averaged 2.32 yards per rush after contact since the start of last season, best in the NFL, per @ESPNStatsInfo

— Jake Trotter (@Jake_Trotter) September 18, 2020

Fast forward to his bruising 124 yards on Thursday, Chubb continued to be one of the best ground and pound backs in the league.
However, he is not THE best.
That goes to Hunt, who currently leads the league in yards after contact.
Most yards per rush after contact this season:
Kareem Hunt 4.30
Nick Chubb 3.63
David Johnson 2.73
(min. 7 rushes)@ESPNStatsInfo

— Jake Trotter (@Jake_Trotter) September 18, 2020
Even though those are small sample sizes, those are some of the best averages since 2009, when ESPN started keeping track of that stat.
If the team can continue to build off these numbers, the Browns could actually have the best 1-2 punch at the position like the team was hoping.
According to ESPN Stats and Info, LeGarrette Blount averaged 2.94 yards after contact in 2010, while Adrian Peterson posted 2.93 yards in 2012.
That's legit company to be around.

Success Rate
According to Trotter, the Browns rush for 10 or more yards 23% of the time.
That is the highest success rate in the league, while the Baltimore Ravens are second at 18%.
The best part about this is asking what if?
Free-agent acquisition Jack Conklin didn't even play last week.
5) Have to love what we saw from #Browns rushing attack in game where stud RT Jack Conklin didnt play.

Yes, #Bengals are a weak opponent.

But Browns were also efficient on ground Week 1 vs #Ravens; script just curbed their volume.

Nick Chubb & Kareem Hunt are both FF starters.

— Evan Silva (@evansilva) September 18, 2020
Blocking 
What has helped the team through two games is their ability to block.
According to Trotter, ESPN has been using a new metric called "block win rate."
This metric utilized run-blocking success.
That includes tight end Austin Hooper and fullback Andy Janovich.
The @Browns dominated on the ground last night. They ran a G-Lead Counter (might be the first time I've seen this) and it's outstanding. It's a great design for opening up a running late and giving your blockers good leverage on the LBs pic.twitter.com/jIwHsbWqRR

— Geoff Schwartz (@geoffschwartz) September 18, 2020
Granted, Chubb and Hunt deserve some credit for their ability to break tackles.
However, the team's ability to block and get them going is certainly a plus.
Chubb has just one more year left on his rookie deal.
If he continues to put up monster plays, he could be commanding a top running back salary here in the near future.
Then again, having two dynamic running backs is something Browns fans have not had in over a decade, so many are probably not complaining.