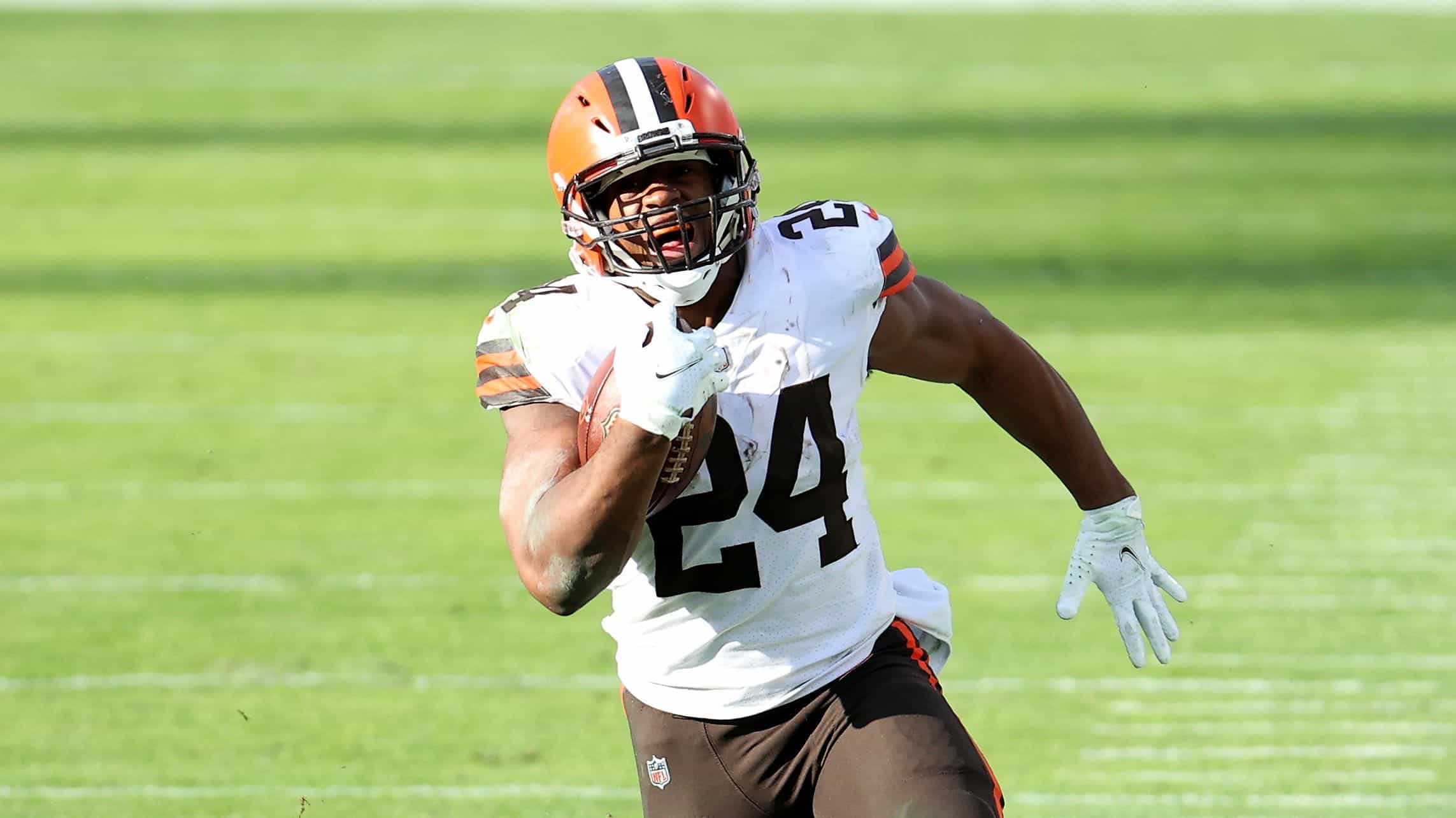 In 2019, the rushing title was seemingly up for grabs until the final week of the regular season.
However, last season Tennessee Titans running back Derrick Henry took the title with ease.
The two-time defending rushing leader could have some more competition heading into the 2021 campaign.
Possibly, a fully healthy Nick Chubb is able to give Henry a run for his money.
It certainly sounds like Chubb has a legitimate shot at taking the rushing title.
Keeping It Close
The NFL season is still a month or so away, but we have prediction odds to keep us entertained.
It's worth noting that plenty of sites factor stats and analytics differently in order to determine these lists.
Often times, these odds predictions aren't too far apart, but BetOnline.ag might've got it right this time.
.@betonline_ag Odds to lead NFL in

Passing:
Patrick Mahomes (6/1)
Josh Allen (9/1)
Tom Brady (9/1)

Rushing:
Derrick Henry (3/1)
Dalvin Cook (5/1)
Nick Chubb (7/1)
Christian McCaffrey (8/1)

Receiving:
Stefon Diggs (8/1)
Calvin Ridley (9/1)
Tyreek Hill (9/1)
Davante Adams (10/1)

— Jaime Eisner (@JaimeEisner) July 14, 2021
As seen by the list above, Henry has the best odds to win the rushing title in 2021.
That's not surprising given the fact he's done it each of the last two seasons.
He has shown no signs of slowing down and the Titans continue to get better on paper.
Not far behind Henry is Minnesota Vikings back Dalvin Cook with 5/1 odds.
Then Chubb is given the third-best odds at 7/1 with Carolina Panthers dual-threat back Christian McCaffrey finishing out the top four.
Honestly, it wouldn't be surprising to see any of these backs take home the rushing title in 2021.
However, Henry and Chubb seem to be the most likely given how their team's offenses operate.
Can Chubb Pull It Off?
Last season, Chubb missed four games and still managed to rush for over 1,000 yards.
That was also with Kareem Hunt on the roster who takes away touches from Chubb.
That goes to show how ridiculously dangerous Chubb really is whenever the ball is in his hands.
Touchdown 6️⃣ today… 🔥

Your weekly Nick Chubb TD! 😎#CLEvsPIT x #Browns pic.twitter.com/GSvItDh9ai

— BROWNS OR DIE 💀 (@BrownsorDie) January 11, 2021
A fully healthy Chubb is arguably a top-three back in the entire league.
The biggest threat to the rushing title is going to be Henry, but don't count out Cook.
However, the fact Cook has not played a full 16-game season in four seasons is concerning.
He is an incredible runner and athlete, but injuries are likely going to crush his chances at the rushing title.
It's unlikely that McCaffrey takes home the title due to the fact he's used frequently in the passing game as well.
There is only so much he can do and probably won't get enough carries on the ground to get near the top of the list.
Ready to have Christian McCaffrey back in our lives ASAP 😤 @CMC_22 @Panthers pic.twitter.com/oy3GvC3cmM

— The Checkdown (@thecheckdown) July 8, 2021
At the end of the day, Chubb and Henry could be battling again just like in 2019.
The health of Chubb and the usage of Hunt are going to be the biggest factors.
He'll have a legitimate shot against Henry, assuming he's given roughly the same amount of carries.
Otherwise, we could very well see Henry taking his third-straight rushing title in 2021.
Regardless, the health of Chubb is more important to Cleveland than a rushing title.
Keeping Chubb on the field is going to give the Browns their best chance at Super Bowl run next season.