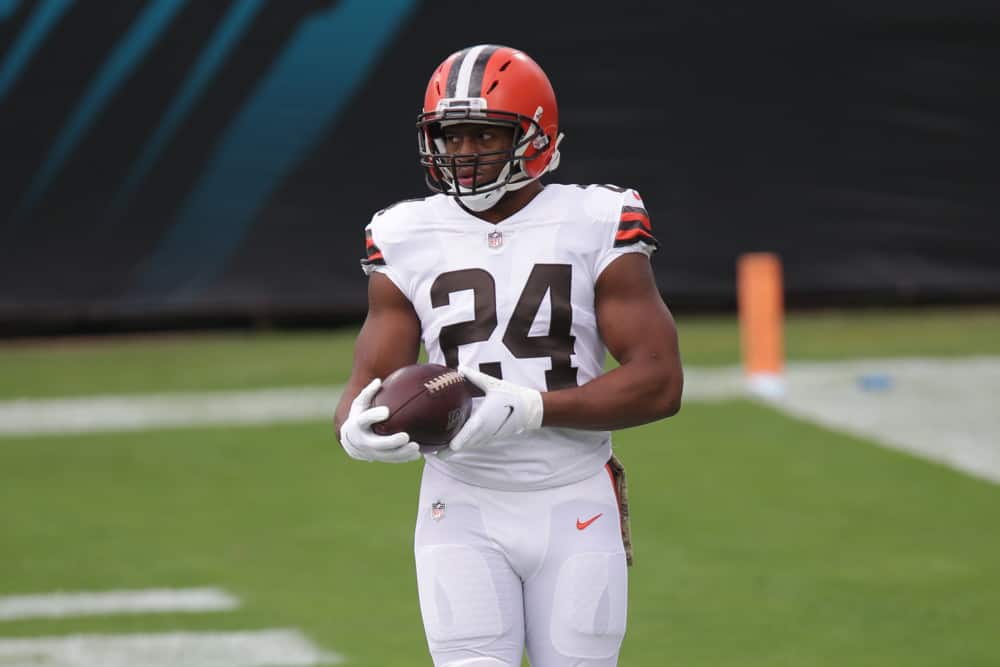 Calling all cereal lovers.
One of the Cleveland Browns most beloved players, running back Nick Chubb, is launching a cereal line with the proceeds benefitting charity.
Aptly called "Chubb Crunch," the limited edition cereal will hit store shelves in August at Heinen's grocery stores and online.
#Browns RB Nick Chubb has his own cereal releasing called "Chubb Crunch'

What can't this man do? pic.twitter.com/qgnNYRj9Ol

— MoreForYouCleveland (@MoreForYou_CLE) April 13, 2021
Chubb Crunch
25-year-old Nick Chubb promises that the cereal will taste amazing.
It will resemble Cinnamon Toast Crunch.
Chubb is working with PLB Sports & Entertainment to develop the cereal.
For those old enough to remember, this is the same group that worked with former NFL quarterback Doug Flutie (then with the Buffalo Bills) to introduce 1998's "Flutie Flakes."
Flutie Flakes resembled Corn Flakes, and proceeds benefitted Flutie's charity, the Doug Flutie Jr. Foundation for Autism.
My aunt from Western New York sent me a belated bday gift..an unopened box of Flutie Flakes lol. These are no ordinary corn flakes, folks. May open it and pour myself a bowl, only a couple decades past the sell by date! pic.twitter.com/E9c3PM2Rna

— Zach Bye (@byesline) April 11, 2021
The graphics of the Chubb Crunch box are reportedly expected to include a superhero depiction of Chubb himself.
Proceeds Benefit Charity
Nick Chubb is doing this project to raise funds for First Candle, a charity whose mission is to eliminate Sudden Infant Death Syndrome (SIDS).
Chubb has a personal connection; he lost a nephew to SIDS.
"It's always been a dream to have my own cereal especially that it benefits a cause that is close to my family."
Nick Chubb in 2021
Browns fans are looking forward to Nick Chubb hitting the field this fall.
Recall that in camp last season, he suffered a concussion and then had the MCL injury during the season.
Despite missing four games with the MCL injury he turned in yet another great season with 1,087 yards rushing and 12 touchdowns.
He came extremely close to running in a 13th touchdown but remembered his coach's direction at the last second.
This play will show you what kinda guy chubb is. If that's me, I'm taking 6 😂 https://t.co/vGGP0Okjnx

— Flash Garrett ⚡️ (@MylesLGarrett) November 15, 2020
Chubb's Contract
Things have been quiet on this front; Chubb is not very vocal about the business end of football.
The Browns front office has not said anything lately either.
Nick Chubb is entering the fourth and final year of his rookie contract.
No fifth-year option is available since he was not a first-round pick.
It is unclear if the Browns will begin negotiations after the NFL Draft or if the team may use the franchise tag on Chubb in 2022.
Either way, the Browns will likely do whatever it takes to keep Chubb in a Browns uniform in 2022 and beyond.